Maximize Your College Basketball Viewing Experience
Feb 21, 2017
Since the dawn of time – or at least since the NCAA Men's Division 1 Basketball Tournament expanded its field from 32 teams to 64 teams in 1985 – mankind has sought ways to take in as much of the action as possible. This has led many fans to endure cramming into a sports bar only to leave with an empty wallet from the overpriced refreshments, a sore neck from the poor television placement, and dreams of a better way.
Fortunately, you can enjoy all the action in the comfort of your own home without sacrificing your viewing options.

Depending on your specific desires and needs, you can mix-and-match our TV mounts to find the perfect solution for your tournament viewing. With games tipping off simultaneously in groups of four throughout the day, a minimum of four TV/mount combos will be required to take it all in…just kidding. You don't HAVE to go out and buy additional TVs and mounts, but there are things you can do to optimize your viewing experience!
The 4 TV Man Cave Scenario
Perfect for the lucky man who spends most of his free-time dwelling in his customized man cave, this scenario will require four strategically mounted television sets. The TV designated as the primary (usually the largest TV) set can be mounted using one of our fixed-position mounts since it will likely be at seated eye-level height, serving as the anchor for your viewing setup.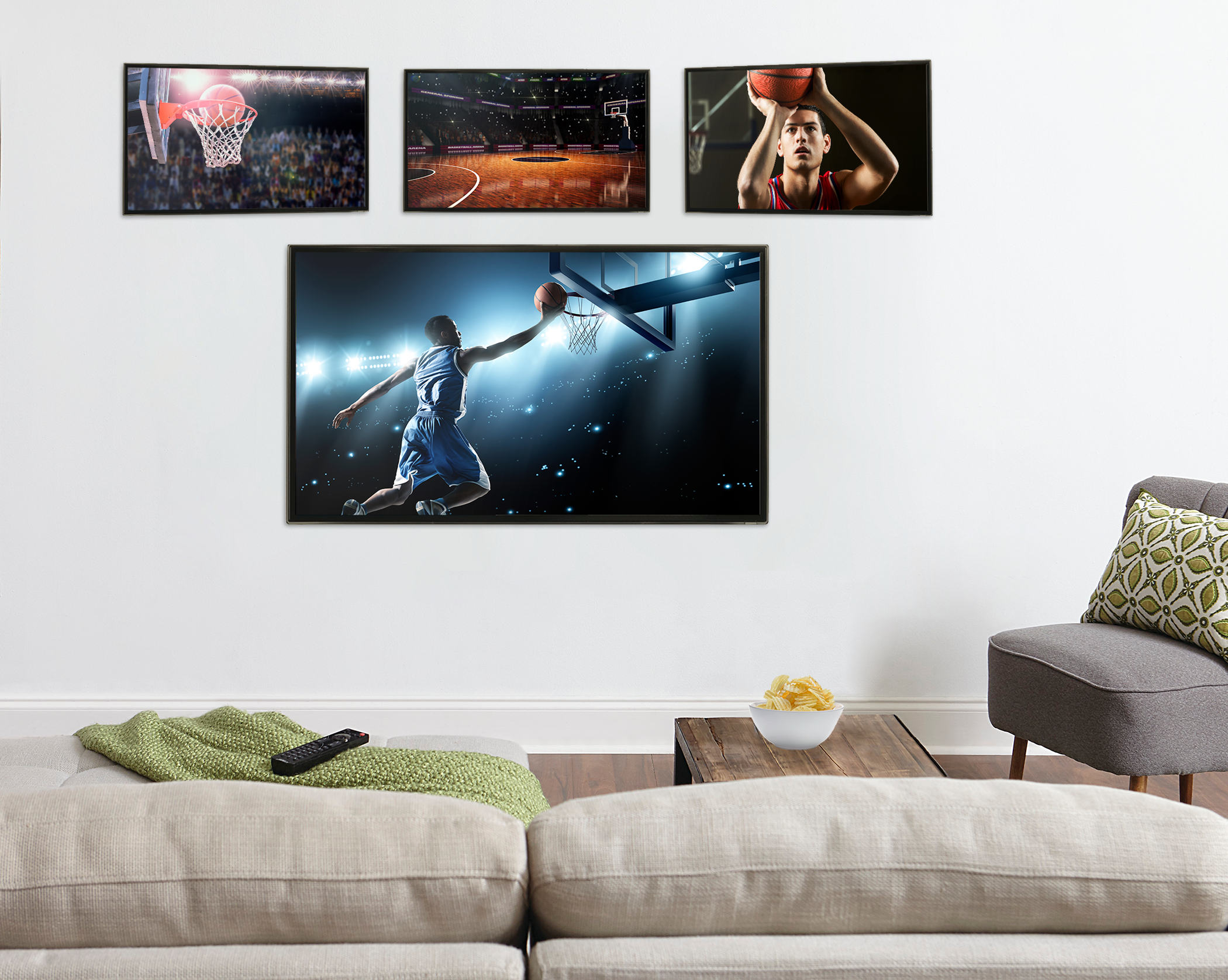 The other three TVs can be mounted with a combination of full-motion and/or tilting mounts depending on the layout of your man cave. Since these TVs are traditionally mounted above the "anchor" they should, at the very least, be able to tilt down to reduce glare from overhead lighting and reduce next strain for your viewers.

With your four TVs tuned to CBS, TBS, TNT and TruTV, you won't miss a second of the action as teams vie for the right to march on to the second round and the "Sweet Sixteen."
A More Realistic Option
As appealing as the idea of slinking into a man cave customized with 4 mounted TVs not to be seen until the first week in April may sound, this simply isn't practical for many college basketball fans. If you have a family that actually enjoys your company, it becomes necessary to have a more versatile setup.
Depending on the layout of your family room or living room, a combination of full-motion and/or tilting mounts will allow you to direct the picture from the game to wherever it needs to go. So if you are hosting a group of friends or just cuddling with your sweetie, you can be sure that everyone is able to enjoy every nail-biting moment.
A crucial bonus is the extra safety provided by having the TVs mounted. You can enjoy the game without worrying about the dangers of a tip-over, one of the leading causes of injury and death for young children.
Don't Forget The Snacks!
In either scenario the TVs being mounted provides the additional benefit of leaving more space on your furniture to store snacks and drinks. So stock up the fridge, set up your brackets (see what we did there), mount your TVs and find a comfortable seat in time for the NCAA Selection Show on Sunday March 12.