Streaming TV Options: Here's How to Watch Sports without Cable
May 17, 2017
Up until the past few years going cable- or dish-free meant pretty much saying goodbye to live sports. Where Amazon Video and Netflix are great for binge-watching sessions, they aren't designed to deliver on live programming, let alone live sports.
If you are part of the growing number of sports fans wondering how to watch sports without cable, there's good news: you have three solid streaming TV options to choose from: Sling TV, PlayStation Vue and DirecTV Now. What can you expect from these cord cutting options? They include access to essentially all of the sports channels and programming you would get through a traditional cable TV package, and frequently, at a fraction of the price of cable.
Each streaming TV service provides sports channel mainstays like ESPN, Fox Sports Network and NBC Sports, and as you go further up in the multi-tier plans, you get access to premier and niche sports programming like Fox College Sports regional networks, NFL RedZone and ESPN Bases Loaded. By and large, you will see a lot of channel overlap between services, but there are a handful of channels that are offered by only one or two of the streaming TV providers.
Whether you're a casual sports fan wanting to be able to put on a game while you're having a beer, or a die-hard follower of a specific sport, conference or team, there are options to fit your viewing needs. Finding the best live streaming service really comes down to making sure the channels you want to watch are available at a price that's less than what you already pay for cable or satellite
To find the best way to get rid of cable, check out our guide below to compare streaming services, and read on to see highlights for each service and other things you'll need to consider like streaming devices, internet speed, antennas and getting the best setup for watching sports.
Cord Cutting Guide: Sports Edition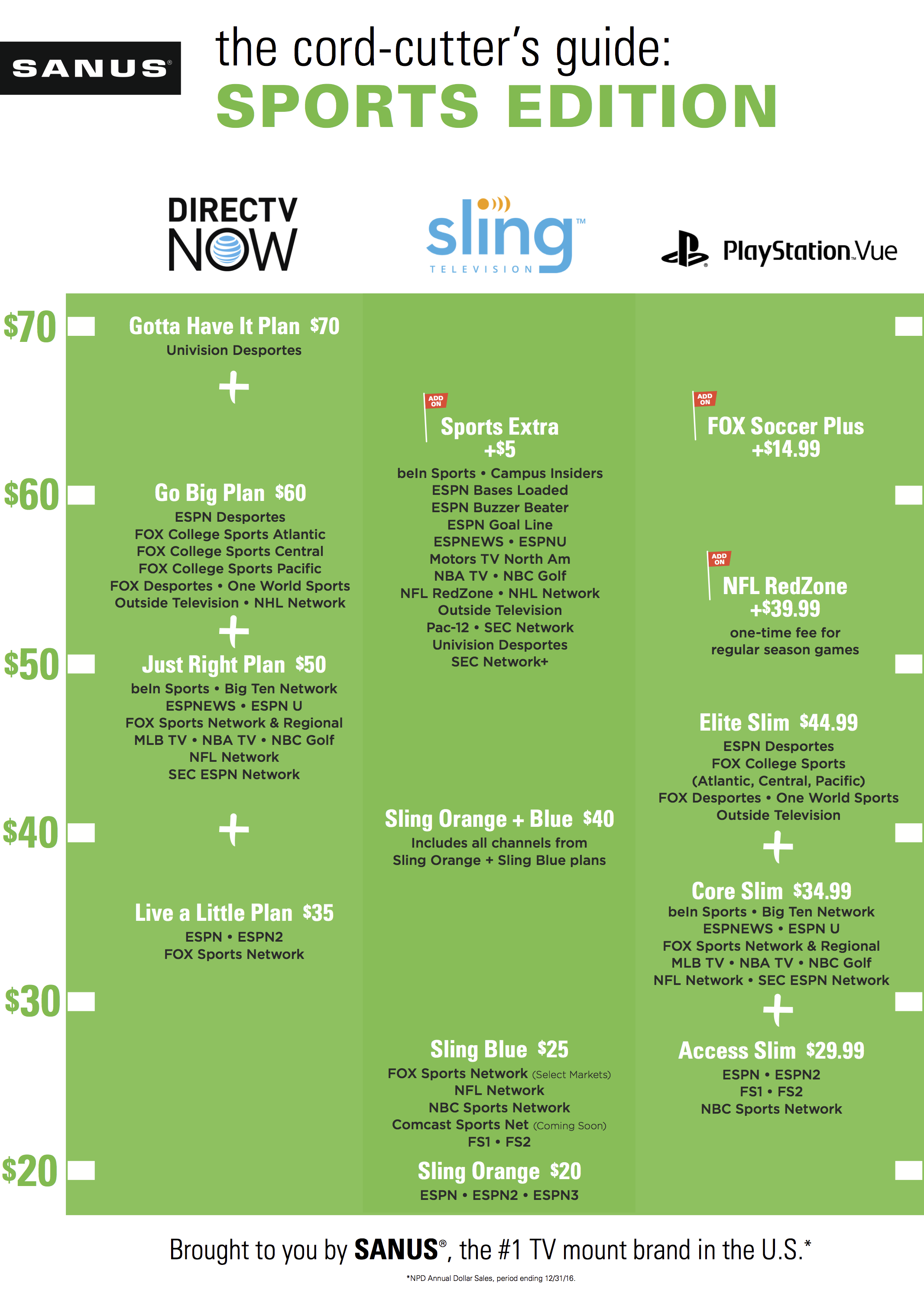 Watch Sports without Cable TV: A Streaming TV Comparison
Sling TV:
If you're looking for the cheapest way to get ESPN, you'll want to check out Sling TV. For only $20 a month, you'll get ESPN, ESPN2 and ESPN3, along with TBS and TNT, which technically aren't 24/7 sports channels – but do provide a good amount of sports programming including the NBA, MLB, UEFA Champions League, NCAA Men's Division 1 Basketball Tournament and the PGA Championship.
If you move up to Sling Blue, which costs $25 a month, you'll pick up Fox Regional Sports Networks, NBC Regional Sports Networks, NFL Network, Fox Sports 1 and 2, NBC Sports Network but also lose ESPN, ESPN2 and ESPN3. Unless you're looking for the cheapest way to stream NFL Network games, not having ESPN programming makes this a less attractive option for most sports fans.
For $40 a month, you can move up to Sling Orange + Blue, and get all the programming available between the two streaming packages.
Sling TV also offers a Sports Extra package where for an extra $5 per month you add on NBA TV, NFL Red Zone, NHL Network, SEC ESPN Network, SEC ESPN Network +, Pac-12 Network, ESPNU, ESPNEWS, ESPN Goal Line, ESPN Bases Loaded and ESPN Buzzer Beater, among a few other sports channels.
Noticeably absent is the MLB Network, so if you're a big baseball fan, Sling TV probably isn't for you.
PlayStation Vue:
Originally only available to PlayStation users, PlayStation Vue has expanded to support other platforms, making it an option for those without the company's gaming system. Programming starts at the $29.99 per month Access Slim level that includes ESPN, ESPN2, FS1 and FS2 and NBC Sports Network, as well as sometimes sports channels TBS and TNT.
Jumping up a level to Core Slim, which is $34.99 per month, you add on ESPNEWS, ESPNU, the FOX Sports Regional channel relevant to where you live, NBC Golf, MLB Network, NBA TV, NFL Network, Big Ten Network and SEC ESPN Network.
Moving up to Elite Slim, priced at $44.99 a month, you add on beIN Sports, ESPN Desportes and Fox College Sports (Atlantic, Central and Pacific). The fourth and final tier is Ultra Slim ($64.99/month), which doesn't add much as far as sports programming. If you subscribe to the Core or Elite plans, you have the option to sign up for the NFL RedZone add on for $39.99 for the entire regular season.
Hockey fans take note: The NHL Network is not included as part of the PlayStation Vue programming roster. If you're looking for a way to watch the NHL without cable, Sling TV and DirecTV Now may be better options for you.
DirecTV Now:
The DirecTV Now entry level plan called Live a Little is $35 a month. This level is pretty comparable with what you get with the other streaming TV provider's starting plans and includes ESPN, ESPN2, FOX Sports Network, NBC Sports as well as TBS and TNT.
At $50 a month, the Just Right plan provides access to ESPNEWS, ESPNU, BIG10 Network, SEC ESPN Network, and the MLB Network.
Move up to the Go Big plan ($60/month), and you get FS2, NBC Golf, NBA TV, NHL Network. The top programming tier, Gotta Have It ($70/month), tacks on Univision Desportes.
It seems like each streaming service has to have one "noticeably absent" channel. For DirecTV Now, that is NFL RedZone.
Best Streaming Device for Sports
Once you decide on a streaming TV service, you'll have a better idea of what streaming device you'll need – whether that be Roku, Chromecast, Apple TV, etc. And really, the best streaming devices for watching sports are the ones that are compatible with the streaming service you have. Check out our Cord Cutter's Guide: Side-by-Side Streaming Media Comparison, to see which streaming devices are compatible with each of the streaming TV services.
And if you're into programming other than sports (it's okay to be well-rounded), the guide also covers where you can find popular TV shows.
Internet Speed for Live Streaming
You will want at minimum an internet speed of 5Mbps to prevent the agony that is known as buffering.
If you have multiple internet-connected devices like smart phones, tablets and laptops in your home, you may need to go up to 10Mbps, and if you have a 4K television and are streaming ultra HD content, you'll want to go up to 25Mbps.
If you're exploring cutting the cord to save cash, you will want to factor in how increasing your internet speed will impact your overall cost savings.
HDTV Antenna: A Must for Local Broadcasts
The next item you'll want to think about is a good old fashioned antenna. Well not really, today's HDTV antennas don't require being mounted on your roof and are much more modern and sleek looking than their predecessors. You can set them up next to your TV or place them in a window.
When you think of all the regular season, playoff and championship games that are carried over the local airwaves, an HDTV antenna is something that you'll definitely want to round out your sports viewing. They can be found at retailers like Target, Best Buy, Walmart and Amazon and are usually between $20 and $50.
Get the Best Sports Viewing Experience by Mounting Your TV
While you're at it, now is a great time to think about upgrading your TV viewing experience.
Whether you're watching a game with a big group or it's just you switching between games doing some scouting for your Fantasy team, a wall mounted TV can really up your game day viewing.
A full motion TV mount, also called a swivel or articulating TV mount, gives you top quality viewing from any seat in the room, and frequently from adjacent rooms. You can simply swivel your TV towards you and still be able to watch the game when you're sitting in the kitchen or on the deck grilling.
Another thing to think about is audio, as TVs have gotten thinner and thinner, their sound quality has diminished. In addition to packing less power, speakers on today's televisions are located at the bottom of the TV -- meaning they direct sound at the ground. Adding a sound bar to your setup will help project sound towards you, making your sports watching experience all the better.