A Step-by-Step Guide to Hide Wires from Your TV
Mar 02, 2017
Regardless of where your TV is located, all the wires and cables that lead to your TV and AV components are unsightly and potentially hazardous. If you're like a lot of households, you may have multiple TVs -- in your living room, bedroom, kids' rooms, media room or home theater. Cord mess is everywhere. Thankfully, it's easy to hide wires, giving each room an instant upgrade.
There are two ways you can hide wires, and SANUS makes either process simple.
Option 1: On-Wall Cable Management
The SANUS SA304 is a cable tunnel with an adhesive backing. You just run the cables through it and stick it to the wall. You can cut it to the length you need, and paint it the same color as your wall, so it becomes virtually invisible. Voilà! In just a few minutes, you've hidden those pesky cables.

Pro Tip: Paint the tunnel before sticking it to the wall.
Option 2: In-Wall Cable Management
This method is a little more work, but the result is sleek and professional-looking. All you have to do is follow a few simple steps to hide all your cables behind the wall. Note that this process is for wall-mounted TVs. SANUS makes a variety of easy-to-use wall mounts, as well as mounts for components.
If you aren't sure how high to mount your TV, we recommend using our SANUS HeightfinderTM.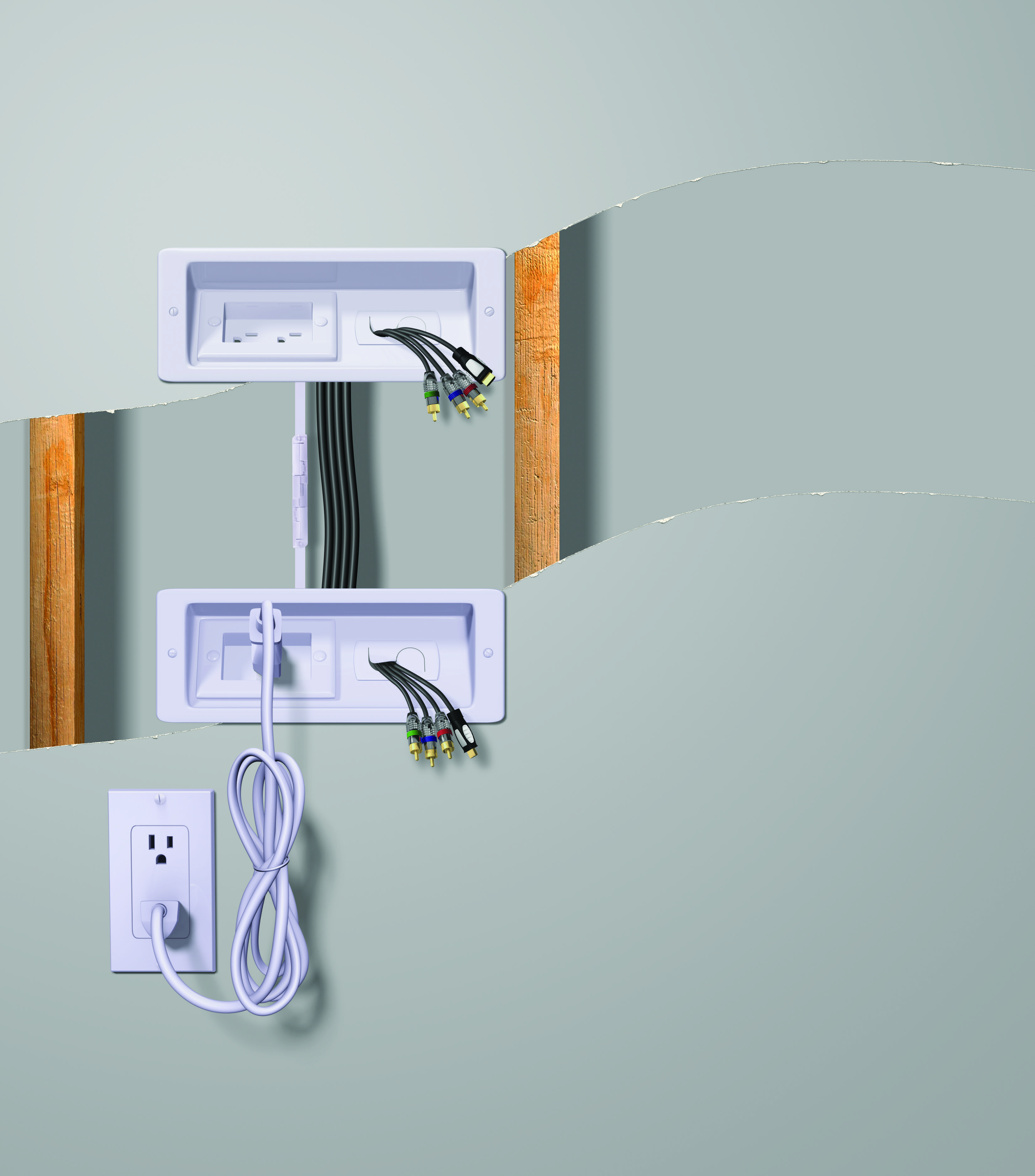 Once you've decided where the TV will go (or assuming it's already in place), you can use the SANUS ELM806 system to hide wires behind the wall. The kit includes all the hardware you'll need, and it uses snap-on power connectors, so installation is easy – no electrician needed!
Drill two holes in your wall (not into a stud!) – one directly behind the TV mount, and one down below, behind your entertainment center or near the electrical outlet.
(Side note: if you're using a power strip, mount it to the wall. There are slots on the back, just for this purpose. That keeps it off the floor and makes it easy to elevate extra lengths of cord, hiding everything behind your entertainment center or other furniture.)
Insert the sleeve behind the wall, and snake your cables through it.
Attach the recessed plates, plug in, and you're ready to go. Not a wire or cable in sight.
Go whole hog! Get an IR receiver.
You can set AV components on shelf-mounts, as we noted above, but what if they're housed inside a cabinet with doors? Your remote control won't work unless it can "see" your cable box. Installing an infrared repeater is a relatively inexpensive solution. It plugs into the back of your cable box, then uses a tiny infrared "eye" placed on top or below your TV to communicate with your remote control.
There are several types of IR repeaters available, some that can control as many as 8 devices from up to 6 feet away. Before you purchase one, check out these tips. Once you install it, you can hide wires from this device, along with cables from your TV and other components. Perfect.