Baby Proofing Your Home Entertainment Center to Prevent TV Tip-overs
Mar 07, 2017
Bringing a baby into your home changes the whole picture, down to the tiniest detail. And when your baby goes on the move – crawling and toddling around – look out! Every parent worries about accidents, and unfortunately your entertainment center can look like the ultimate playground to your baby. Baby-proofing that furniture and equipment is essential.
Babies Are Natural Explorers
Kids use their senses to learn. No wonder your entertainment center is so tempting. All those come-hither buttons, lights, cords, slots, shelves and doors simply invite investigation. Sticky fingerprints and cereal in the DVD player may be annoying, but your baby could be seriously injured or even killed. TVs and media cabinets account for a whopping 70% of all TV and furniture tip-over accidents that injure children.
And that seemingly-safe remote? Even a toddler can get the back cover off, and batteries are toxic.
Experts Say "Don't Wait"
Although it's never too late to make your home safer, child safety experts recommend baby-proofing before your little one has a chance to develop a big interest in your entertainment center – in other words, from day one.
What Can You Do?
Virtually every new parent knows to cover the electrical outlets in their home. But did you know you can also get covers for your power strips and Plexiglas plates to cover the buttons on your AV components? You might also consider rounded plastic covers that protect kids from sharp furniture corners.
Use an anti-tip strap to anchor your TV to the wall behind it and to the entertainment center itself. You can do the same with heavy, expensive electronic components. The SANUS ELM701 anti-tip strap is made of heaavy duty polypropylene, the same materail used to harness bungee jumpers.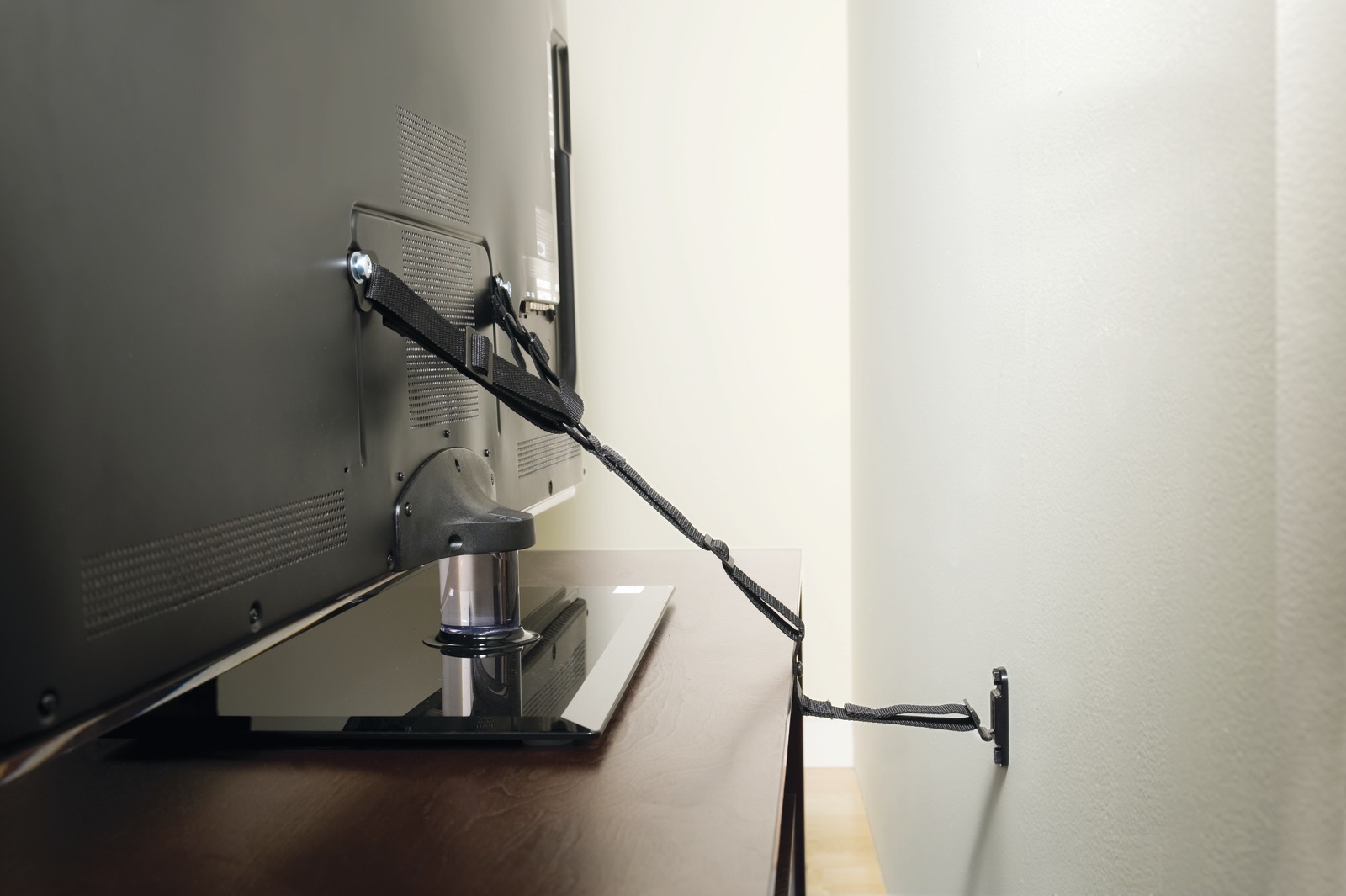 Does your media cabinet have doors that close off your components? Put a child lock on those doors. Your remote can "see" through glass or Plexiglas. If the doors are solid, invest in an infrared receiver, a tiny device that mounts on top of your TV. It serves as a universal receiving unit for your remotes, transmitting signals to your components.
Hide your cords and cables. You can bundle them together with zip ties or special sleeves that stick to the wall.
Better yet: Forego the Entertainment Center
Put your TV out of reach, by mounting it on the wall, which is the safest way you can prevent a TV tip-over from happening. That way you won't have to worry about tip-overs or other accidents, and you'll get a better viewing experience in the bargain. SANUS makes wall mounts that can hold your TV in a fixed position, allow you to tilt it up and down, or give you full-motion tilt and swivel control. Our MountFinder tool makes it easy to compare styles. You can also check out this blog to learn more about choosing the right mount for your space.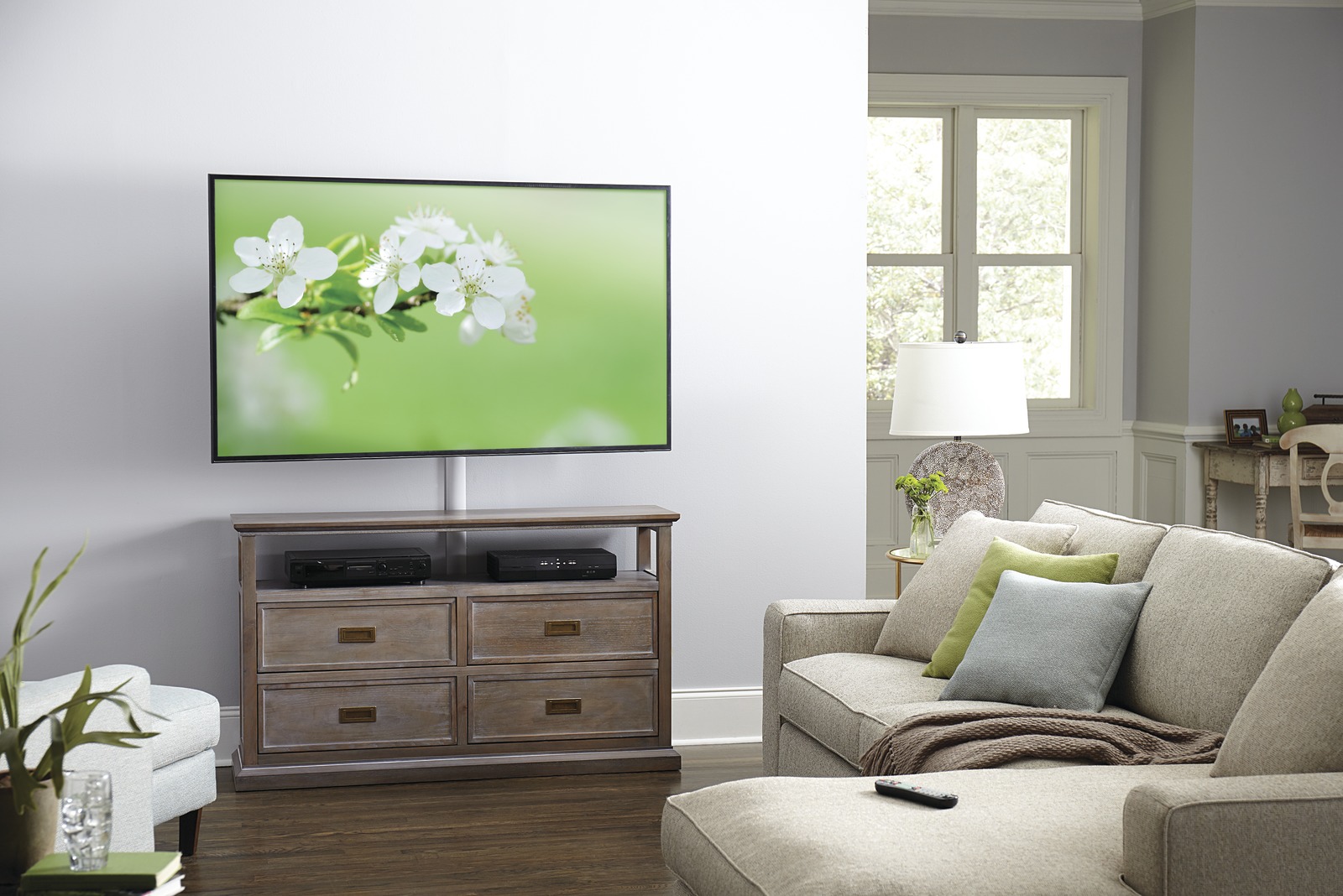 We also make a helpful variety of accessories, including cable tunnels and on-wall shelving for components as well as TVs. Here's another article with some great cable-hiding ideas.
Investing in baby-proofing your entertainment center may be a bit less convenient for you, such as covering component buttons, but we think every parent would agree: Your baby's safety is priceless.