Celebrating Safe Kids Day 2017
Apr 19, 2017
At SANUS, we are committed to helping you make your home a safe place for you and your family. That is why we are so passionate about TV safety. From helping you
determine if a TV mount is designed for safety
to
concealing your TV and component cables
to keep them out of your young one's grasp, we want parents to be aware of the risks of TV tip-overs and other avoidable TV-related accidents.
While securing your TV is important, we know that TV safety is just one piece of keeping your children safe. That's why we partner with Safe Kids Worldwide, a nonprofit organization dedicated to providing parents and families with information that can help prevent avoidable injuries.
Your child's safety is your number one priority, and as your child becomes more mobile and curious, the measures you take as a parent to keep your kids safe grows. The
Safe Kids Worldwide website
is a one-stop resource for information, tools and safety tips – allowing you to be one step ahead of your child's development when it comes to childproofing and safety.
Sunday, April 23, Safe Kids Worldwide is hosting Safe Kids Day, a day of creating awareness about preventable injuries with fun and educational activities for both kids and parents. SANUS is proud to be a sponsor of this time to celebrate kids and take action to protect them. There will be Safe Kids Day events going on across the country throughout the spring months. You can check here to find Safe Kids Day events in your area.
Even if you're not able to attend an event, Safe Kids Day serves as a great reminder to do a child safety checkup to make sure your family is protected from preventable accidents.
Don't feel overwhelmed by the number of childproofing activities out there. Let the ages and stages of your children dictate what safety actions are highest priority. Safe Kids Worldwide provides a handy safety checklist template called My High 5. Use the list to pick the safety actions that make the most sense for you and your family. Below is our own High 5 checklist.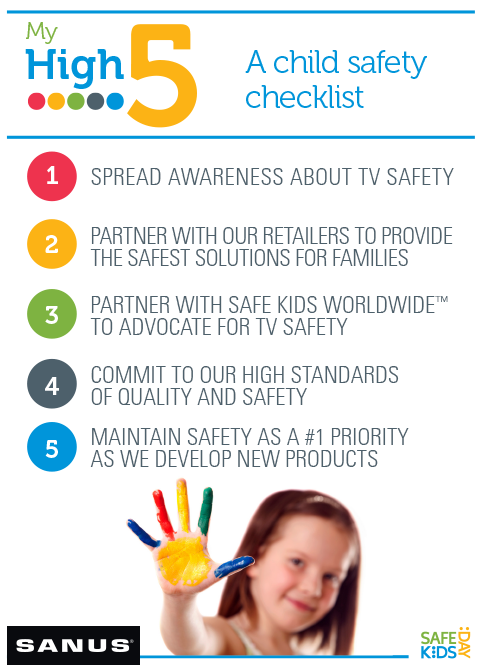 And if you have unsecured TVs in your home, now's a great time to secure them.
Even though flat-panel TVs are lighter than the boxy CRT TVs that you may have grown up with, their top-heavy design makes them much more tip-prone. Unfortunately, injuries to children from TV instability has increased by 31% over the last ten years.
The good news is TV tip-over related accidents are preventable, and by mounting your TV to the wall or securing your TV to the wall or piece of furniture with an anti-tip strap, you can eliminate the risk of this type of accident happening in your home. With $100 and an hour of your time, you can create a kid-friendly living space.
Check out our Home AV Checklist to change your living room from hazard-prone to worry-free.