How to Incorporate a TV into a Small Space
Nov 11, 2019
Trending among today's millennials is a desire to live in a smaller space — urban, suburban, country, and everything in between. Fortunately, there is a large variety of small living spaces available, from apartments to cabins and tiny homes — and to clarify, we are talking less than 1,000 sq ft here.
But a small space is a fragile ecosystem that can be quickly disturbed by clutter and mess. In fact, mess is more obvious when you are in a space that is more confined. Luckily, when it comes to your main living space, how you incorporate your TV can really help to save space and increase functionality. Here are some things to consider when integrating a TV into a smaller area.
When and Where Will You Watch TV?
That depends on your layout, how often you expect to watch (daily news and shows vs. occasional movie or DVD), and for how long. You could watch the news while standing and fixing dinner, but you'll want to be comfy for movie night or for prolonged periods of bingeing. Place your TV where it can be watched from multiple locations in a comfortable way.
Could Positioning Serve a Dual-Purpose or Increase Functionality?
Making the most of a small space requires thinking of ways to double-up on the functionality of every nook and cranny, as well as walls and cabinetry. Mounting your TV on the wall is an obvious answer for tiny spaces. That maintains the svelte look of your space regardless of your specific décor choices. And lucky you, it doesn't require a piece of bulky furniture to set it on.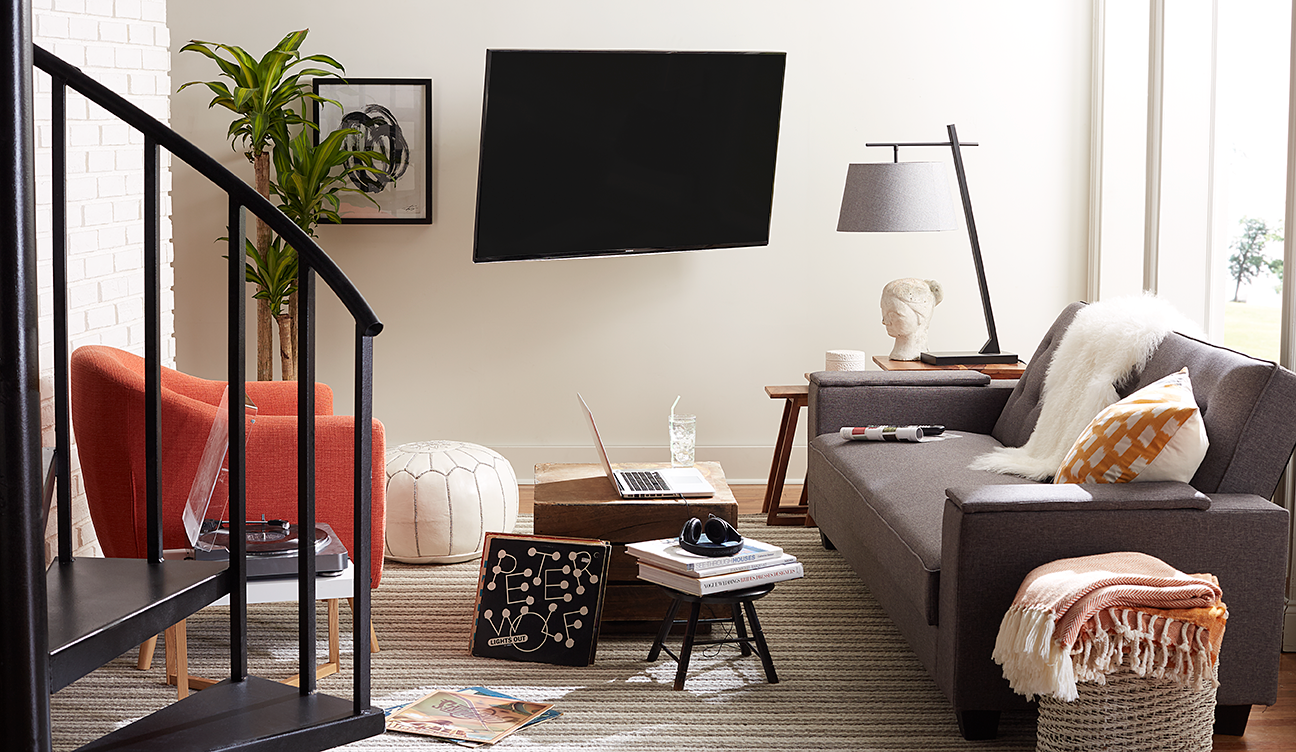 Mount the TV within built-in shelving on the wall, or behind the door of a cabinet or closet. Cover it with a beloved painting or poster mounted on a hinged backing that simply swings away for viewing and back in place afterward. No beloved painting or poster? Use a mirror — it will make your space appear larger along with hiding your TV.
Could a TV Mount Be the Right Solution for Your Space?
In a standard home, the goal is to mount your TV at "seated eye level," but you may have to fudge that with a higher or lower position, depending on your home's configuration. On the other hand, one advantage many tiny spaces have is an open floor plan — it makes the wee space feel and "live" larger and enables you to see your TV from more locations.
SANUS makes TV wall mounts different styles to fit any space (including corners) that optimize viewing from multiple angles. A full-motion TV mount will give you maximum flexibility, and it sits almost flush with the wall when not in use. Simply extend your TV out from the wall and swivel it right or left based on you're viewing your TV, and when done, place the TV back against the wall so it no longer protrudes into your space.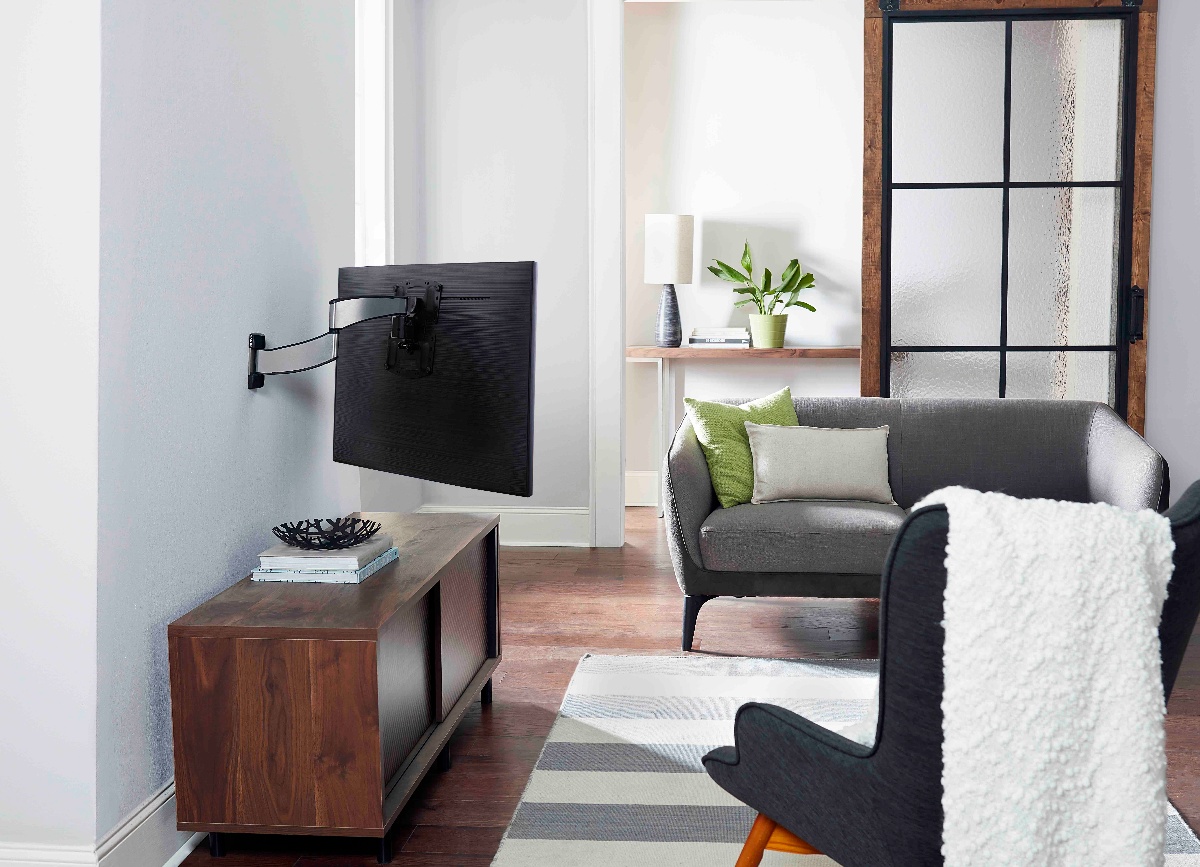 We all know small spaces work double duty when it comes to one main room being a "catch-all" for activity: a work out space, an entertainment space, a dinner space, etc… by choosing a TV mount that gives you the most flexibility for viewing, streaming workouts, or watching the news you can maximize the use of that space perfectly.
Concerned about visible cords hanging down below your TV? A cable channel can be used to corral them and maintain the tidiness of your tiny space. This specific version conceals up to 8 TV and component cables, and it's super-easy to install. Paint it to match your wall, and like a chameleon, it will blend in almost invisibly.
Need more clever ideas for incorporating a TV into your tiny space? Check out our blog on small-space storage ideas for media accessories.