The Cord Cutter's Guide to Streaming Media
Mar 17, 2017
Many flirt with the idea of saying goodbye to cable or satellite forever – or at least saying goodbye for now by testing the streaming TV waters. It may not yet be perfect, but streaming media has come a long way over the past few years and provides a great way to save cash.
So why do so many people hesitate when it comes to cutting the cord? Unfortunately, there is no one-size-fits-all approach to streaming, and this presents a lot of questions that need to be answered.
What channels and shows will I get? What is the best streaming service? Do I need to get streaming devices like an Apple TV or a Roku to replace my cable box? And of those options, which should I get and why?
And answering these questions requires research, and sometimes, trial and error, which is never fun.
To help cut down on hassle and headache, we did the homework for you. Let's start with one of the most important questions you need to answer when it comes to streaming:
What streaming TV service do I need?
As you are likely aware, the answer to this question depends upon what you like to watch.
According to Fortune magazine, the average monthly cable bill grew to $103.10 in 2016. If saving money is one of your key motivators for cutting the cord, as it is for many people, you will want to understand what streaming media subscriptions you will need and the cost of each. The last thing you want is the cost of stacking streaming subscriptions to exceed the cost of your current cable or satellite bill.
A great place to start is by listing out the TV channels and programs you (and your family) can't live without and then comparing that list to programming available through various streaming media subscriptions to find the ones that closest fit your viewing needs.
Cord Cutter's Guide: Streaming TV Services Comparison
Check out our cutting the cord guide below, which provides an in-depth streaming services comparison, and read on to see overviews of the major online streaming TV services to find your best alternative to cable TV.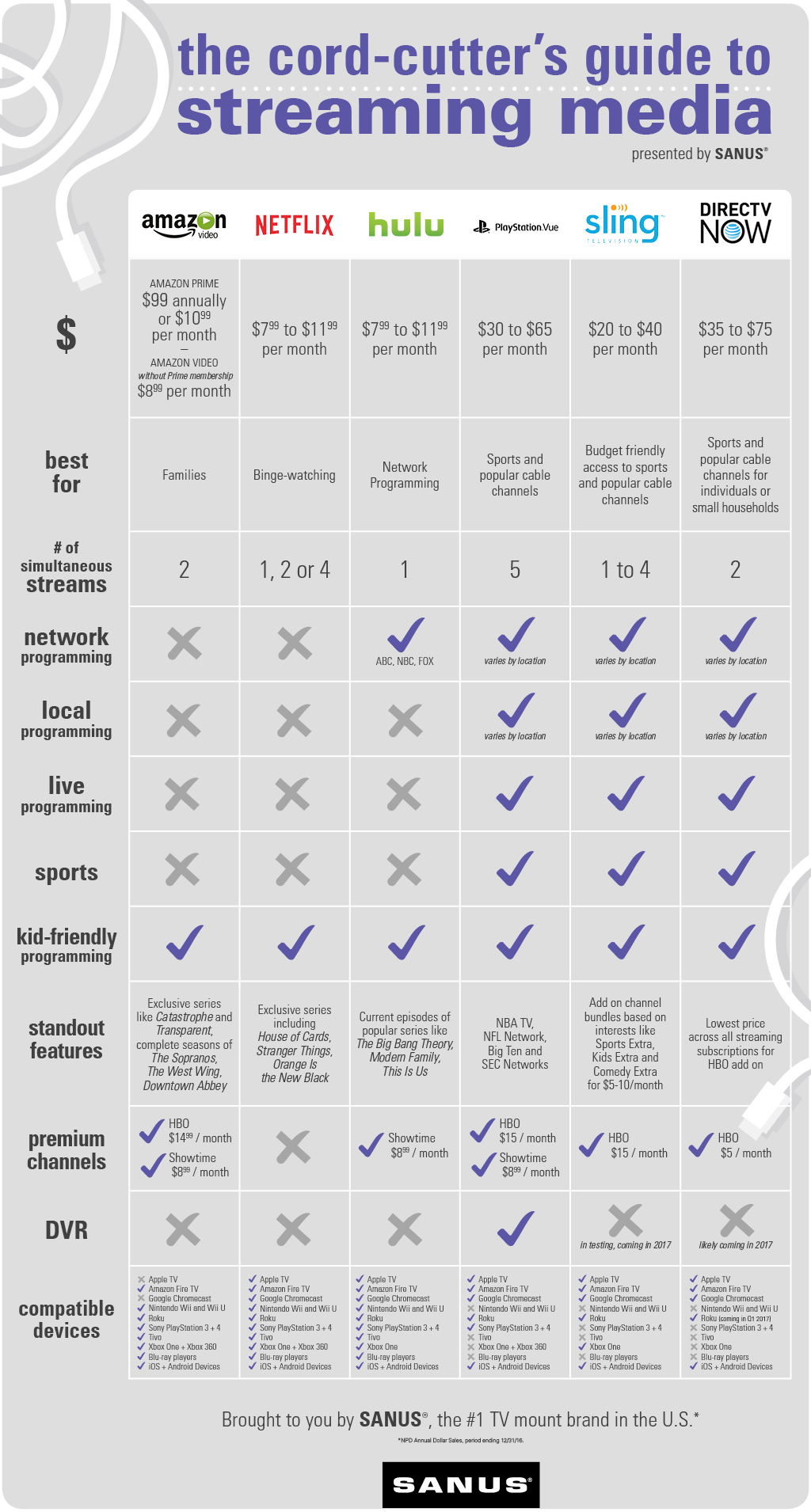 Amazon Prime Video:
If you're like most people, free two-day shipping may have been what originally drew you to an Amazon Prime subscription. But over the past several years, Amazon has become a major streaming media provider with nearly 20,000 movies and 2,000 TV series available.
The Amazon Prime Video library includes programming from premium networks like Showtime and HBO, and more recently, Amazon has gotten in the media production game itself creating several award winning original series. If you already have a Prime subscription purely for the shipping benefits, it only makes sense to take advantage of the abundance of programming that comes with it.
Not interested in free shipping? Prime Video is also available as a standalone service.
Best for: Families
Cost: Amazon Prime: $99 annually / $10.99 month. Amazon Video (does not include Prime membership): $8.99 a month.
Netflix:
Netflix is the O.G. of the media subscription service, but long gone are the days of waiting for the next show or movie in your queue to arrive in the form of a DVD in a red paper envelope.
It has been estimated that the Netflix title count is about a quarter of the size of the much larger Amazon library. What it lacks in volume, it appears Netflix is attempting to make up in exclusive content deals and original programming. Netflix is the only place you will find current hits like "Orange is the New Black," "House of Cards" and "Stranger Things."
Bottom line: If you're a binge-watcher, you'll probably want Netflix in your streaming media mix.
Best for: Binge-watchers
Cost: $8-12 month
Hulu:
If you want to keep network programming, but don't want to deal with an antenna, you will want to consider Hulu. With the exception of CBS, which has its own streaming app, Hulu provides network programming (ABC, NBC, FOX) generally available one day after original broadcast.
Additionally, Hulu carries programming from additional basic cable networks like Nickelodeon, Lifetime, National Geographic, USA and more.
Best for: Network Programming (with the exception of CBS)
Cost: $7.99 / $11.99 a month
PlayStation Vue:
If losing access to live sports is major obstacle in the path to cutting the cord, PlayStation Vue is one of a cable TV alternatives you will want to look into. PlayStation Vue provides a rather large bundle of live TV channels, such as ESPN and CNN, along with on-demand programming and the option for cloud-based DVR.
Programming access is broken into four subscription tiers, with each tier providing additional sports networks and other programming.
If you take the jump from the introductory Access subscription level to the next level, Core, you add additional sports networks into your subscription including, BeIn Sports, Big Ten Network, ESPN News, ESPN U, Fox Sports Regional Network, Golf Channel, NBA TV, NFL Network, SEC Network among additional non-sports channels.
Depending on where you live, Vue provides live feeds of the major networks – ABC, CBS, Fox and NBC. You can check here to see what channels are available where you live.
Another important thing to note about this platform is its strict no password sharing policy – so no giving out your password to friends and family with this one lest your service be turned off.
Best for: Those looking for a cable TV alternative with sports and network programming as well as other popular cable channels
Cost: $30-65 a month
Sling TV:
Again, if access to sports channels is key, you will also want to take a look at SlingTV. Starting at only $20 a month the Sling Orange subscription level, you'll get access to ESPN, ESPN 2, ESPN 3 and a variety of other popular basic cable channels.
For $40, the Orange + Blue Sling Plan adds channels like Fox Sports, NFL Network and NBC Sports Network.
For an extra $10 a month, you can add on the Sports Extra package, which includes, the NFL Redzone, NBA TV and the NHL Network among other options. Some of the other add on Extra packages include Kids, Comedy Plus, Lifestyle, News and Hollywood, all of which are an additional $5 a month.
Also like PlayStation Vue, access to network stations is available based upon where you live. See what stations are available in your area.
Best for: Those looking for a budget friendly service offering sports and popular cable programming
Cost: $20-40 with ($10 sports package; $5 for other add on packages)
DirecTV Now:
The newest kid on the streaming television block (at least for now) is DirecTV Now. Similar to PlayStation Vue and Sling TV, DirecTV Now offers bundled channel packages.
DirectTV now has four tiers of streaming subscriptions including sports and popular cable channels with access to live network programing where available.
HBO fans take note: DirecTV Now offers HBO as a programming add on for only $5. No other streaming service comes close to that price.
Another important item to note is that DirecTV offers a maximum of two streams at a time (at least currently). Because of this, the platform is best suited for smaller households or individuals who don't regularly watch a lot of TV.
Best for: Individuals and smaller households
Cost: $35-70
What streaming devices do I need?
Once you know what streaming TV service or services you want, you'll have a better idea of what streaming media device you will need.
After all, you wouldn't want to purchase one and then find out it is not compatible with the streaming media services you are using.
If you haven't already, be sure to check out our helpful streaming TV guide above. It not only compares the programming and pricing of each streaming media platform, but also calls out which streaming media devices work with media platforms.
And finally, if the thought of bringing more devices (and more clutter) into your space makes you cringe, check out the SANUS Streaming Media Player Mounting Bracket.
It securely and conveniently hides small streaming devices – like Roku, Apple TV, Chromecast and others – behind your TV by easily attaching to your TV mount or directly to the back of your TV.
Saying goodbye to cable also provides a great opportunity to further streamline your space. As you get rid of your cable box and additional components you no longer need, you can get rid of the media center or TV stand used to hold those components.
Mounting your TV to the wall is an easy way to free up space and achieve a sleek modern look. Check out this comparison guide on finding the best TV mount for your space.