The SANUS Swiveling TV Base Is the Next Best Thing to Mounting Your TV [VIDEO]
Mar 28, 2017
As nice as it is to have a landlord take care of all your housing needs like mowing the lawn or fixing the sink, one frustration of renting is that you can't tamper with your walls. Landlord's aren't too appreciative of a renter grabbing a power drill and channeling their inner Tim "The Toolman" Taylor to the walls for an unwanted TV mount. While a lot of college kids and fresh graduates who rent want to have a big flat screen in their living room, the option to mount it on the wall just isn't there. So how do we fix this problem?

The SANUS Swiveling TV Base is the perfect solution for those renters who want the flexibility of moving a television and getting that sweet, modern look without the need to drill holes in their walls. Just because you rent doesn't mean you have to sacrifice style and a killer entertainment set-up.
Swivel Left and Right
Like a full-motion wall mount, the Swiveling TV Base allows for a wide range of viewing angles by swiveling up to 40 degrees left to right. No matter how many friends you have over, or where you want to sit in your living room, you have the ability to adjust your screen to accommodate any viewing need. Which means, no glare and the picture from any seat.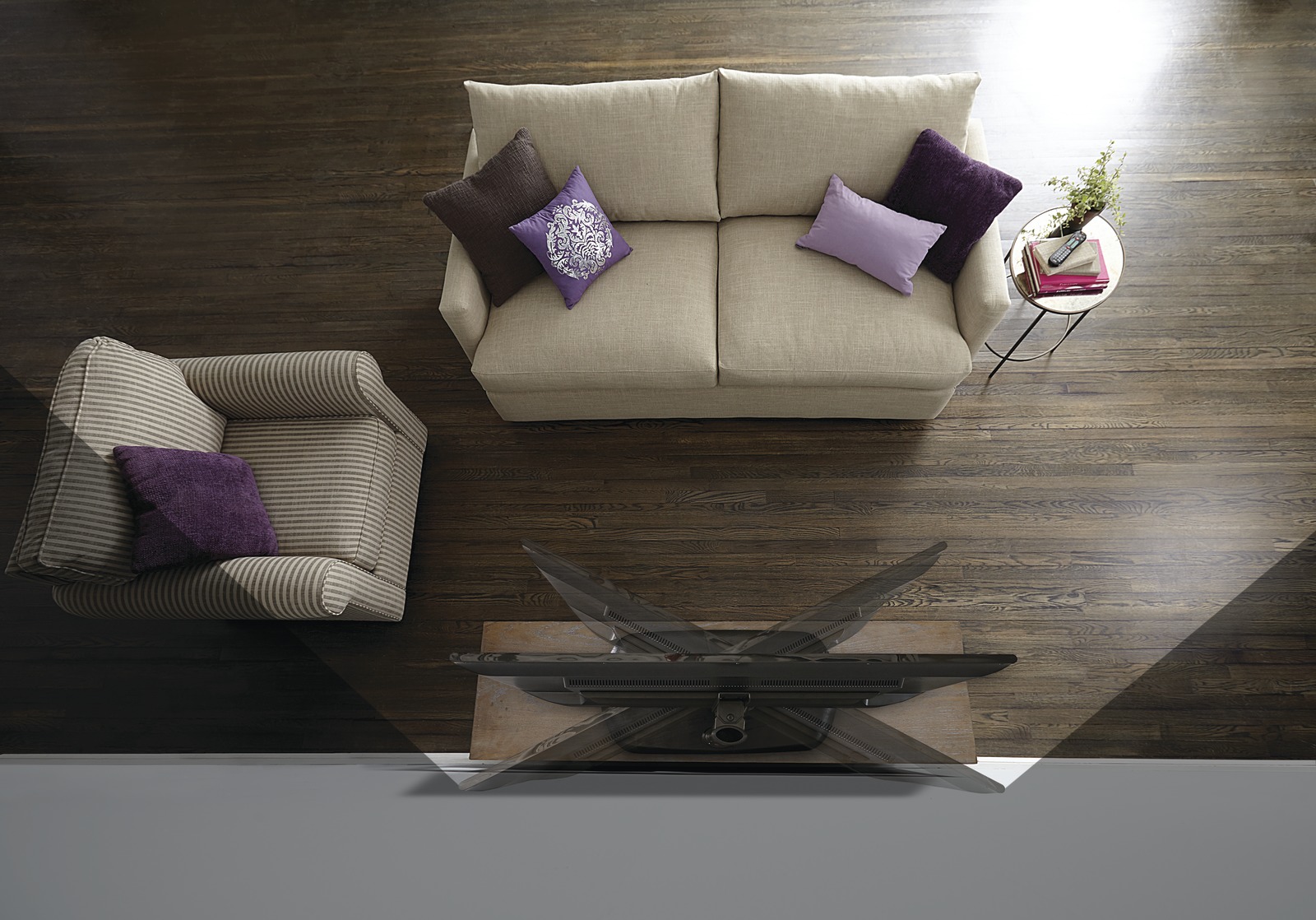 Height Adjustment
Along with it's swivel abilities, the TV base has the ability to adjust vertically as well. You can adjust the television up to 8 inches up and down, giving you the clearance you need for your electronic components to fit seamlessly underneath. The height adjustment allows space for your audio product of choice, like the new Sonos PLAYBASE(™) or PLAYBAR or any other sound bar on the market. The combination of your SANUS Swiveling TV Base and a Sonos PLAYBASE(™) is just what you need for the best movie night and bingeing your favorite shows on Netflix.
SANUS Swiveling TV Base Footprint
The Swiveling TV Base gives the look and function of a well-mounted TV, so your screen looks like it's hovering above your sound base or other AV components, AND the footprint of the Swiveling TV base is also able to accomodate a range of furniture sizes, even those with a shallow depth or width.
That Perfect Clean Look
The thought of keeping your entertainment center clean, organized, and free of cables can be a scary one. With a BluRay player, gaming device, cable box, AND television cables, what will it take to keep them all organized and nice? Well, the swiveling TV base allows you to manage your cables, keeping them completely hidden and giving the illusion that the television is hovering over your audio product of choice or your AV components. What a relief that is.
Durability and Stability
When it comes to their TVs, many people are concerned about stability and safety. The SANUS Swiveling TV Base can help prevent TV tip-overs by providing a more stable, sturdier alternative to the base that might have come with your TV.

So keep your landlord happy and your hardhat buried in your storage space by going with a SANUS Swiveling TV Base: a safe, easy and perfect alternative to mounting your television. Need more convincing why a TV swivel base would be right for you? Here's 7 more reasons.