TV Emergency: Solutions for a Lost TV Base
Aug 09, 2019
"TV Emergency" may sound like a reality TV show with some pretty boring plot lines, but these are some real TV emergencies:
You managed to break the base that holds your TV. We won't ask how you did it — sometimes stuff happens.
You moved and can't find the base. Maybe the movers lost it or you've somehow managed to misplace the base — again, stuff happens.
Now, what are you supposed to do? Good news, you can get over losing your TV base without losing your mind. Really. You may even wind up with a better plan for your TV.
Find Your Model Number and an Exact Match
You have a few options. One is to find a replacement TV base that's exactly the same as your lost TV base. Start by locating your TV model number. It should be on a product information label adhered to the back of the TV or the bottom right underside of the display. Of course, the model number can also be found on the original packaging. But who are we kidding — nobody still has that.
If you know your TV model number and you're lucky, you might be able to find the right replacement on eBay or Craigslist. Or you might be able to order it from the manufacturer – but be prepared for sticker-shock. Manufacturers sometimes charge a premium for replacement parts.
Consider Cheaper Options and DIY
You might find a cheap replacement TV base at the store, but if it isn't stable enough your TV will become a safety hazard. Or, if you're a DIY kind of person, Pinterest has replacement TV base ideas, from rustic consoles to DIY easel TV stands, and handmade bases made of wood or metal. But why?
Upgrade to a Swivel Base for Your TV
Why not use this as an opportunity to upgrade? The SANUS swiveling TV base gives you much greater viewing flexibility than a standard fixed base, because you can easily swivel your TV left and right making it viewable from any seat in the room and even the adjacent room. A swivel TV base is the perfect solution if you live in an apartment or other kind of rental unit, where you are not allowed to mount your TV on the wall.
Try Wall Mounting Your TV
If you do mount your TV on the wall, you won't have to worry about getting another base. Perhaps you've been secretly – or not so secretly – annoyed for years that your TV hogs up space on your living room furniture. Or the dresser in your bedroom. Even a smaller flat screen can create an almost-total eclipse of valuable surface space.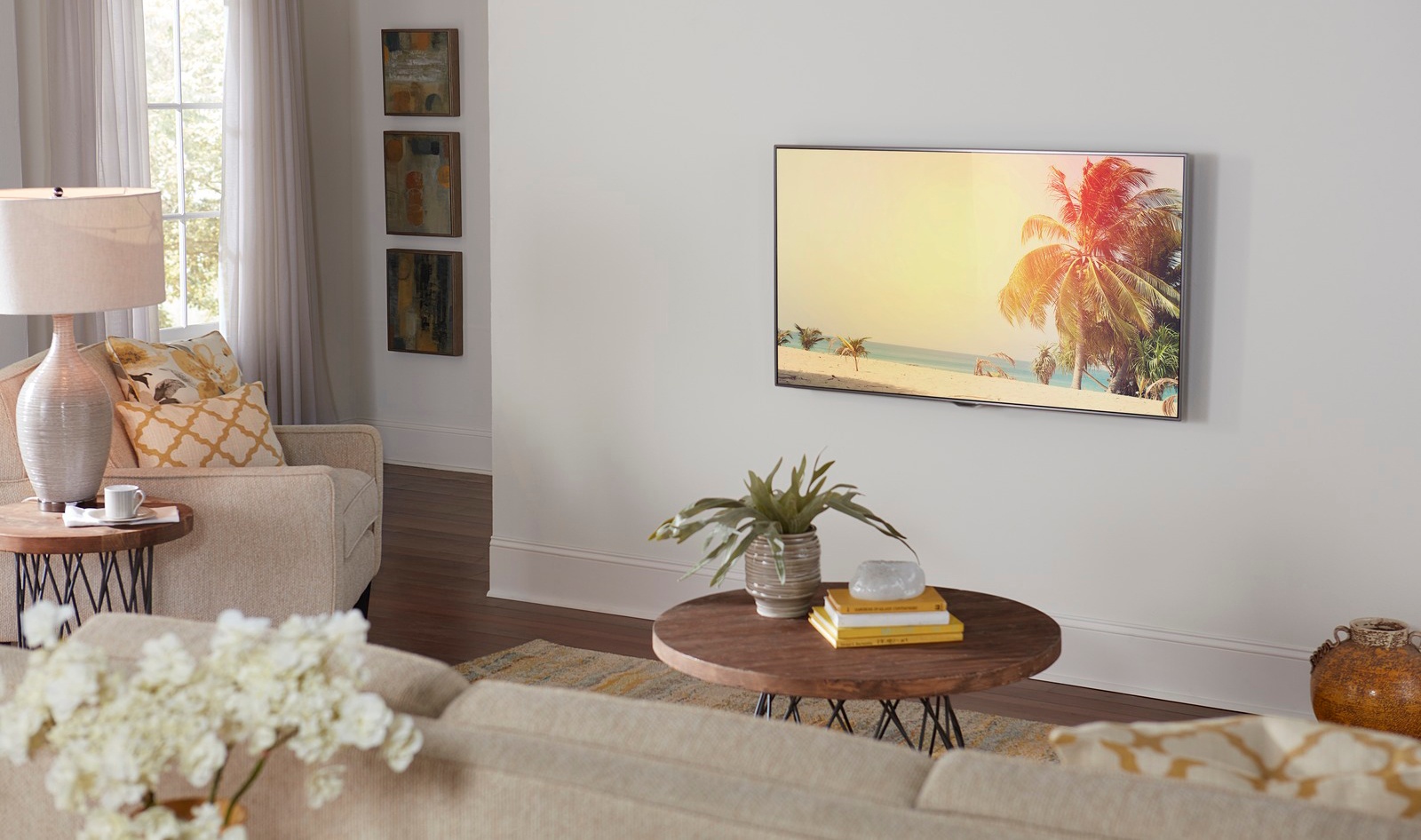 If your rooms are small, your TV can feel overwhelming when you aren't watching. If you don't want to use a swivel base and wall mounting is possible, then it's likely your best option. If you own your home, you'll definitely want to consider wall mounting your TV because it is the most versatile, space-saving, and best-looking choice.
SANUS makes an entire line of wall mounts that can be used in any room in the house:
Fixed-position mounts get the TV out of your way and give your space a cleaner look.
Tilting mounts allow you to tilt the TV up or down, for optimal viewing whether you're sitting, standing, or lying in bed or on the couch.
Full-motion mounts tilt and swivel, for top-quality viewing from anywhere.
The SANUS mountfinder makes it easy to compare these options, and our height finder will help you drill the holes to mount your TV in exactly the right location based on how high you want to mount your TV.
A lost TV base is not an emergency, it's an omen. A blessing in disguise. Instead of fretting, consider this an invitation to take a new decorating direction. You can give your room more style, and boost your viewing quotient at the same time.