What you need to know before buying a TV Mount
Oct 19, 2023
When I began my search to buy a TV mount, I knew nothing about mounting a TV. What kind of mount do I need to buy? What are the different criteria I should be looking at? As a new employee of Legrand, I was tasked with going through the TV mount purchase process as someone with fresh eyes and an unbiased opinion. I was both excited and daunted by the endeavor. My 65" Samsung TV was sitting on my entertainment center in my new apartment, and the wall behind it was completely bare. Since I was going to be going through the purchase process for a TV mount, I decided I could make more out of the wall and the entertainment center if I mounted my TV. So, I began my search, but, because I did not know anything about mounts, it was extremely overwhelming at first. With the abundance of mounts there are to choose from, it felt like I had looked at 100 different product pages, and I still could not decide. However, with some research, I found everything I needed to know to make an informed decision. Now, I want to help others to do the same by boiling down the basics of what I learned through my search so that you can save time in yours.
The first thing you will need to consider is the wall you plan to mount your TV to. It is important to be familiar with your wall's construction so you can ensure the mount you pick is compatible. If you are a renter like me, the best way to find out what your wall is made up of will be to reach out to your leasing office or property management. This is also a good idea to make sure that it is not a violation of your lease to make alterations to your wall. If your property management will not allow for mounting a suitable alternative would be a TV stand.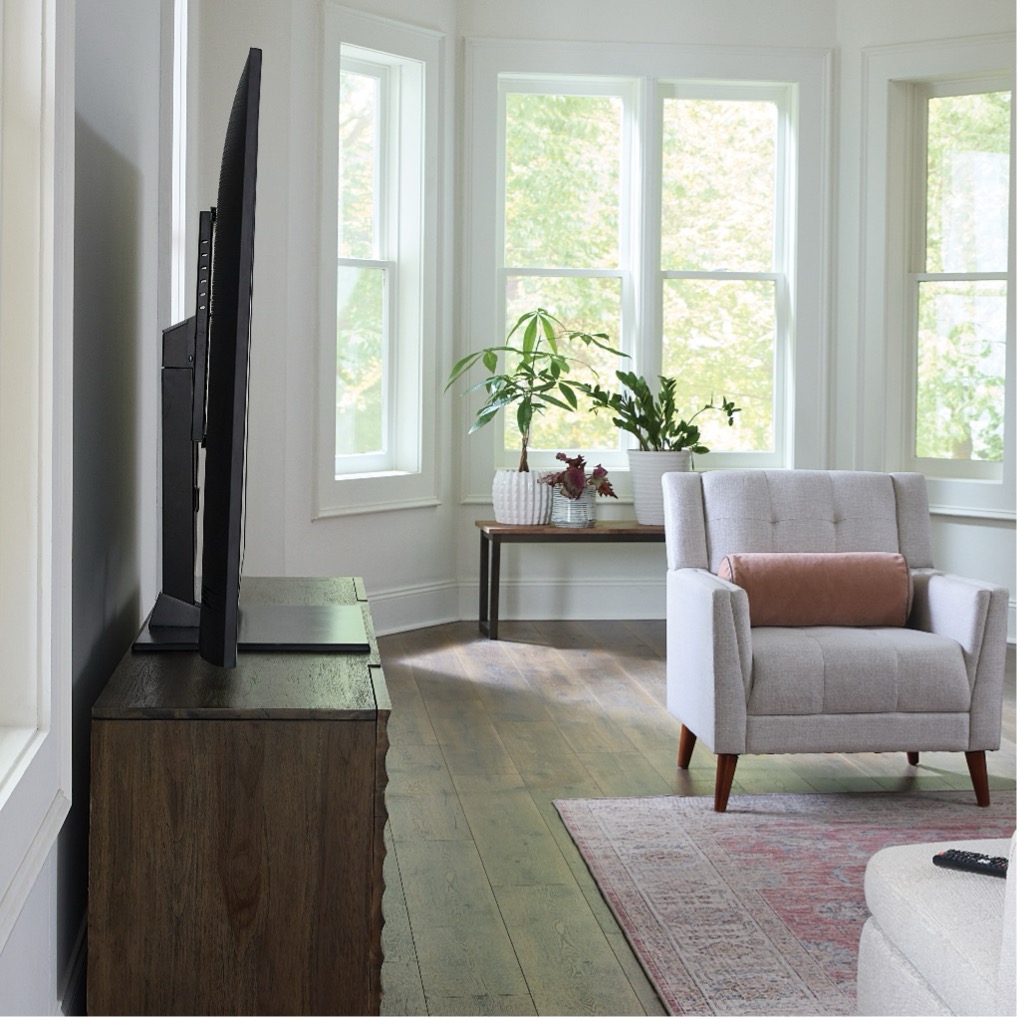 SANUS VSTV2 | TV Stands | TV Mounts and Stands | Products | SANUS
So, what is your wall made up of?
Once you are familiar with the structure of your wall you can compare this with the mounts you pick out for compatibility. You can check the product page for this information or the installation manual for the mount.
The next thing you will need to know is your TV's VESA pattern. Your TV has mounting holes on the back that can be laid out in different patterns, it is helpful to know your mount's pattern in order to select a compatible mount. This can be found in your TV's manual, or you can determine it by measuring horizontally and vertically between the mounting holes. Ex. 200mm x 200mm, 400mm x 600mm
After you have gathered the necessary information about your wall and your TV, you can begin picking out your mount. There are three different types of mounts you should be familiar with during your search: Fixed-Position, Tilting, and Full-Motion.
A Fixed-Position mount is a stationary mount that will put your tv mounted as close to the wall as possible. This allows for a clean aesthetic and is good in a room with limited space. Fixed-Position will work best if you only look at your TV from one viewing point in the room, are able to mount the TV at eye level, and do not need constant cable access.




A Tilting mount allows you to tilt your TV up and down. This type of mount is best if you need/want to mount your TV above eye level. For example, if you are mounting your TV above your fireplace you will need to be able to angle it downwards for optimal viewing. If you are mounting your TV in a room with a lot of big windows or sun exposure, a tilting mount can be ideal to adjust for glare.




A Full-Motion mount allows for the most viewing flexibility. It can sit close to your wall if you choose, or you can pull out from the wall. If you like to view your TV from several positions in your room a full-motion mount allows you to extend, swivel left and right, and tilt. Perhaps you are mounting your TV in the living room, and you want to be able to see it when you are cooking in your adjacent kitchen. A Full-Motion mount will allow for this. This type of mount is also ideal if you are considering mounting your TV in a corner. Also, because of the adjustment this mount gives, you will have maximum cable access.


Through my search I found three main candidates to choose from. A full-motion mount from one brand, a full-motion mount from another, and the advanced tilt mount from Sanus. From these three I narrowed my options by looking at the brands, features, price, and reviews. I chose the Sanus advanced tilt mount because it met my criteria better than the other two mounts. I have a large window in my living room, so I knew that I needed a tilting or full-motion mount to be able to adjust it for glare. I rarely watch my TV from anywhere except my living room, so a full-motion mount was not necessary.
Of all the brands I looked at, I found that at Sanus, there are so many resources to make the entire purchase and install process for TV mounts easier. If you are having a tough time figuring out which mount is best for you, consult MountFinder™. When using MountFinder™, you just select the type of mount you wish to purchase, enter your TV model number if you have it or the brand and size, and it will automatically generate different mount options that are compatible with your TV. This would have saved me so much time and effort during my search had I known about it sooner.