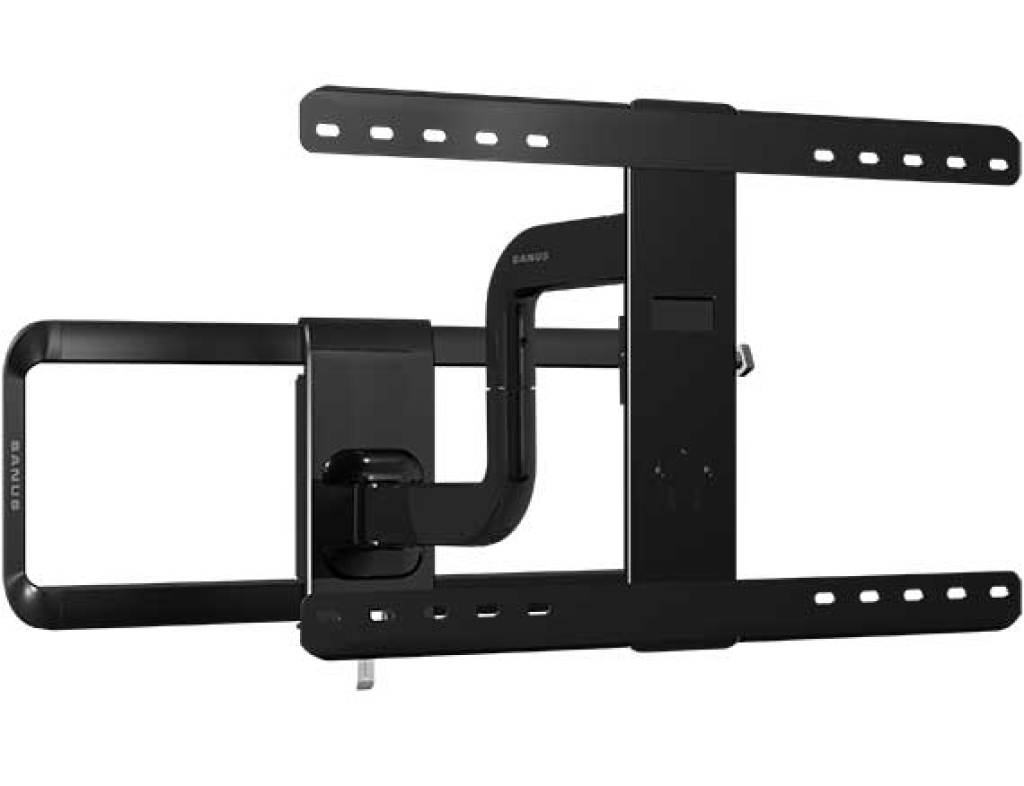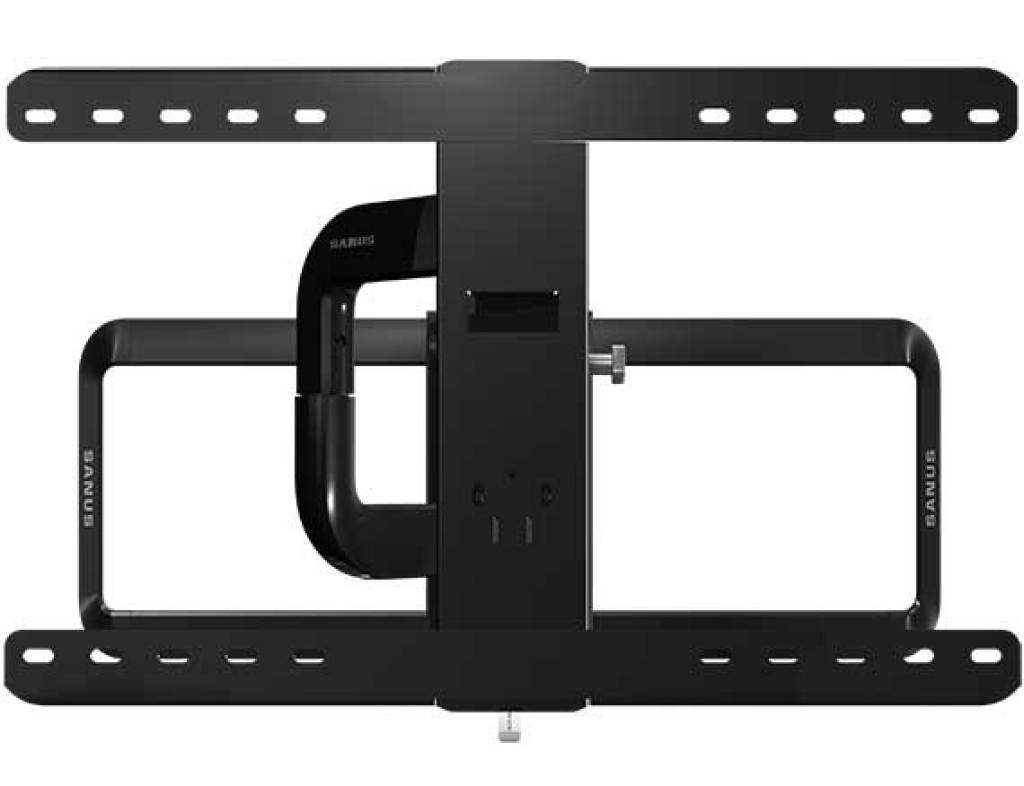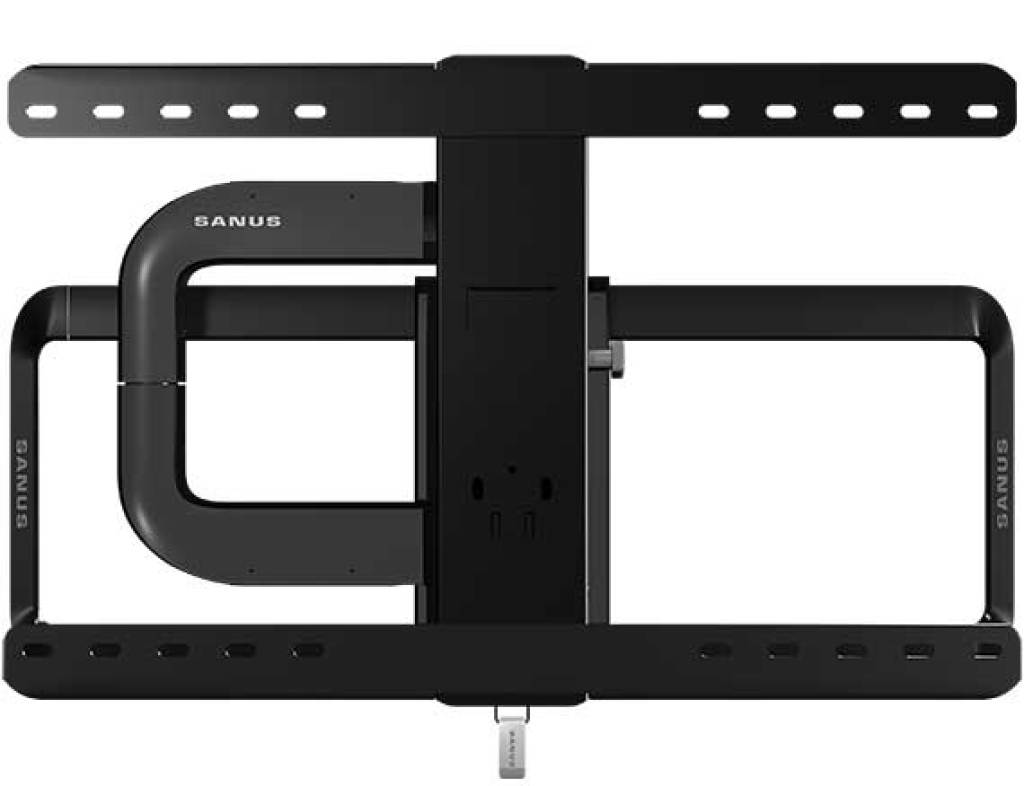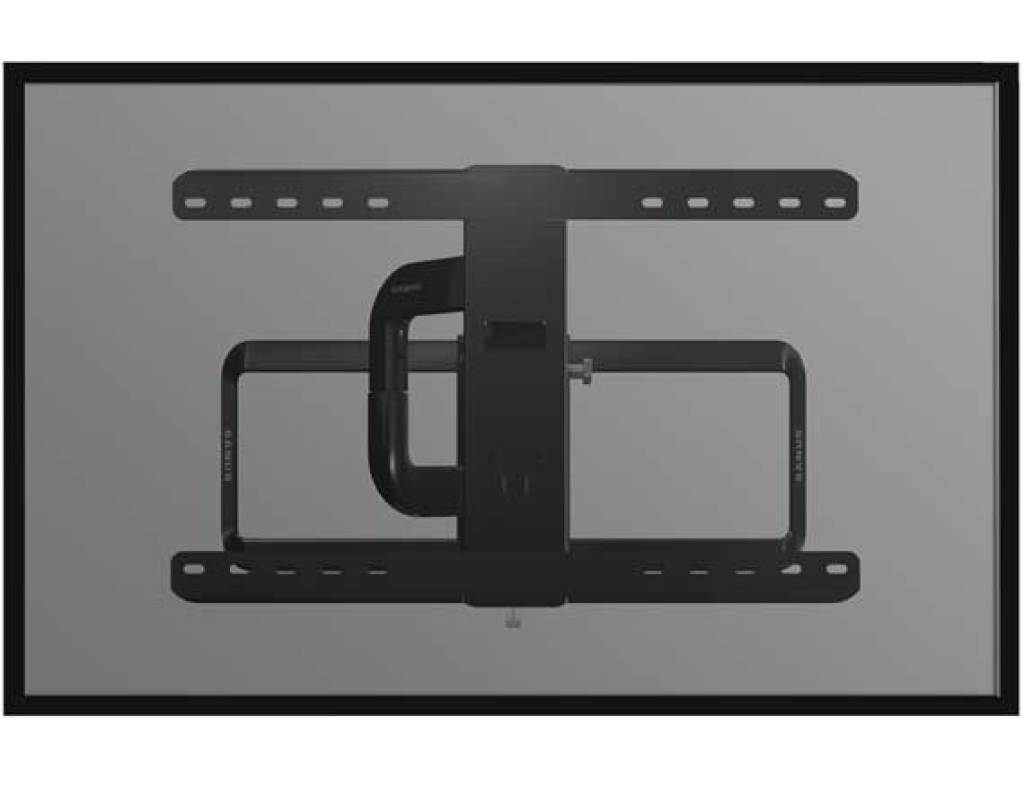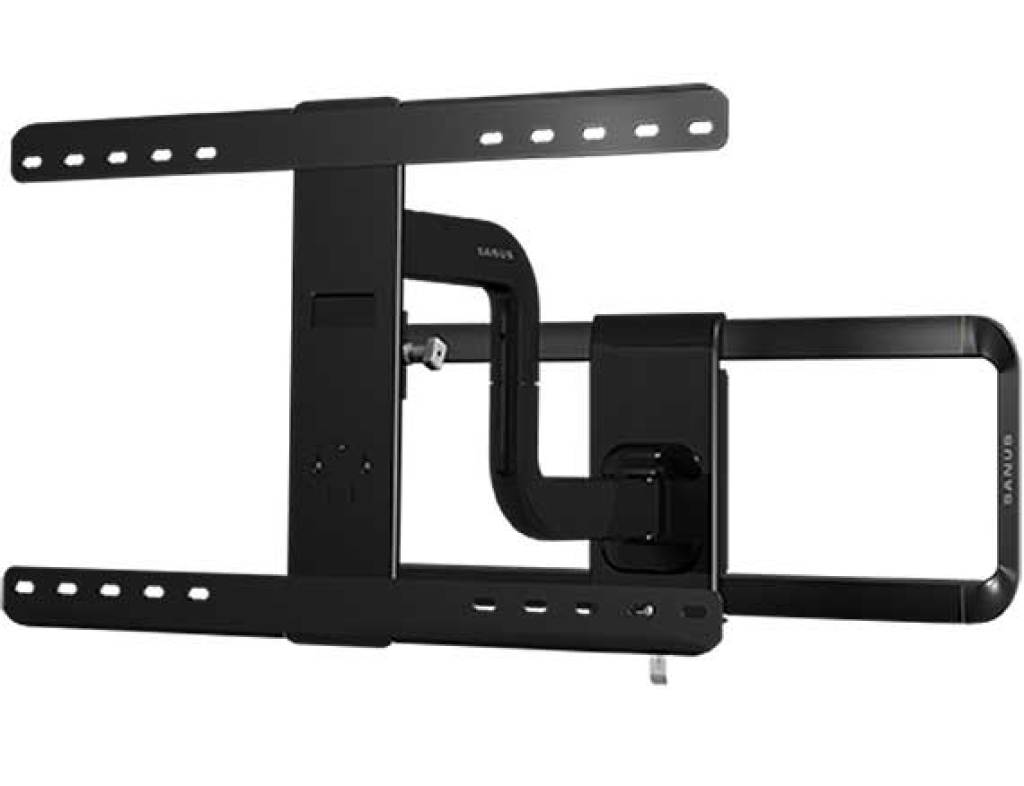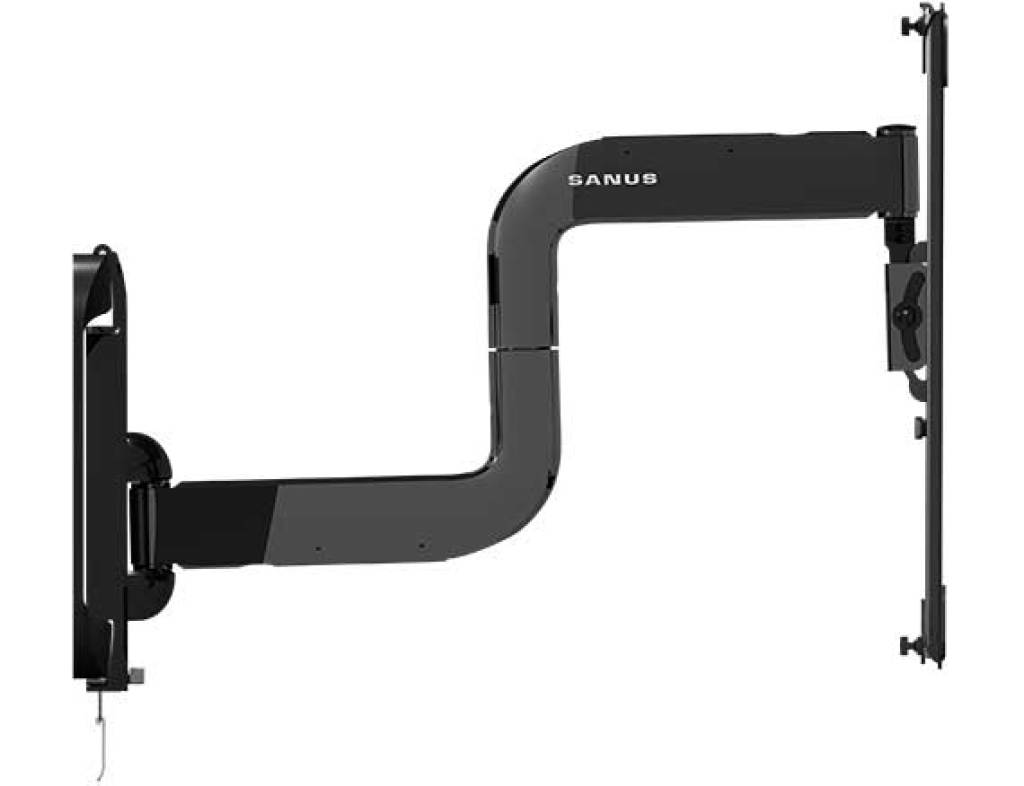 Premium Series Full-Motion Mount For 51" - 70" flat-panel TVs
VLF525
This product has been discontinued.
Fits TVs

51" - 70"

Swivel

90° / -90°

Extension

25.00"
VLF525
is rated out of
5
by
18
.
Will this work with my TV?
Enter the model number of your TV to find out.
Here are a few products that are compatible with your TV!
Ready to install your Mount?
Use the HeightFinder for mounting instructions.
Go to HeightFinder
Ready to install your Mount?
Use the HeightFinder for mounting instructions.
Go to HeightFinder
Videos to Get You Started
SANUS VLF525 Features Video
SANUS VLF525 Installation Video
Premium Series Full-Motion Mount For 51" - 70" flat-panel TVs
SANUS Premium Series VLF525 full-motion mount lets you enjoy a great picture no matter where you watch. Tilt, swivel, extend and level your TV without the need for tools. Unsightly cables stay concealed, and tool-free assembly ensures a quick and easy installation. TV can slide from side-to-side for perfect positioning on the wall, and safety tab provides a safe and easy connection you can hear.
Product Features
Easily adjust your TV without tools
Enjoy a great picture no matter where you watch
Hardware included
Our TV Mount products are Safety Tested and UL Certified
Perfect for mounting your TV in a corner
Separate roll, tilt and swivel controls
Slide TV side-to-side for perfect positioning on the wall
Swivel your TV left and right for the perfect view
TV "clicks" into place for a safe connection you can hear
Tilt your TV for perfect viewing from the couch or floor
Tools You Will Need For Installation
3/8" Masonry Bit (Concrete Installations)
Phillips Head Screwdriver
The Details
Product Brand:
SANUS
Model Code:
VLF525
UPC Code:
793795526267 - Black - Discontinued

Product Width:

30.88

" /

78.44cm

Product Height:

18.65

" /

47.37cm

Product Depth:

3.62"

-

25.00"

/

9.19cm - 63.50cm
TV Size Range:

51"

-

70"

/

129.54cm

-

177.80cm

Maximum TV Weight:

125lbs

/

56.70kg

Universal Mounting:

Yes | 200 x 200 through 700 x 400

Supported VESA Patterns

VESA 200 x 200
VESA 200 x 300
VESA 200 x 400
VESA 300 x 200
VESA 300 x 300
VESA 300 x 400
VESA 400 x 200
VESA 400 x 300
VESA 400 x 400
VESA 500 x 200
VESA 500 x 300
VESA 500 x 400
VESA 600 x 200
VESA 600 x 300
VESA 600 x 400
VESA 700 x 200
VESA 700 x 300
VESA 700 x 400

Pan:

90°

/ -

90°

Tilt:

5°

/ -

15°

Roll:

3°

/ -

3°

Swivel:

90°

/ -

90°
Recommended Products for You
Rated

5

out of

5
by
aapledge
from
Fantastic mount, even better customer service
I bought this mount 5 years ago and was using it with a Samsung PN64F8500 plasma until recently. I have moved 4 times since I've had the mount and it goes up very easily every time. The tilt allows for some error forgiveness when mounting. The single articulating arm makes moving a heavy tv a little more difficult than a double articulating arm but the extra extension is a decent trade off. I just finished mounting a new LG OLED65C9 with their awful offset VESA pattern. Thankfully, Sanus shipped me the PIABL adapter and M6 variable length screw pack completely free of charge. I was told 7-10 days shipping to Canada but it arrived at my door after just 3 days. The kit allows you to center the mount on the back of these TVs. I didn't have to move the mount on the wall. This was a great help. The free PIABL kit makes the VLF525 100% compatible with LG offset mounting patterns. Don't believe the other reviews. Amazing customer service and great product. Worth the expense.
Date published: 2019-12-14
Rated

1

out of

5
by
ScottNYC
from
NOT compatible with 400 x 200 VESA pattern
Installed on LG C9 television and what a complete waste of time. While the mount will attach to a 400 x 200 VESA pattern, the arm ends up running into itself so the mount will no longer lay flat against the wall... it sticks out about 6-7". In addition, it also interferes with the vertical angle of the TV so you can't adjust it to tilt up at all so the TV is angled down. In addition, for this LG, the bottom bracket on the TV covers inputs (ethernet etc) on the TV. Sanus also doesn't include proper fasteners for this particular line of televisions. They include one length of M6 fastener (L35) and the TV requires an L15-L20. I had used Sanus' own compatibility checker on their website to ensure it worked with the TV. It absolutely doesn't and I would avoid it for this or similar LG TVs and all 400 x 200 VESA mount televisions. I called Sanus customer service and they informed me their compatibility checker only checks the VESA pattern and nothing else. They offered to ship an additional bracket that corrects the problem by making it a 400 x 300 + pattern which adds another 3/8" or so to the bracket sticking out from the wall when it is in the fully retracted position (almost 4" total). Long story short, avoid if you have a 400 x 200 VESA mount TV and especially if you have an LG TV with that pattern. Also, definitely do not trust the Sanus compatibility checker, it's completely worthless beyond checking the VESA pattern.
Date published: 2019-07-16
Rated

4

out of

5
by
Maximus
from
Not LG OLED55B8PUA friendly
I purchased this unit many years ago to mount my Pioneer PDP-5071HD Plasma TV. The mount worked great for that 50" 75lbs TV with speaker attached to TV, very secure and easy to install. Well that TV finally took a dump after 12 years without any issues. I did my research on a new TV and checked the Sanus website to see if the wall mount was compatible, and it was/is. I followed the online interactive measuring guide. I found it to be very inaccurate. As I wanted the new 55" TV to be the same height off the floor measured from the bottom of the TV. It was essentially a 1 inch difference (livable) from the from the old TV to the new one. Basically, I could leave the mount exactly where it is and it would match the location within that 1 inch livable difference. Not the case at all, the bottom of the TV is 6 inches higher off the ground, showing the Release Cord, and when I tried to adjust the horizontal brackets to make it work, the center perpendicular bracket would be visible from the bottom of the TV. The mount should not be visible at all. I can live with the Release Cord being seen. Also the lbottom horizontal bracket impedes the Optical Digital Audio Output and the LAN connections. I'm at a Crossroads do I modify the bracket at this location to accommodate the plug risking any/all warranty, or do I not utilize my Pioneer ELITE AV Reciever? Definitely not going to throw $ away on a soundbar. It's not Sanus fault at all they could not possibly know where LG would locate the connection panel future models. So for now, we'll see if everyone can deal with the TV being 6" higher. I gave it 4 stars because of the lower horizontal bracket being in the way and the visibility of the perpendicular when set at its lowest setting, and the inaccuracy of the online interactive measuring guide. Basically, the bottom bolts that attach the mount to the wall, whatever height that is, is what the bottom of the LG OLED55B8PUA TV will be. Overall, still worth it.
Date published: 2019-02-23
Rated

4

out of

5
by
Bob1
from
Nice Mount —- But with Challenges
Before I purchased this mount, I talked to Sanus and gave the model number of the LG TV to be used, and was assured the mount would work. Only later, I learned that a special bracket would be needed to adapt properly to my TV. Sanus provided this bracket at no charge. Then, when I was putting the mount up, I found that the M6 screws included were too long, and the spacers were also not adequate. In order to complete my installation the same day, I had to take the time (and money) to purchase proper length screws. Although the support folks at Sanus have all been great, and they are shipping me new screws (too late as it turns out), here's what would be much better: 1. Information in advance that a special bracket would be required. 2. M6 screws of varying lengths should be included with the mount. Regarding the point #2, Sanus actually does include M8 screws of different length with the mount. It would have been less hassle for me, and less time for Sanus reps on the phone, if the same variety of lengths for M6 screws would also have been included.
Date published: 2018-11-30
Rated

4

out of

5
by
JB555
from
Good but Problematic
I bought this unit 4 years ago. At first, I was disappointed that the TV did not meet flush with the wall. But I got used to it. I do like the ability to turn and adjust the viewing angle but it can be difficult to maneuver. Now the forward and backward tilt will not stay in the upright position. The adjustment bolt on the unit will not hold it no matter how hard you tun the bolt. I'll try calling support. thry didn't reply to my e-mail.
Date published: 2018-06-04
Rated

5

out of

5
by
SteveInstaller
from
MountFinder Fail!
Just finished installing this mount on a LG OLED55B6P. Mount attached fine on TV and did not interfere with any connections, but because the 200 x 200 mounting locations on the TV are so low a portion of the mount is visible below the TV. Tried flipping the mounting rails on the back of the TV, but this did not help. Offered to find another mount for the customer, but they were fine with the mount showing. Also be aware that if the upper mounting rail is pushed all the way down to the stop this will interfere with the mount attaching to the arm. Good luck!
Date published: 2017-10-03
Rated

5

out of

5
by
clan1522
from
Arm movement issue otherwise good product
Overall a sturdy mount. However, after initial set up the middle joint in arm assembly did not work. It moved side to side (R and L), as well as, tilt BUT would not move TV close to the wall. It was stuck in the extended position. Assist via 800# offered replacement part. Downside: Now will need to remove mount, attach new arm and remount. Installing this replacement part will be a real headache. Getting the mount set up initially took several hours.
Date published: 2016-11-26
Rated

4

out of

5
by
j525123
from
Great except for wire management
Wire management can only hold about 2 normal size HDMI cables and 1 power cable, but the cables can still be partially visibile. Disappointed in the wire management, but overall, a great, sturdy product that looks much better than cheaper models available at the big box stores.
Date published: 2015-12-12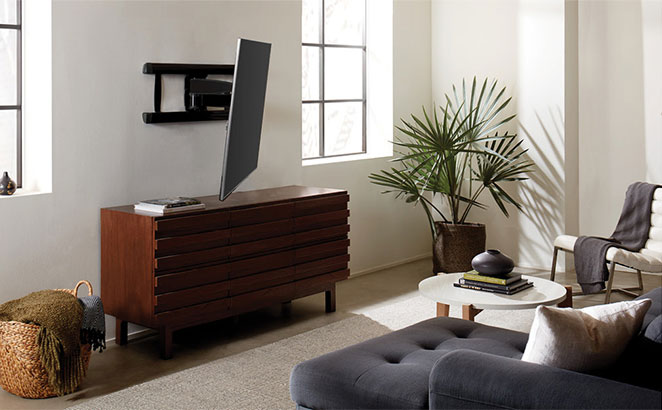 SANUS is the #1 best-selling TV mount brand in the U.S.*
Questions? Contact Us
Monday - Friday 8am - 7pm CST
Saturday - Sunday 10:30am - 7pm CST
*NPD annual dollar sales period ending 12/31/20