27 Modern TV Mount Ideas for the Living Room and Beyond [PHOTOS]
Apr 10, 2020
There are two main considerations when mounting a TV in your living room – or any room for that matter: finding a place for the TV that is functional and finding a way to incorporate the TV into the room so that it blends in, ideally seamlessly, with décor.
We've gone ahead and compiled some of our best TV mount ideas to help you do just that. Without further ado, here are 27 TV mount ideas you can use in your home.
1. TV Above the Fireplace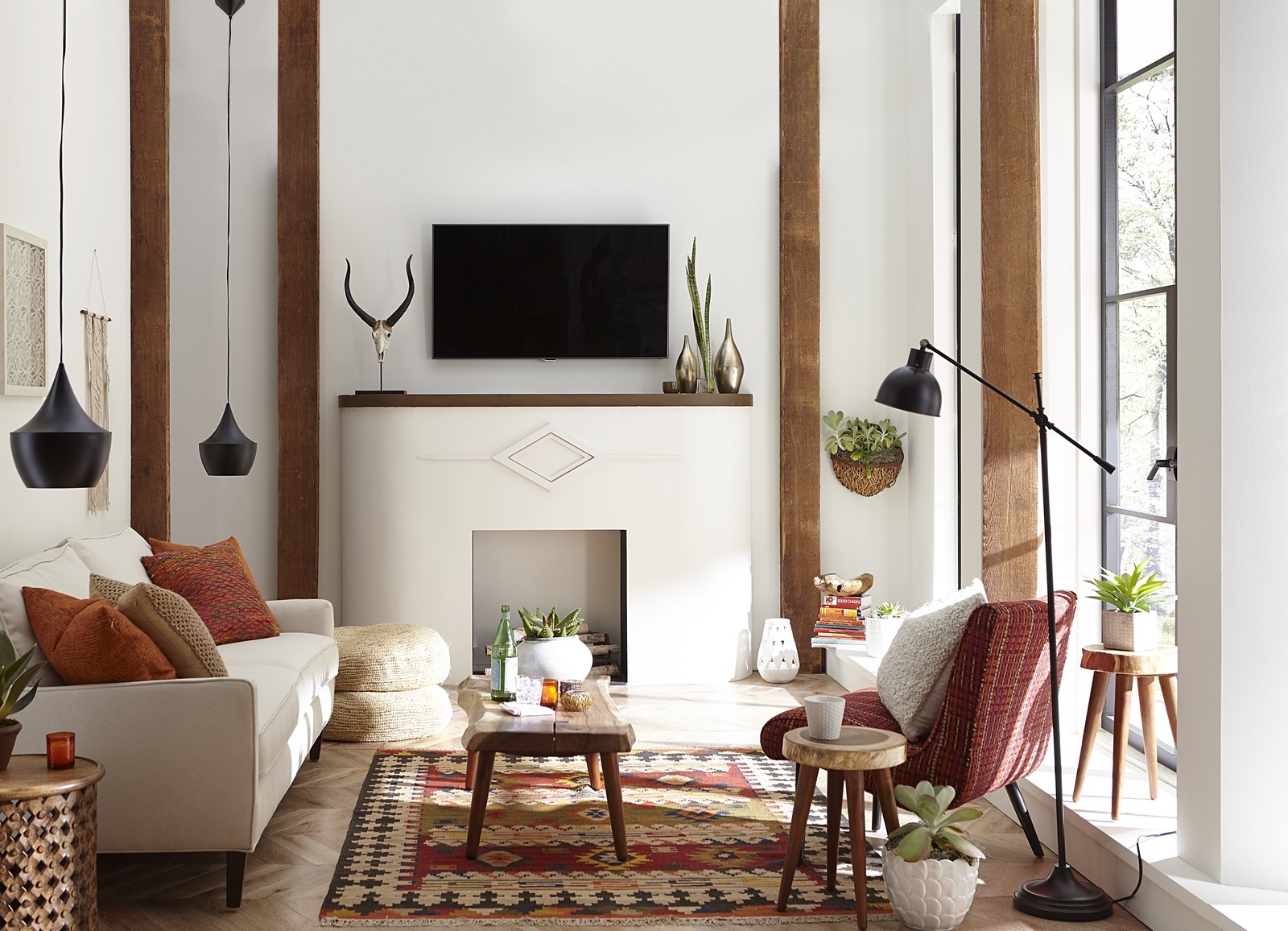 Mounting a TV above the fireplace is a topic that elicits strong feelings, so it is likely that you either love or hate the idea of hanging a TV above the mantle. If you're in the love it camp, there are a lot of pros that mounting a TV above a fireplace has going for it – mainly that it unites the TV and the fireplace in one main area. This means that it simplifies your room layout because you aren't forced to arrange furniture around two potentially competing focal points.
2. TV Beside the Fireplace
If you find yourself in the group of folks who don't so much care for the look of a TV over the fireplace, this is an option that can work for you. Like mounting your TV over your mantle, it brings your TV in close proximity to the fireplace, so you can enjoy both your fireplace and TV without having to overthink your furniture arrangement
3. Corner Mounted TV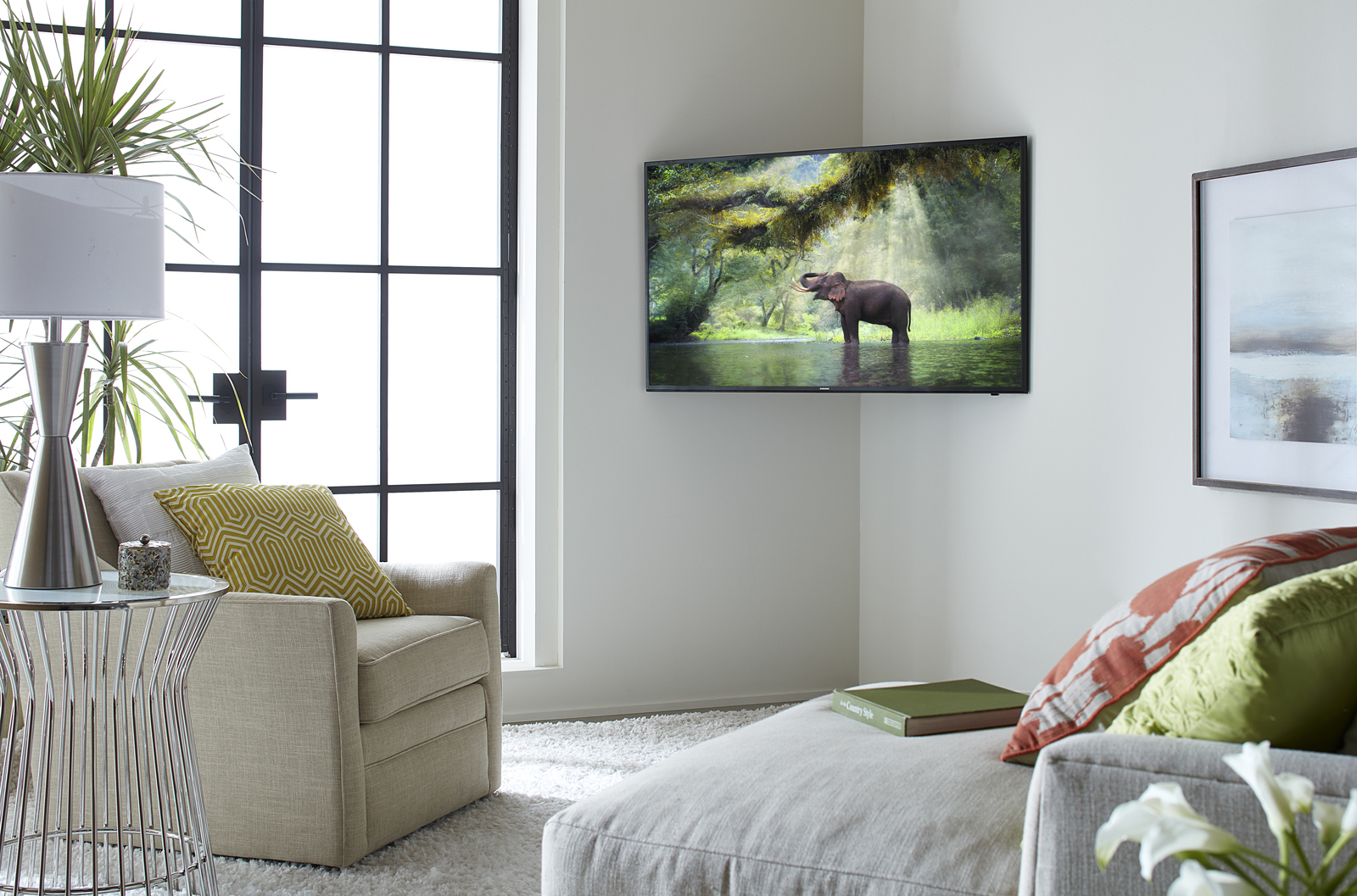 Now, the corner may not be the first place you think of when deciding where to put your TV, but depending on your room layout, it can be an ideal TV placement option. If you have limited wall space due to window placement or other architectural features, the corner may be a prime location for your TV.
4. Reclaimed Barn Wood or Shiplap TV Wall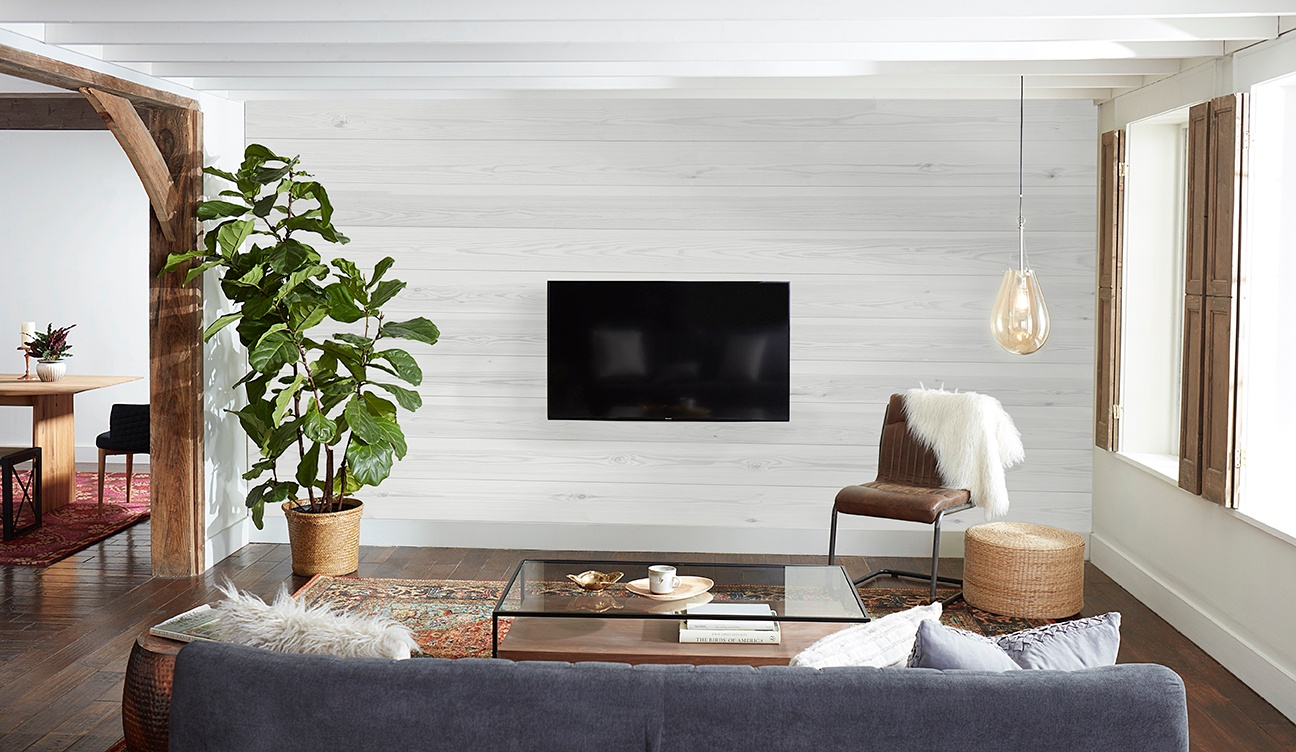 Farmhouse design is everywhere right now, and if you are a Joanna Gaines fan, no doubt, you are well acquainted with the shiplap trend. A shiplap accent wall provides subtle texture and visual interest that will help anchor your TV in your overall rustic design.
5. Wood Accent Wall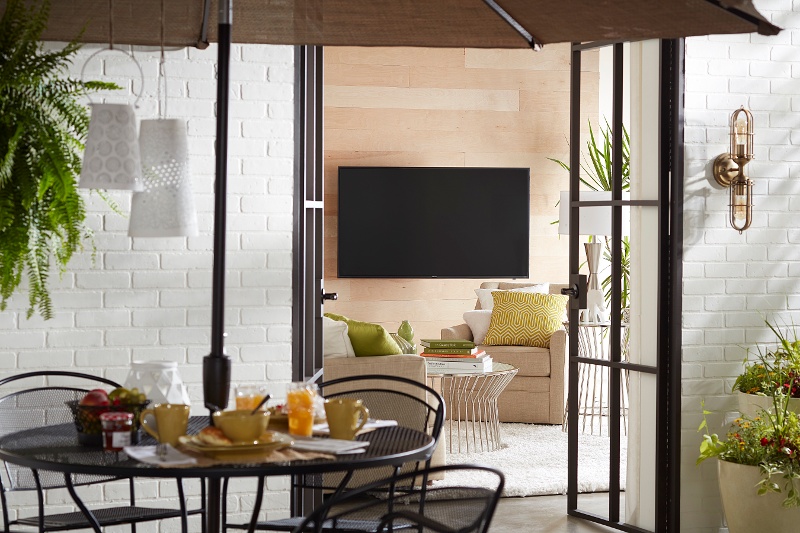 This style of wood (or faux wood) accent wall is the contemporary cousin of shiplap. It's slight sheen and more subtle grain plays well with a modern aesthetic. Just like shiplap, the wooden backdrop nicely frames a mounted TV.
6. TV Gallery Wall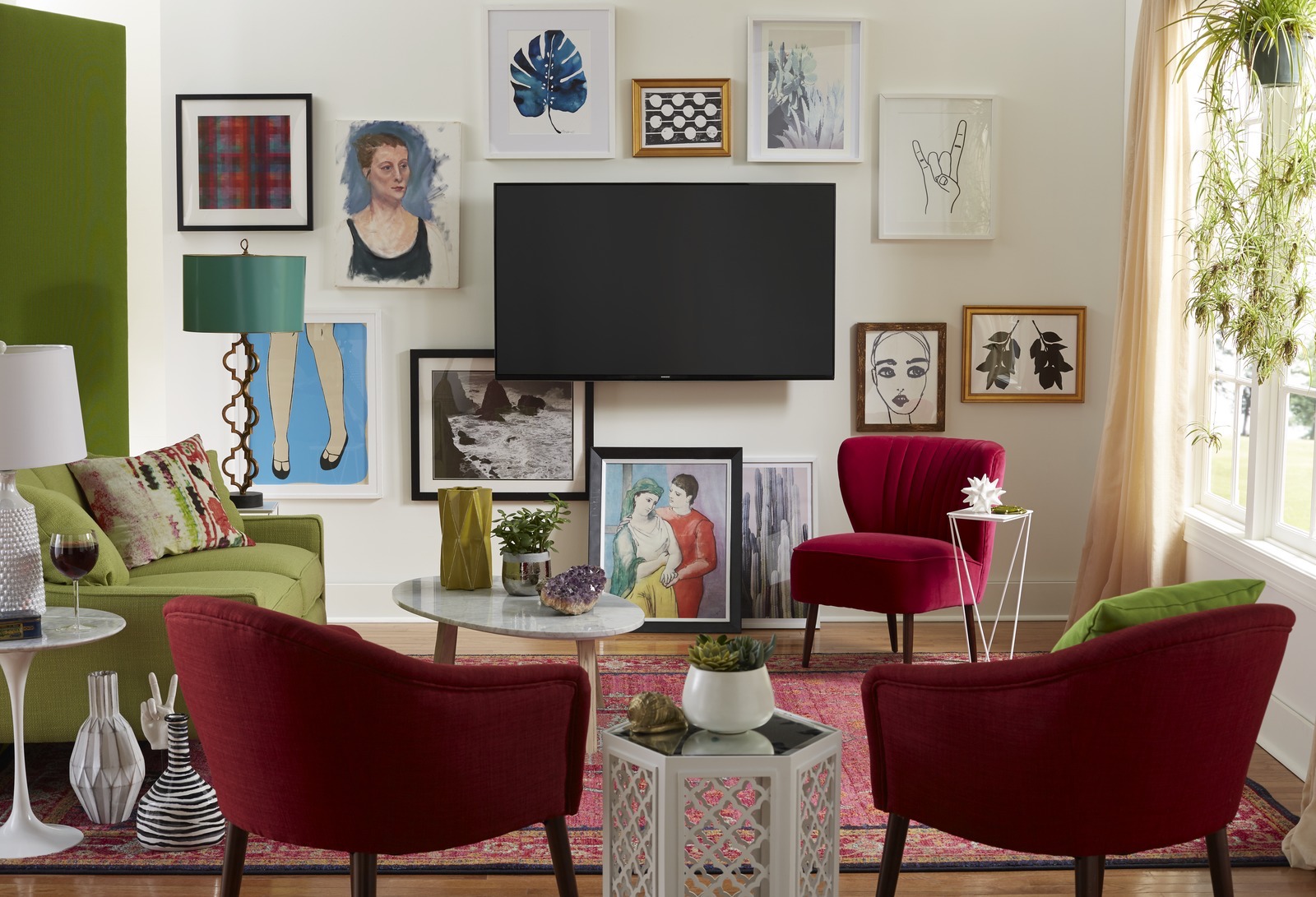 A gallery wall is a quick and low cost way to upgrade your TV wall, and whether your style is bohemian, traditional or somewhere in between, a gallery wall can help balance your TV with your overall aesthetic and minimize the impact of your TV.
7. Dark TV Wall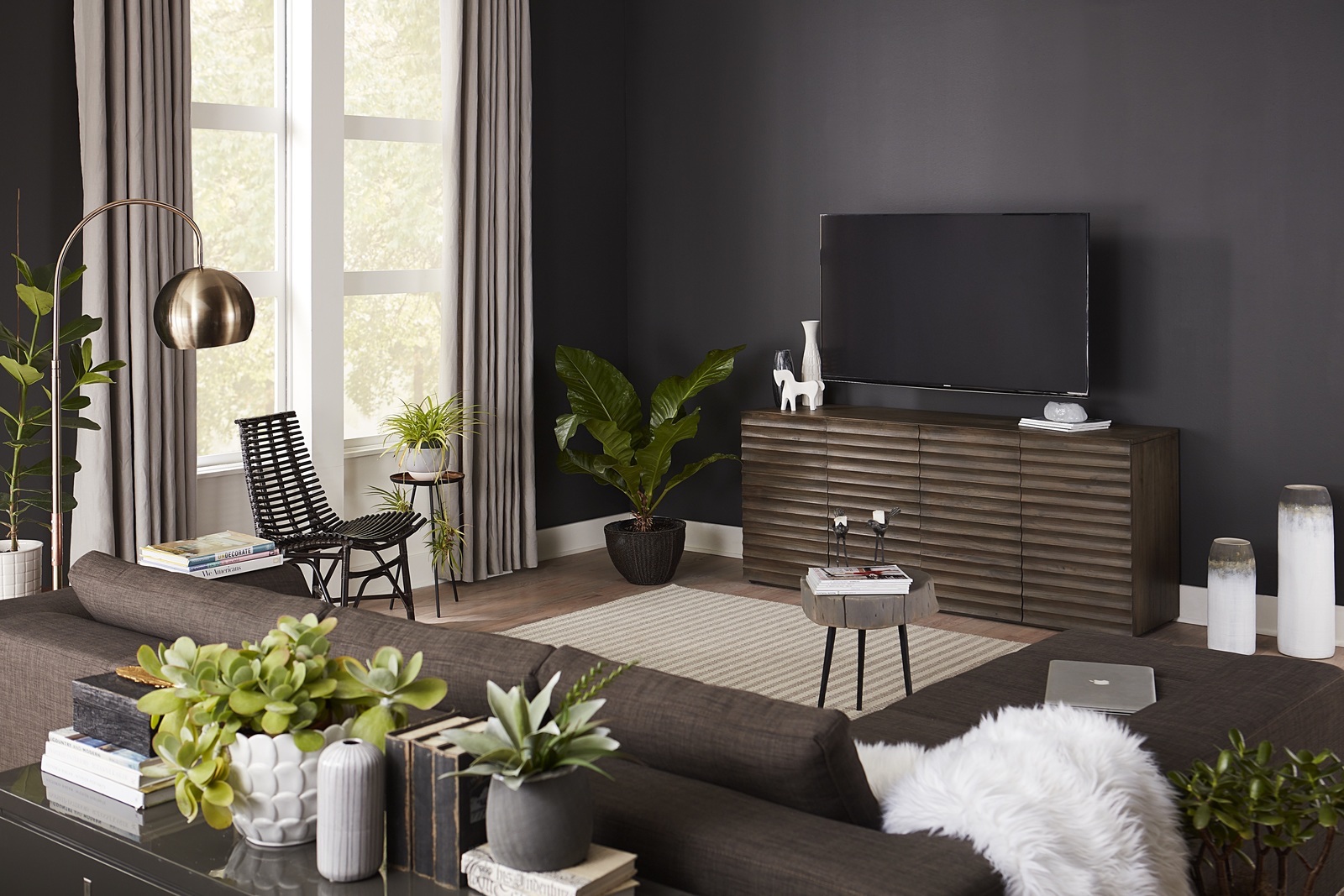 A dark TV wall brings the drama. It is also a sophisticated way to downplay the role your TV plays in your room. And dark doesn't mean you are limited to only black or near-black tones. There's an array of shades including navy, charcoal, jewel tones and more that work well with this trend.
8. TV Over Media Furniture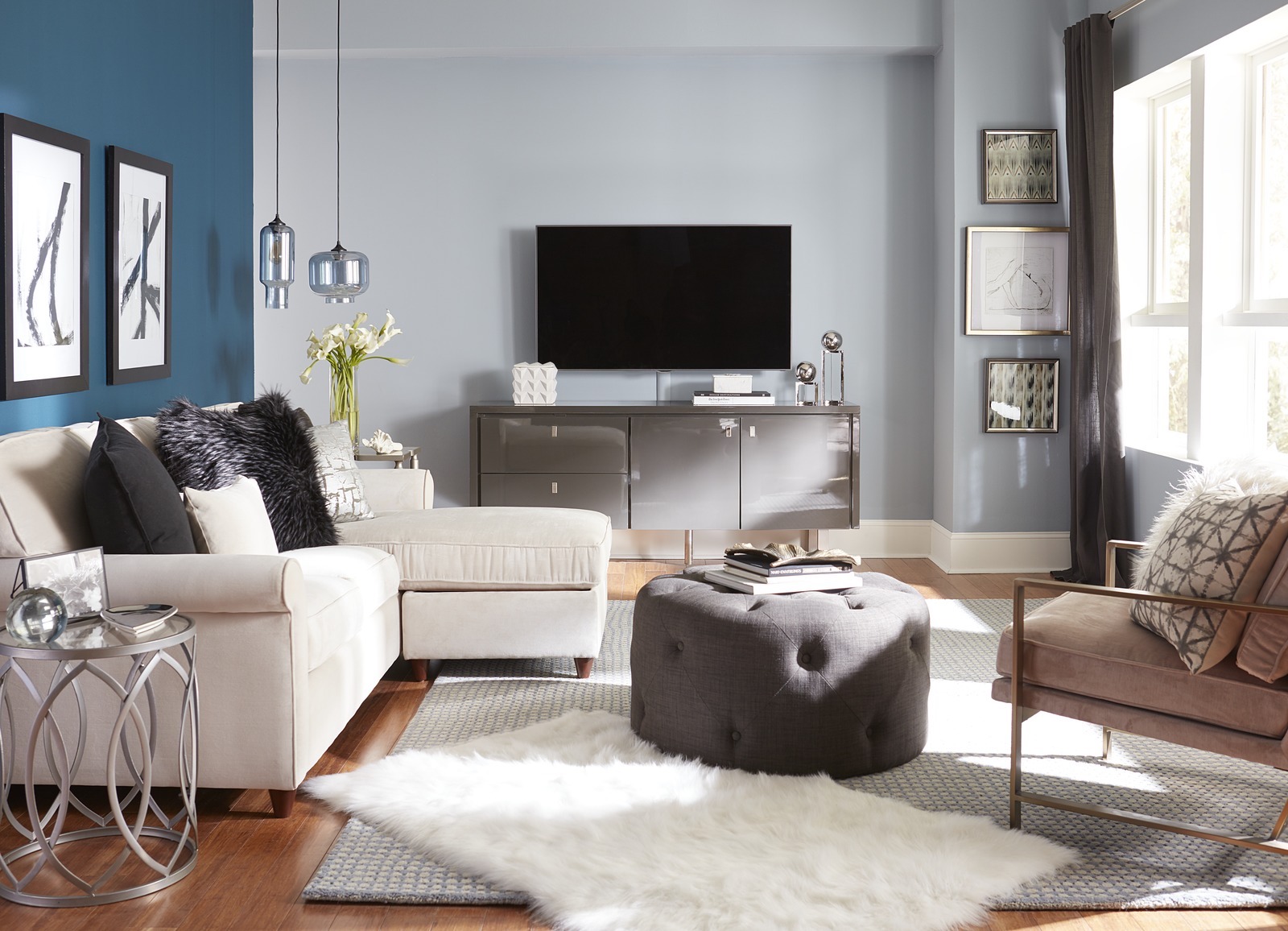 Media furniture isn't required with a wall mounted TV, but that doesn't mean you can't place a sleek media cabinet under your mounted television. A media cabinet is a good option when you have lots of components like cable boxes, Blu-ray players or gaming consoles you want to conceal.
9. Minimalist TV Setup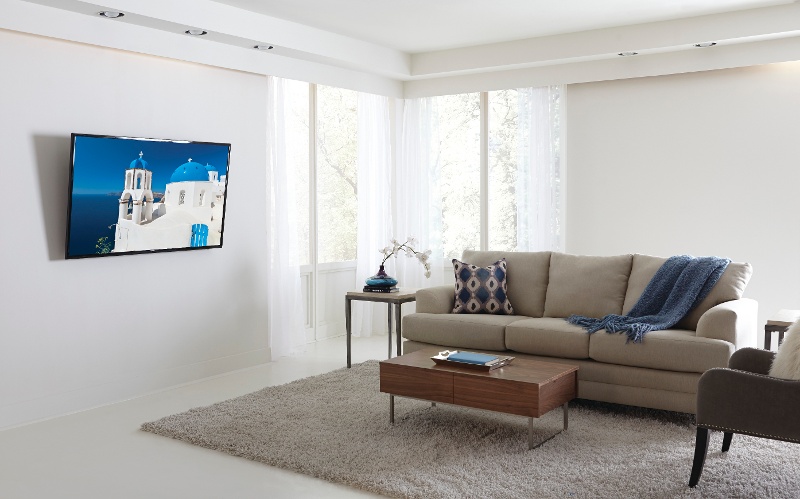 Whether a TV console isn't entirely functional with your setup, i.e., not enough space, or you appreciate a minimalist look, a mounted TV provides the freedom to forgo furniture. This is especially useful in secondary viewing spaces like the bedroom or kitchen.
10. Floating Shelves Around TV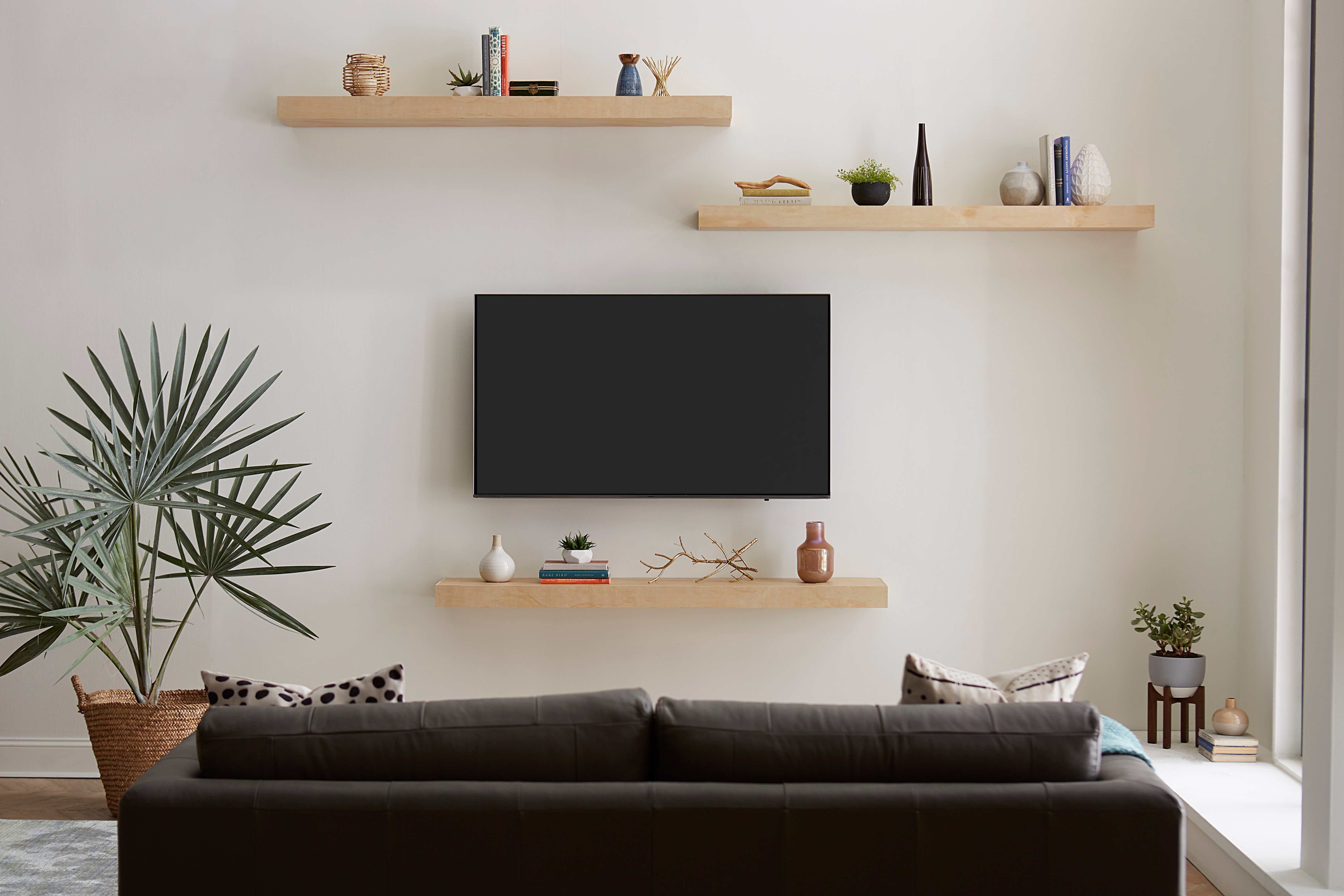 Floating shelves are a low-risk yet high-impact design option that are great for balancing the "black box effect" flat screen TVs can sometimes create.
11. Built-in Media Cabinet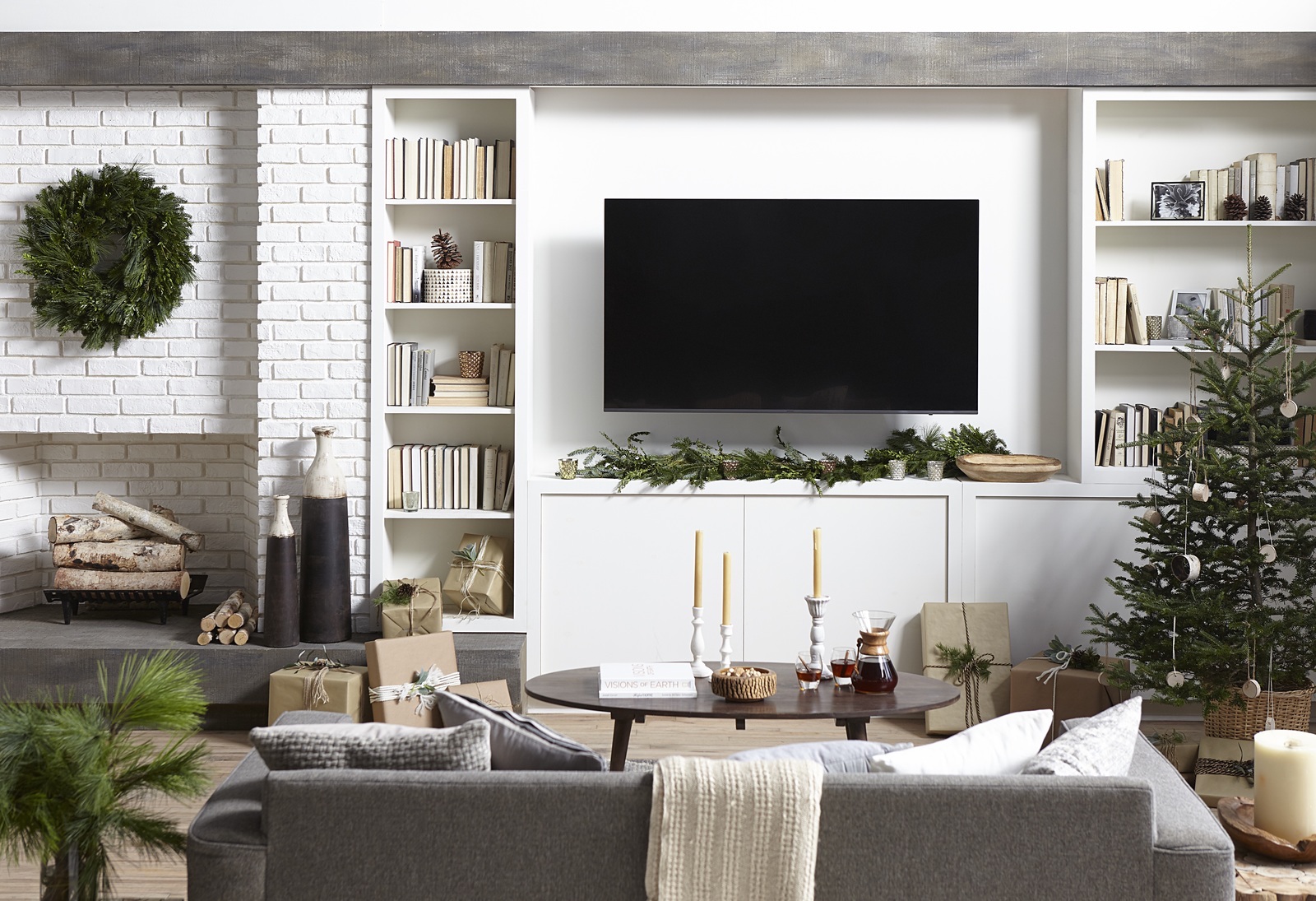 Built-in media cabinets are becoming an increasingly popular feature in homes, and understandably so. They add custom character and detailing and provide storage space for everything – from your media components to the TV itself.
12. TV in Open Concept Room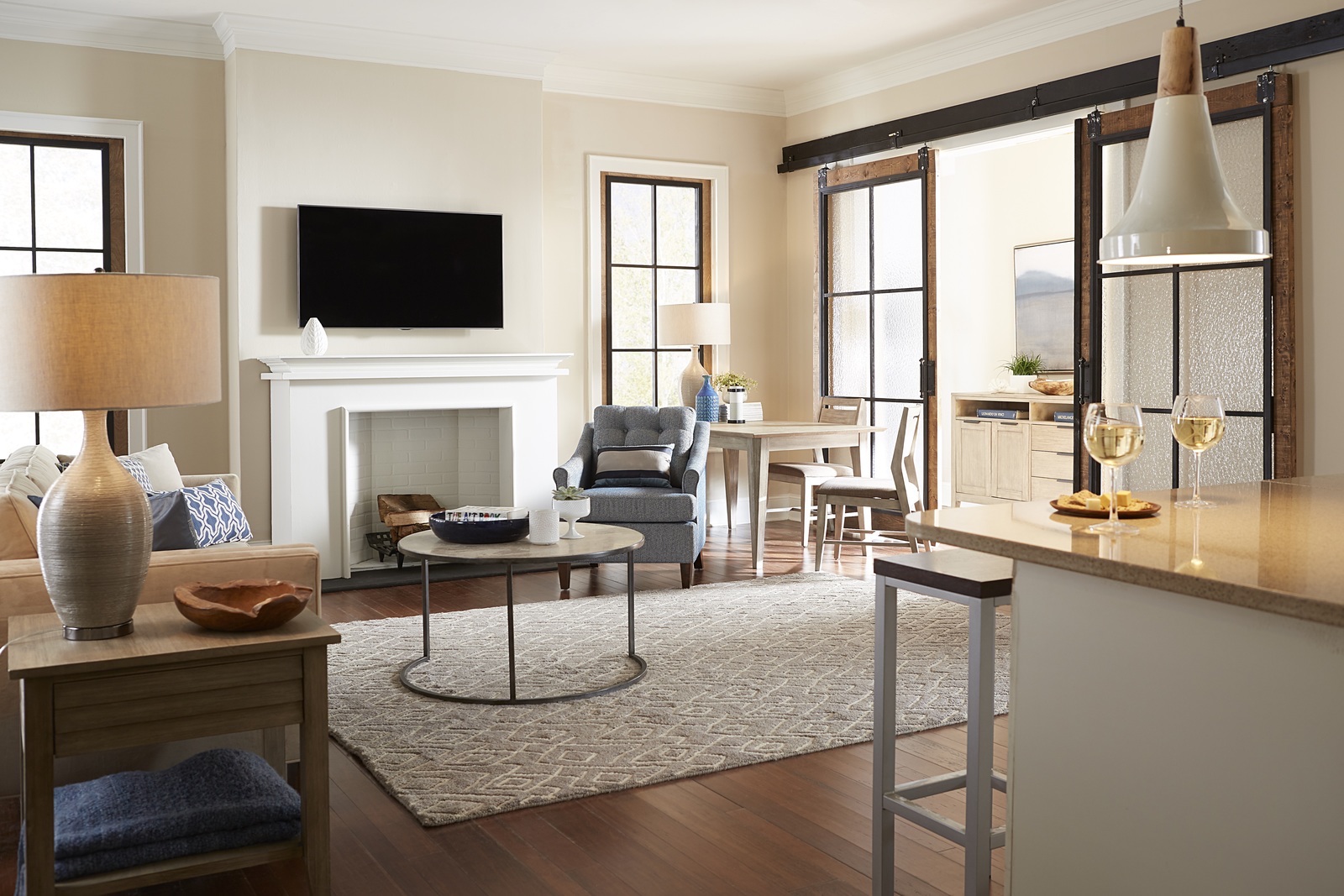 Open concept floor plans have fewer walls and therefore, less definition between where one room ends and another begins. All of this openness means that if your TV is placed in the right location, or on a TV mount that lets you move your TV screen, you could have a perfect view of your television throughout your space.
13. Vibrant TV Room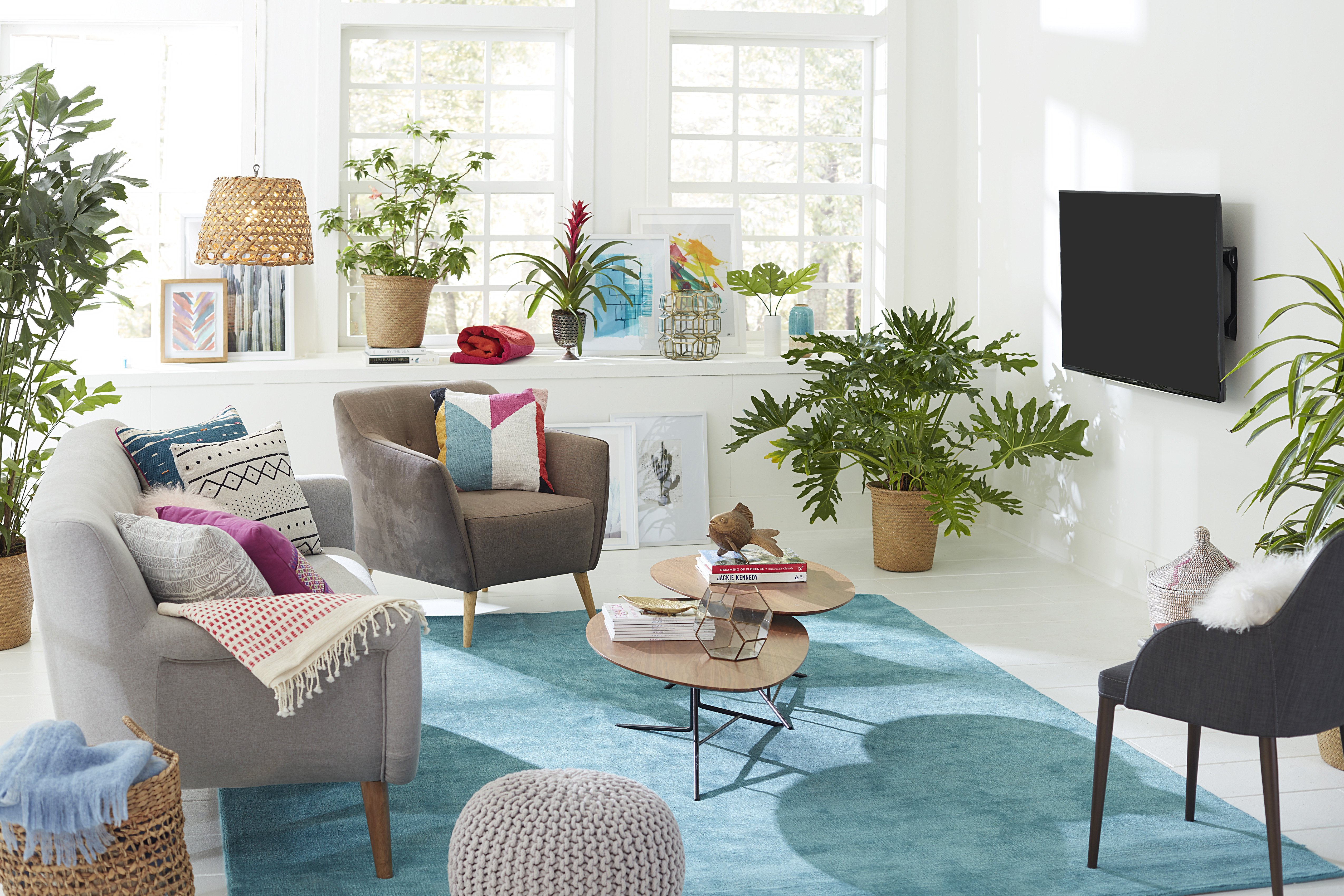 Color is fun, and for those of us who are bold enough to play with all the colors in box, this photo goes to show that color-forward design can be cohesive and have a decidedly grown up feel.
14. Mounted TV with On-wall Shelf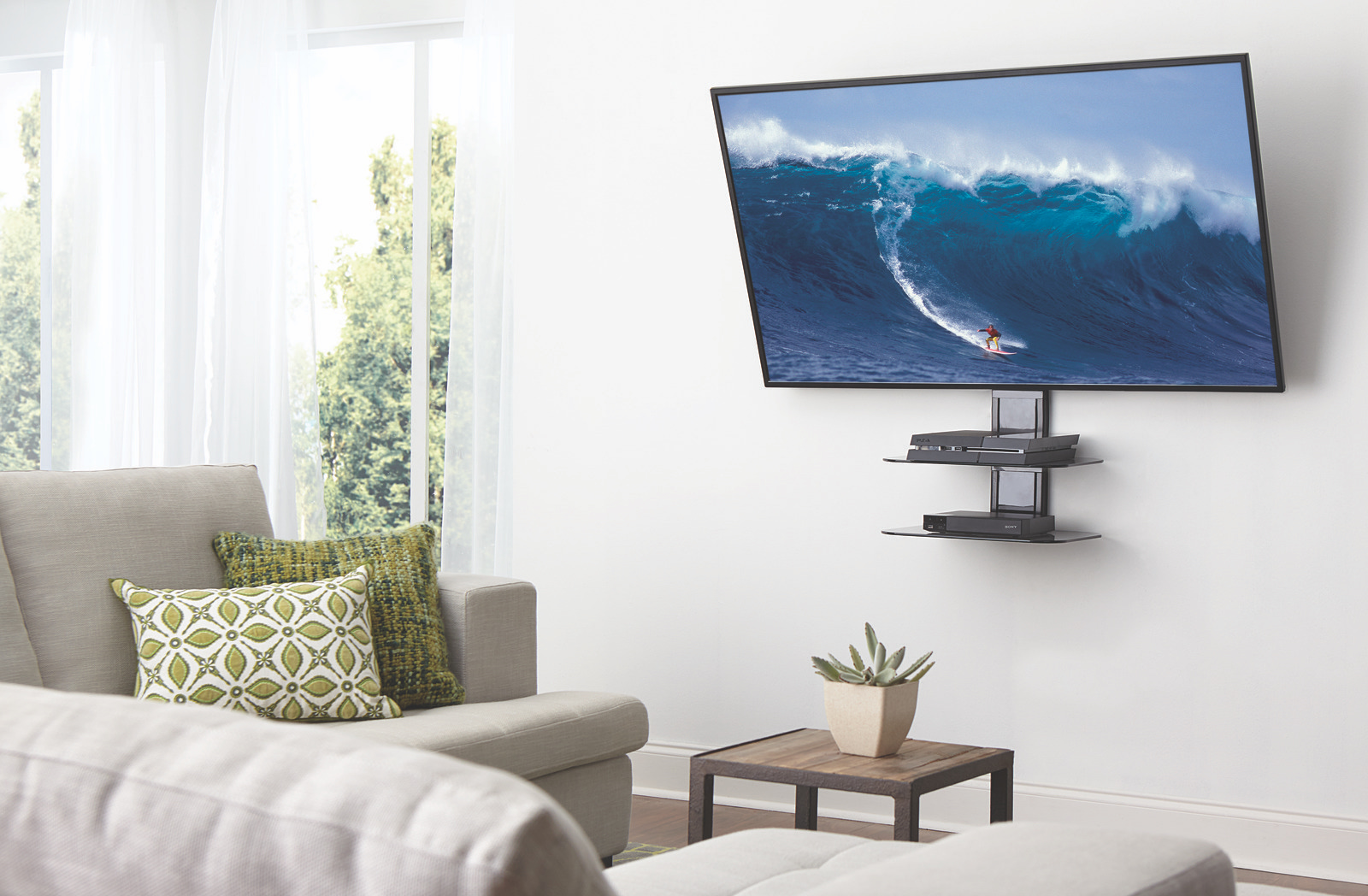 A question that comes up about mounted TVs is, "Where do the components go?" The good news is you have several options for storing your cable box, Blu-ray players and other devices, including using media furniture, placing components in a tech closet, mounting smaller streaming devices behind your TV or using an on-wall shelf. An on-wall shelf is an ideal option for a secondary viewing area like a home gym or small TV room.
15. Framed TV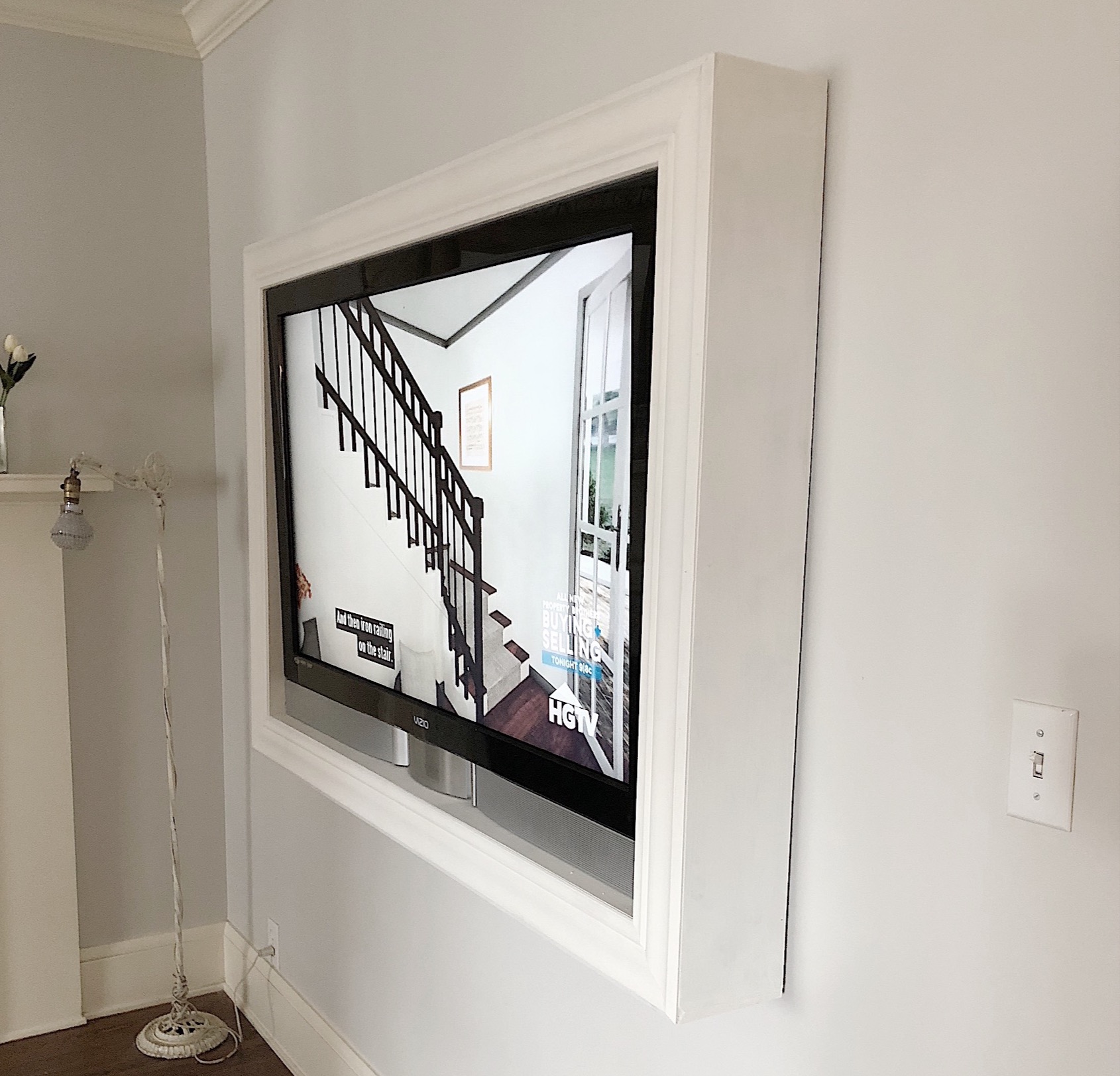 Photo: My 100 Year Old Home
If you enjoy your TV time but would appreciate if it would blend more into the background when not in use, you should consider framing your TV. Check out this step-by-step tutorial on how to make a TV frame.
16. Kid-friendly TV Room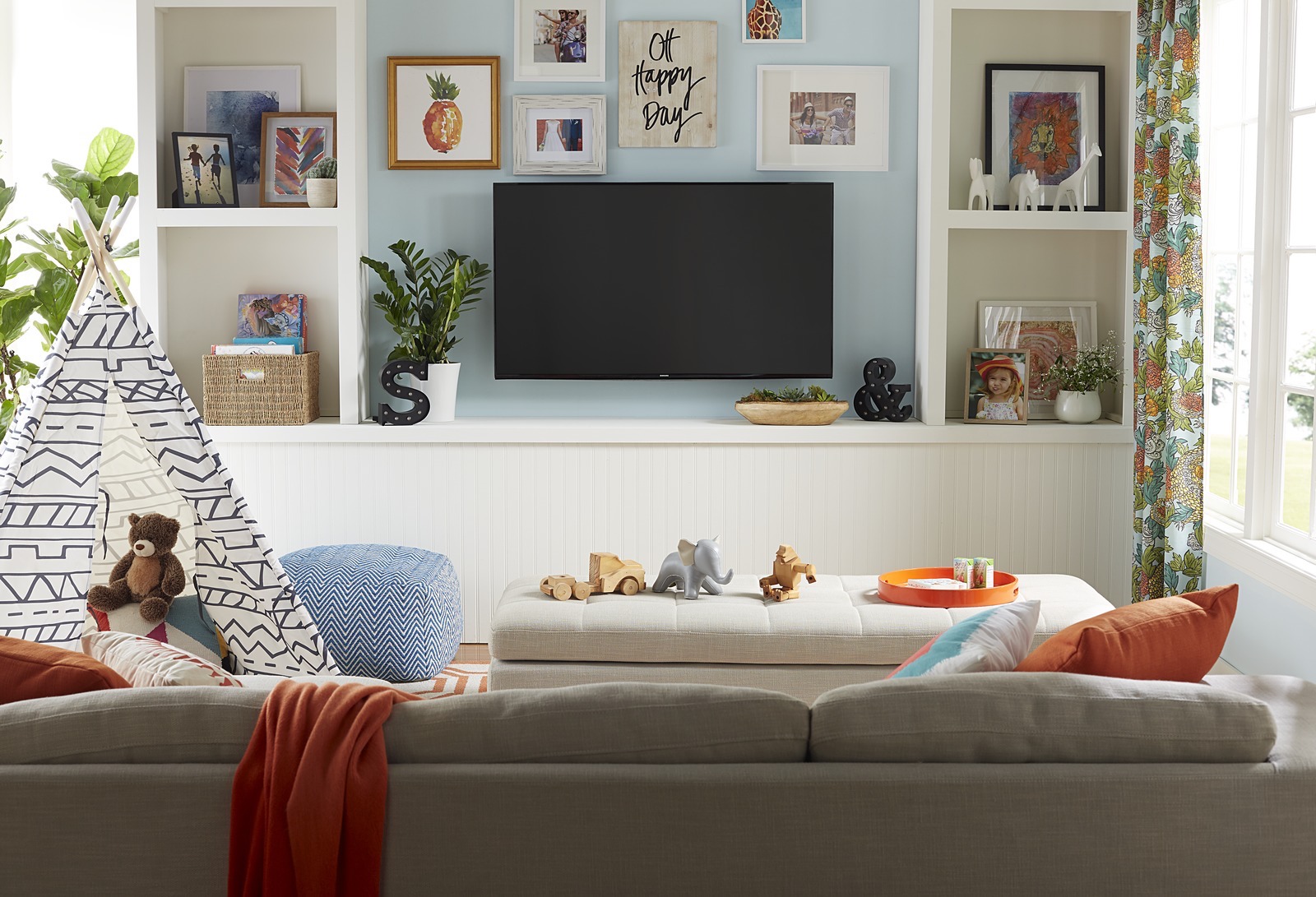 If you've dedicated (or semi-dedicated) a room in your home to the kids and their activities, chances are it's a space with a TV. Hey, everybody wins when the kids have their own screen to watch Boss Baby for the 73rd time. But just because you have a space for the kids, it doesn't mean it has to be overrun with games and toys. Here are tips for making a kid-friendly space the entire family can enjoy.
17. Nature-inspired TV Room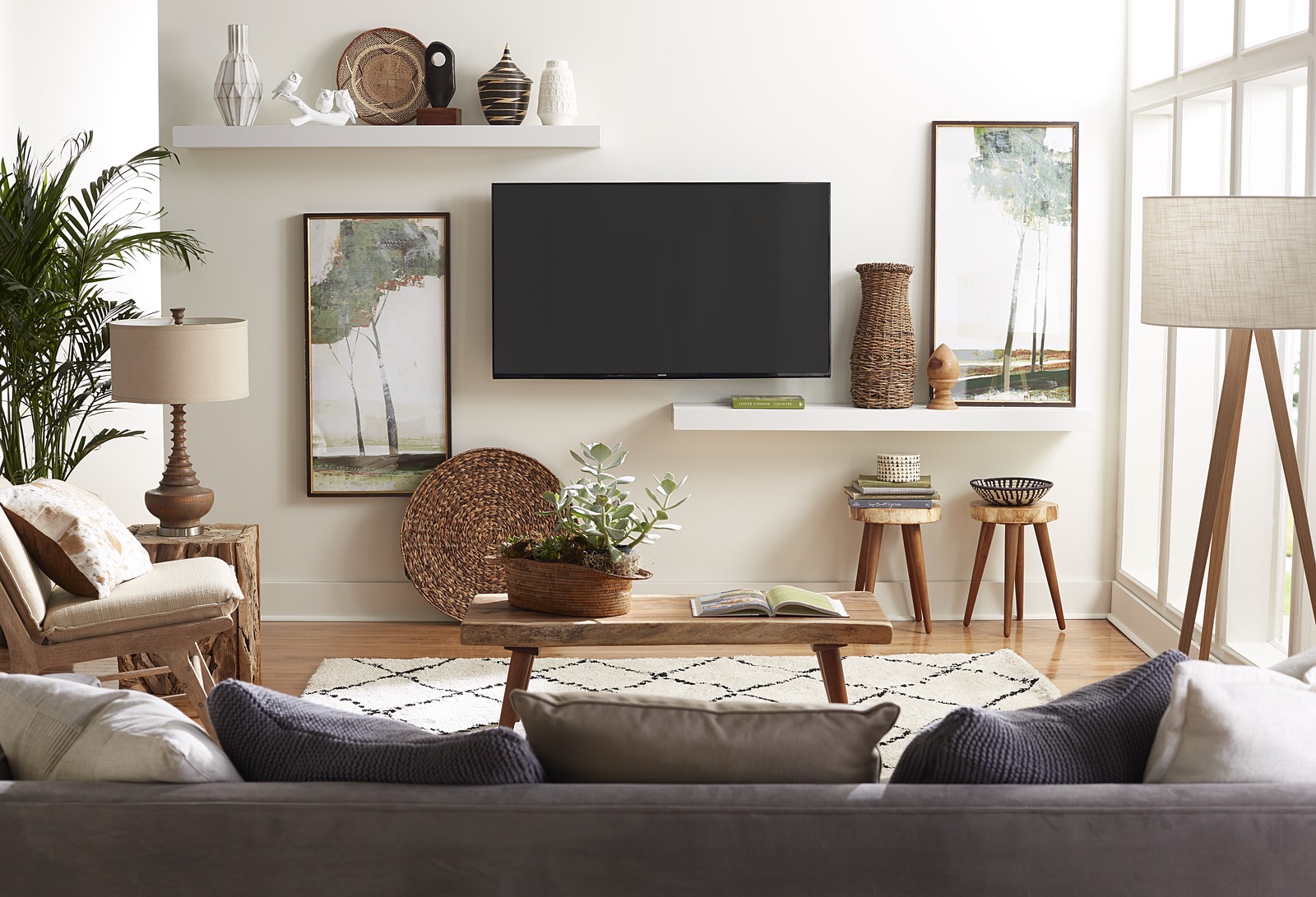 Nature and technology are two things that can feel like they're perennially at odds – but they can coexist, and even flourish, in your home decor. Easy ways to bring the outdoors in, include incorporating plants and adding more nature-inspired textures and prints to your space.
18. Industrial Space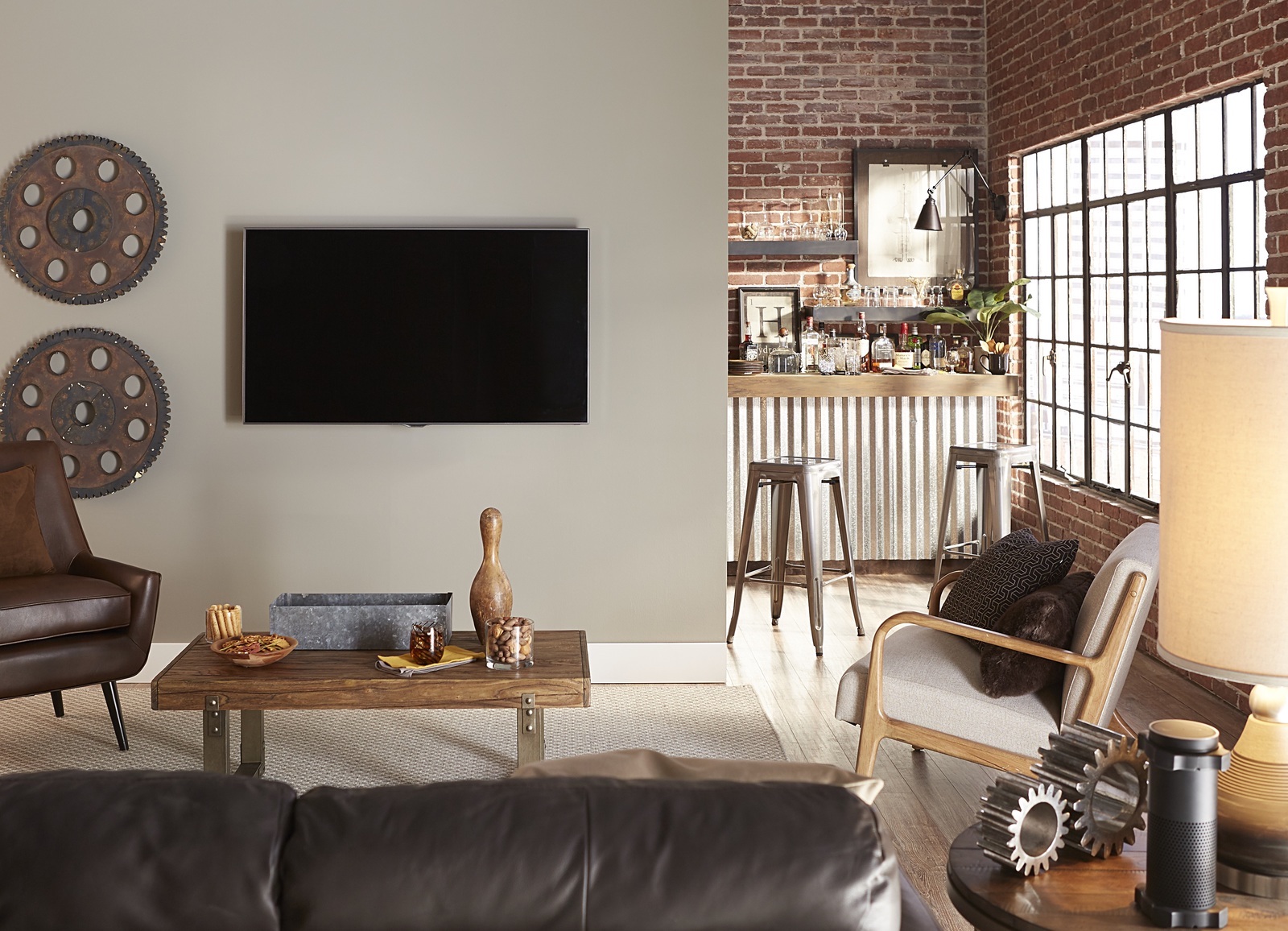 The clean open lines, and utilitarian and unfussy materials of industrial spaces work so well with mounted TVs. Maybe it's because warehouses-turned-lofts and flat panel TVs became popularized during the same period, so they're a combo that just naturally goes together.
19. Mid-century Modern TV Room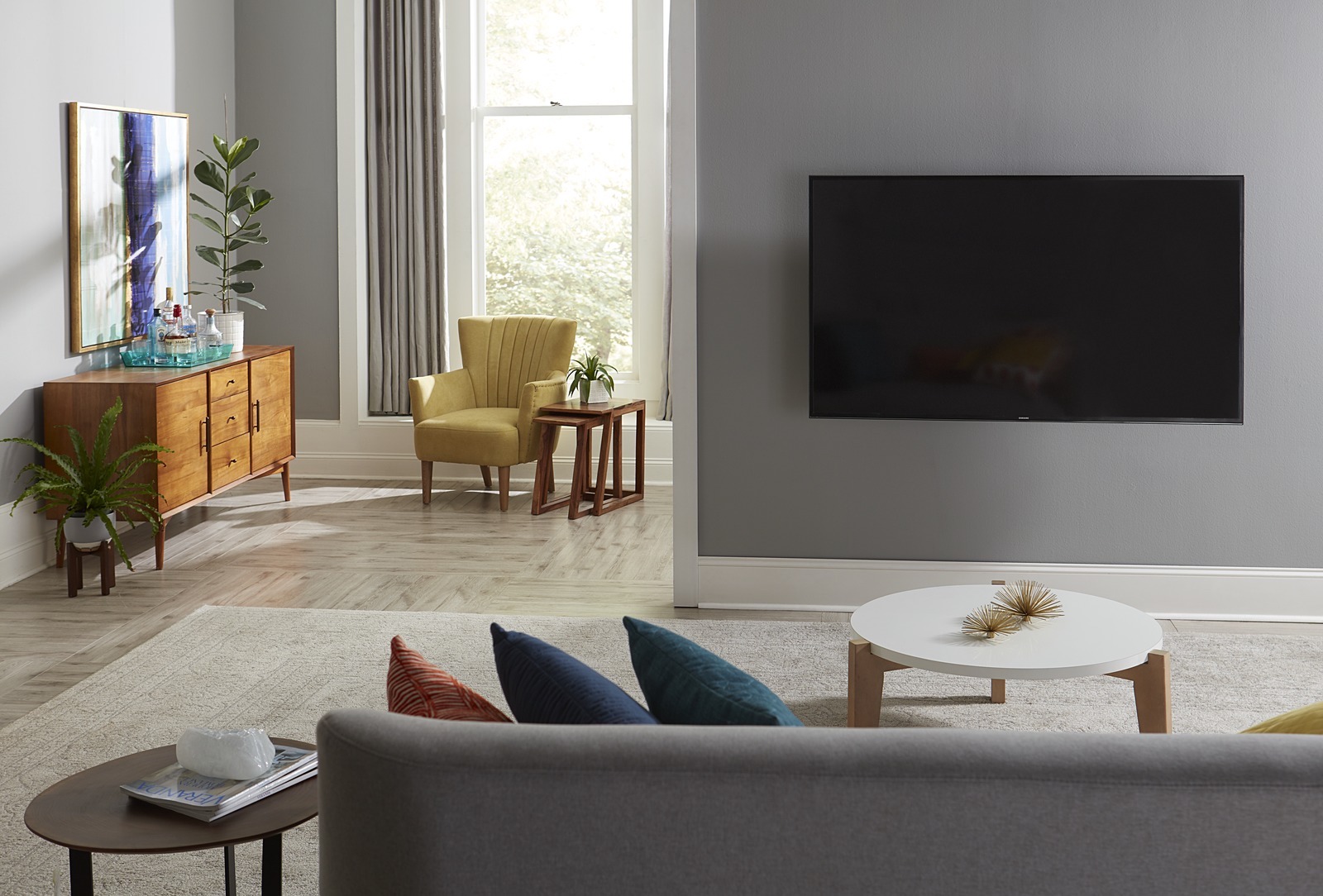 During the original Mid-century Modern design period, TVs sets lived inside bulky pieces of furniture. With today's resurgence of Mid-century style, you can now incorporate your TV into your space in a way that complements the clean lines and simplicity Mid-century furniture is known for.
20. Wallpapered TV Wall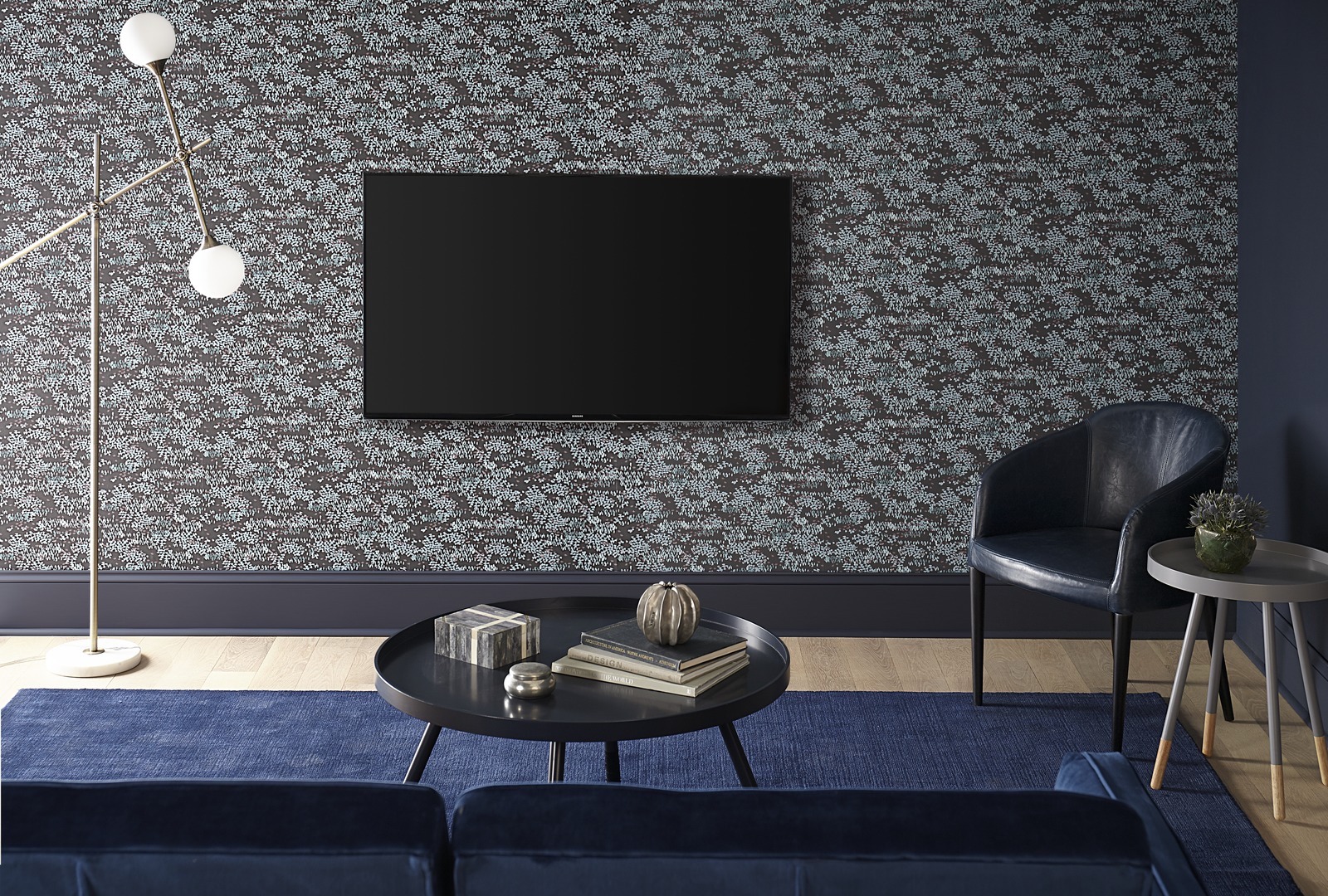 Speaking of resurgences, wallpaper is back in a big way! And, it's not just for those with whimsical, risk-taking style; we're seeing prints and patterns for everyone. A wallpaper TV wall is also an effective way to have some fun with design while reining in the impact your TV has on your space.
21. Neutral TV Room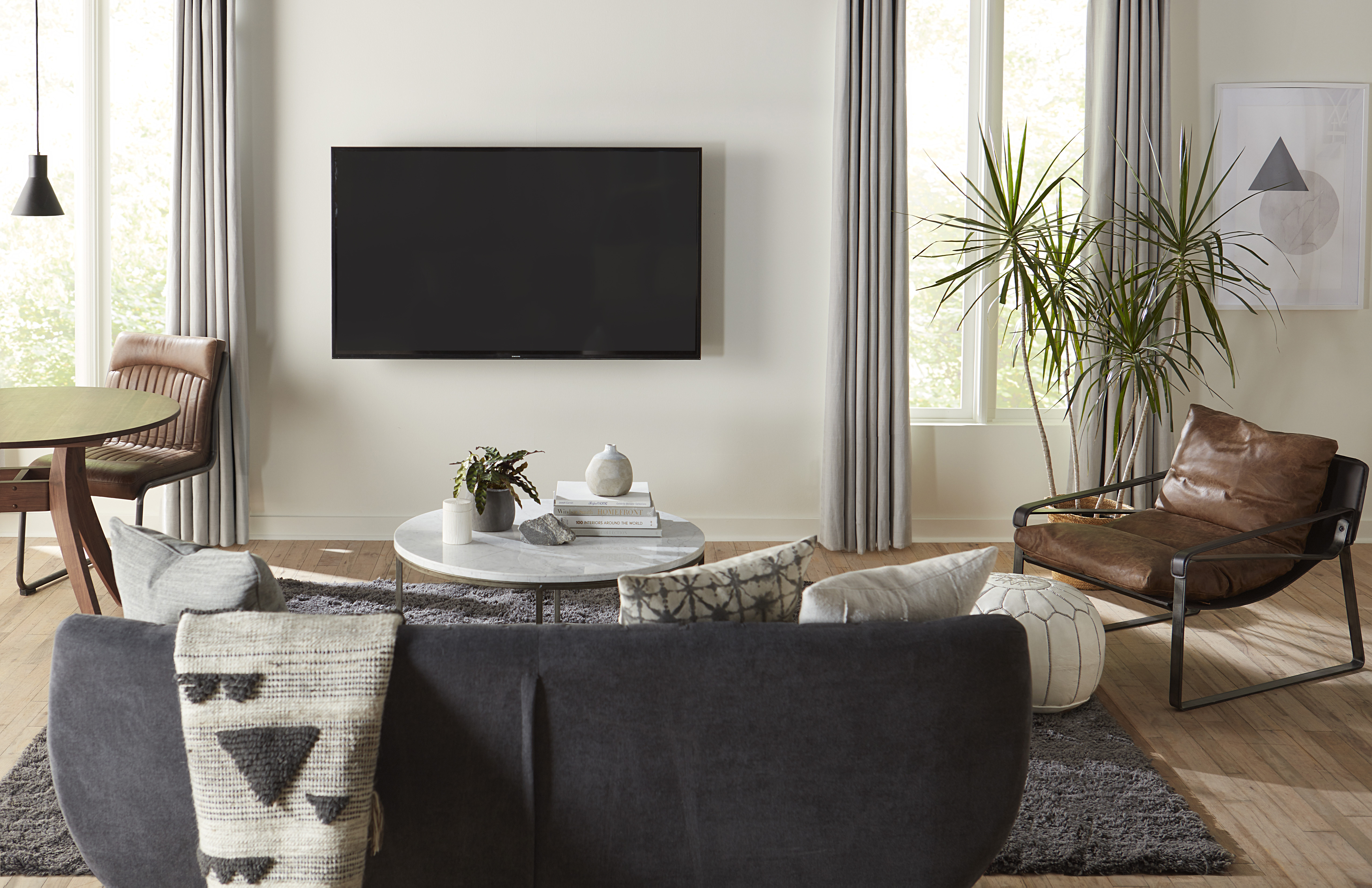 A TV blends well into a grayscale room theme, and these shades of black, white and grey are proof that a pared down color palette doesn't have to be boring.
22. Mounted TV with Soundbar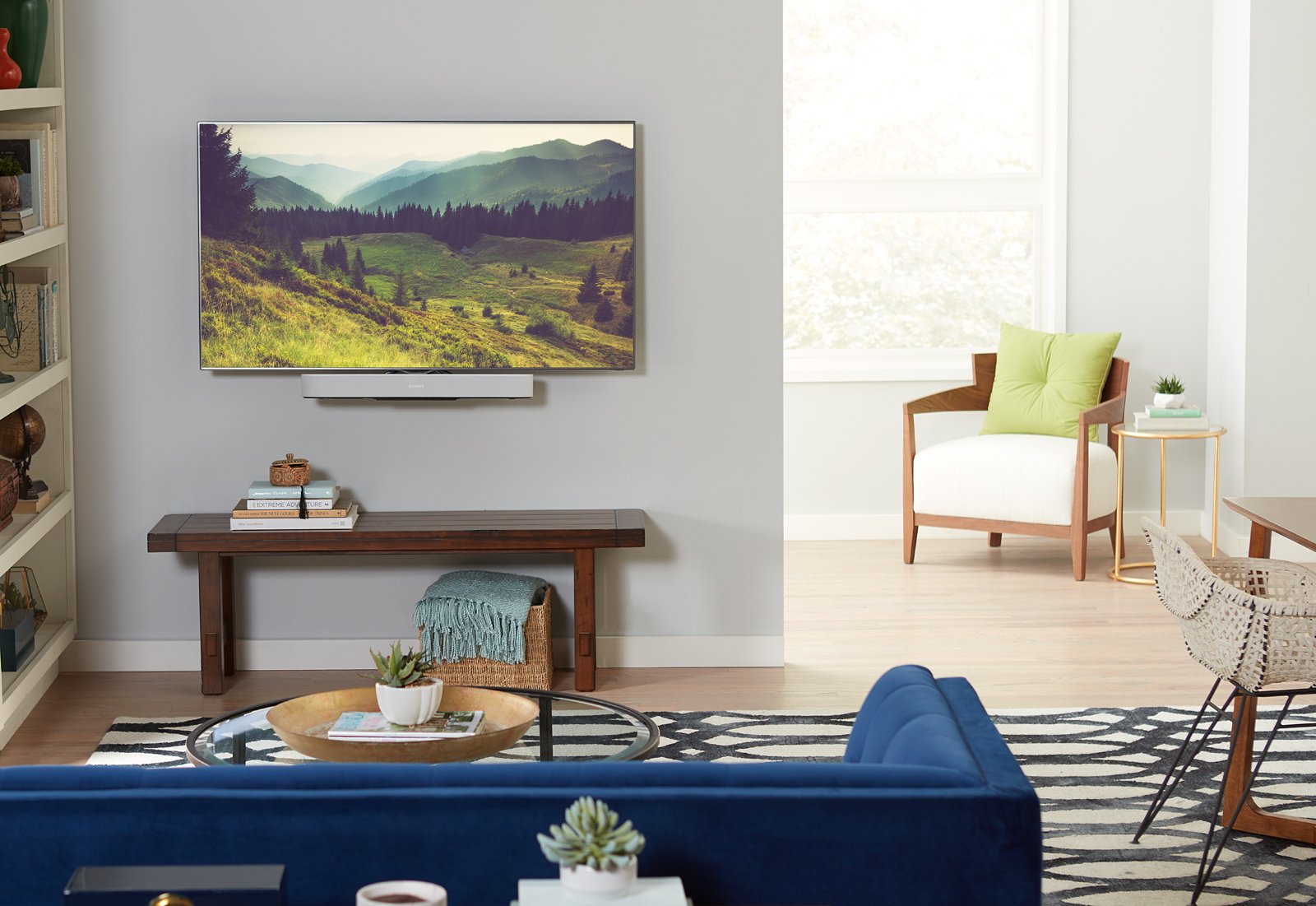 As TVs get thinner and thinner, the audio quality of television speakers has decreased. This explains why soundbars have become more and more popular. Instead of setting your soundbar under your TV, you can attach a soundbar to your television for a clean, streamlined look.
23. Tile TV Wall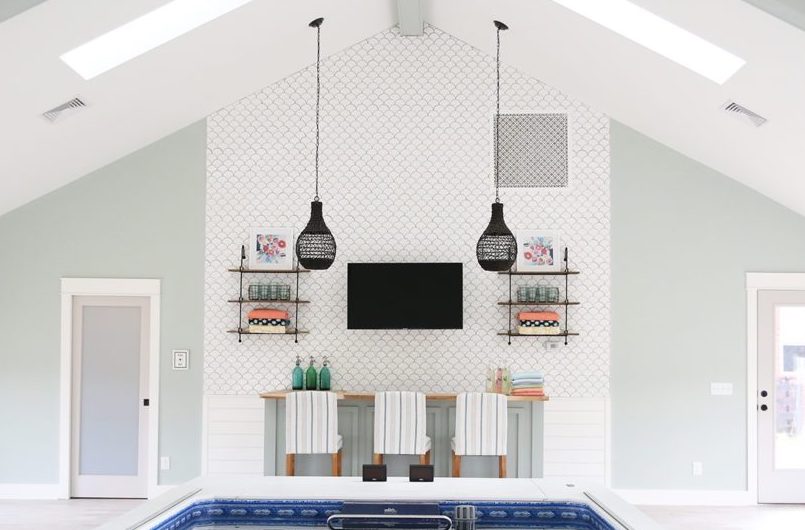 Photo: The Handmade Home
Tile walls used to be only for the kitchen and bathroom. Now they're making their way into other rooms of the home. From fireplaces to living room accent walls, tile walls add texture and dimension whether used as a main focal point or background element.
24. Farmhouse TV Room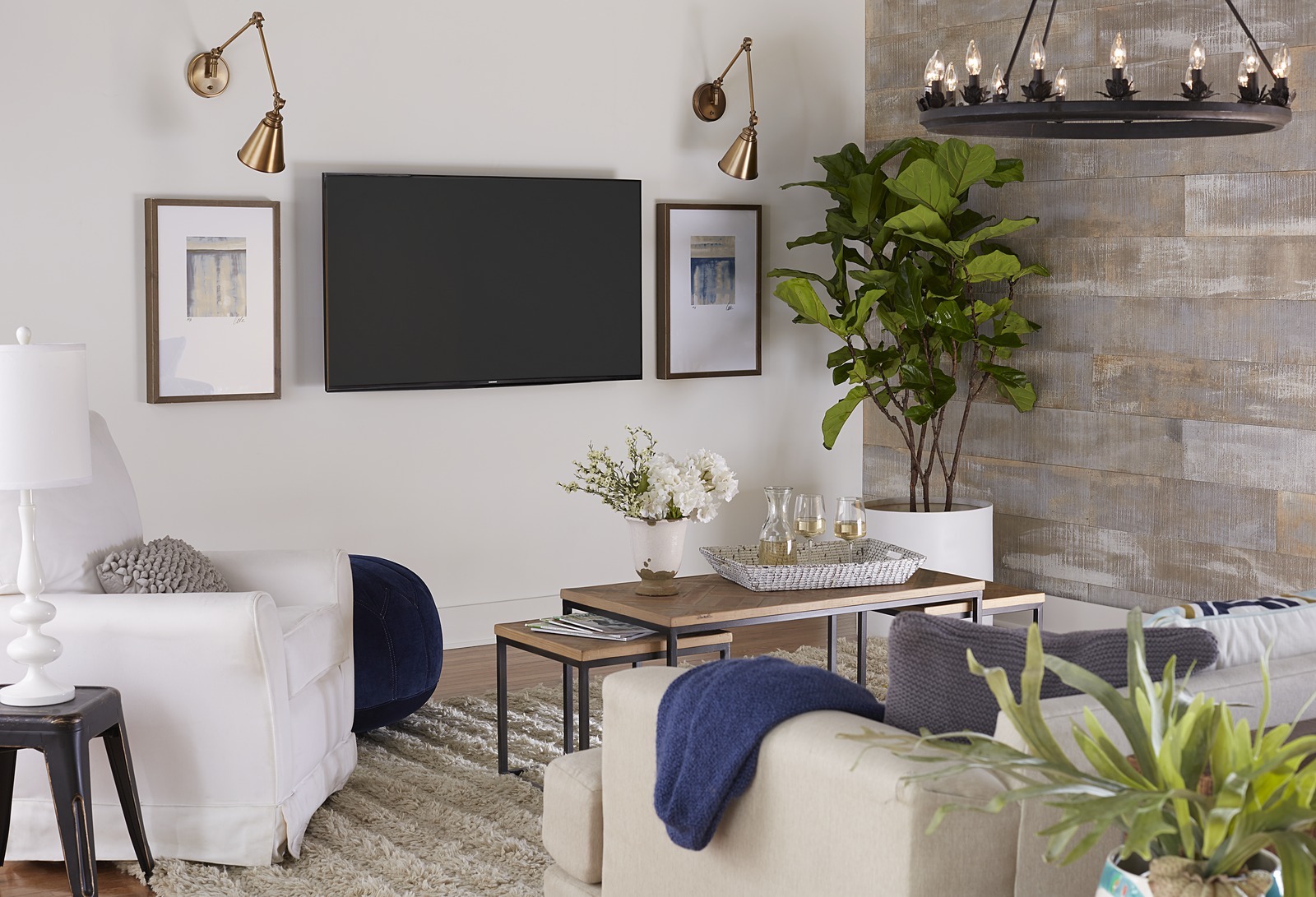 Farmhouse style is known to be light, bright and airy, and incorporating a dark TV screen into a Farmhouse-style space can create some decor challenges. Anchoring the TV screen with other dark elements like metal light fixtures in darker finishes and art in dark wooden or black frames can create balance that helps assimilate the TV into the room.
25. Southwestern-inspired TV Wall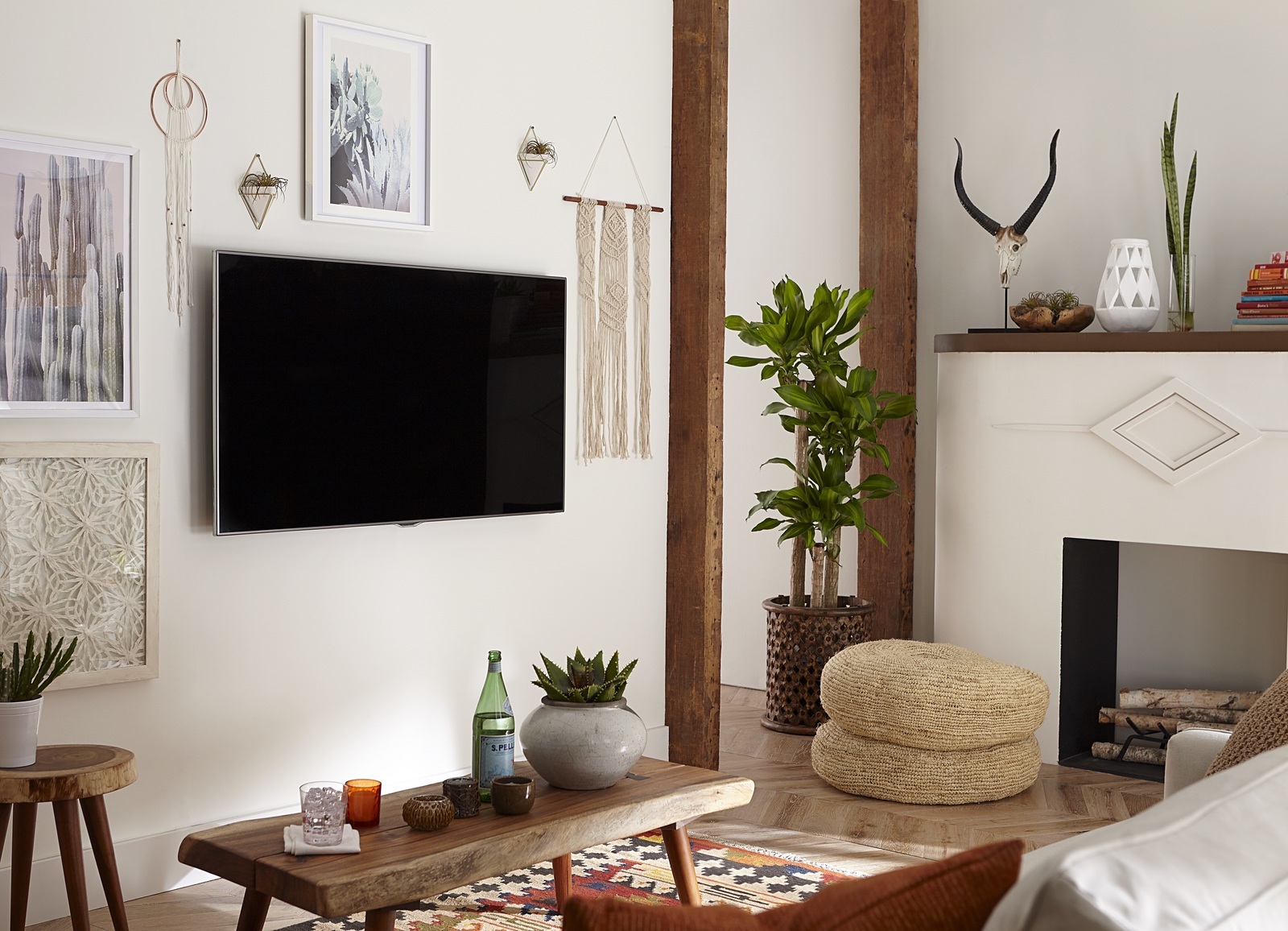 This living room brings in the rich, sunset-colored palette Southwest style is known for with the patterned rug and throw pillows. The cactus prints, mini succulents and macrame wall hangings further incorporate this design theme into the TV wall.
26. Mounted TV with Floating Entertainment Center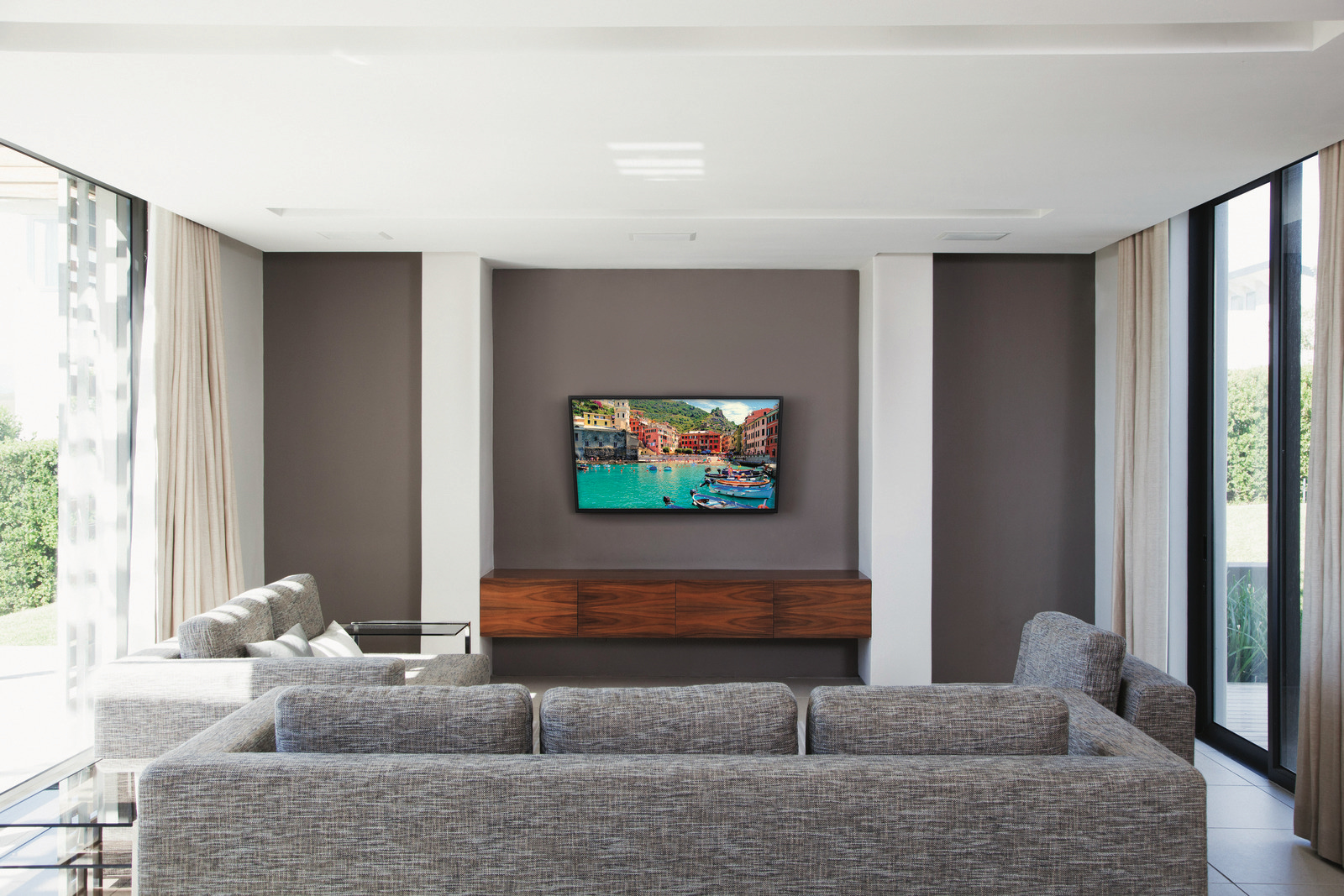 Floating entertainment centers can be the best of both worlds: they provide room to store your media components and anything else you want to keep hidden, all while having a sleeker profile and smaller footprint than your average entertainment center.
27. Modern Traditional TV Room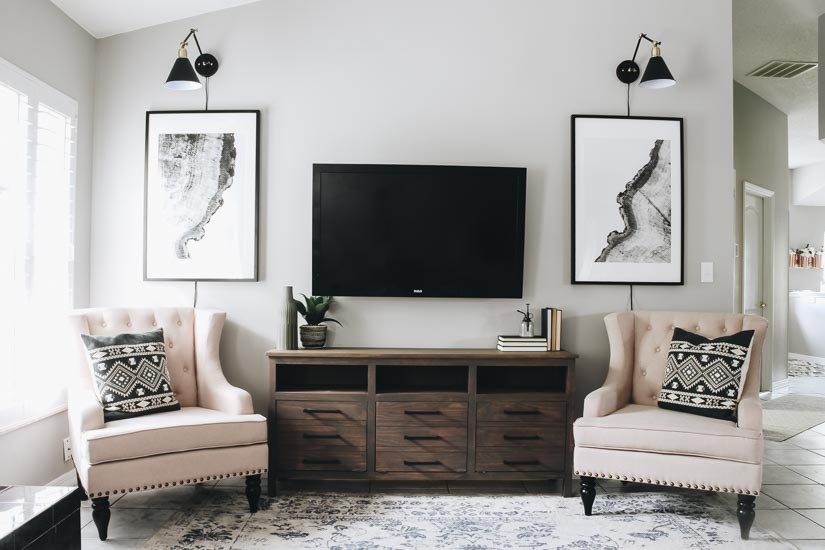 Photo: Within the Grove
Traditional style often plays up symmetry. This beautiful living room makeover maintains balance between the left and right sides of the TV all while incorporating modern touches like geode prints, patterned throw pillows and brass studded wingback chairs.
A TV Mount for Every Style
We hope these mounted TV ideas gave you some inspiration for your own space. Whatever your personal style may be, the right TV mount will help incorporate your TV into your room so it can be enjoyed when in use and still look great when it isn't.