Where to Put Your TV in an Open Concept Floor Plan
Nov 20, 2018
If you own an old house, your rooms are probably well-defined. Each one is a separate space, created for some specific type of activity. Newer homes, however, tend to have open concept floor plans. We love our "great rooms," but this concept can make it harder to figure out where to put the TV.
Open floor plans make smaller homes look and "live" larger, by blending kitchen, dining, and living areas into one space. They also fit our modern lifestyle. We're on the move and multi-tasking, even at home. We want to watch TV or keep an eye on the kids while we're fixing dinner. Or catch up on work at the island while finishing catching up on GoT.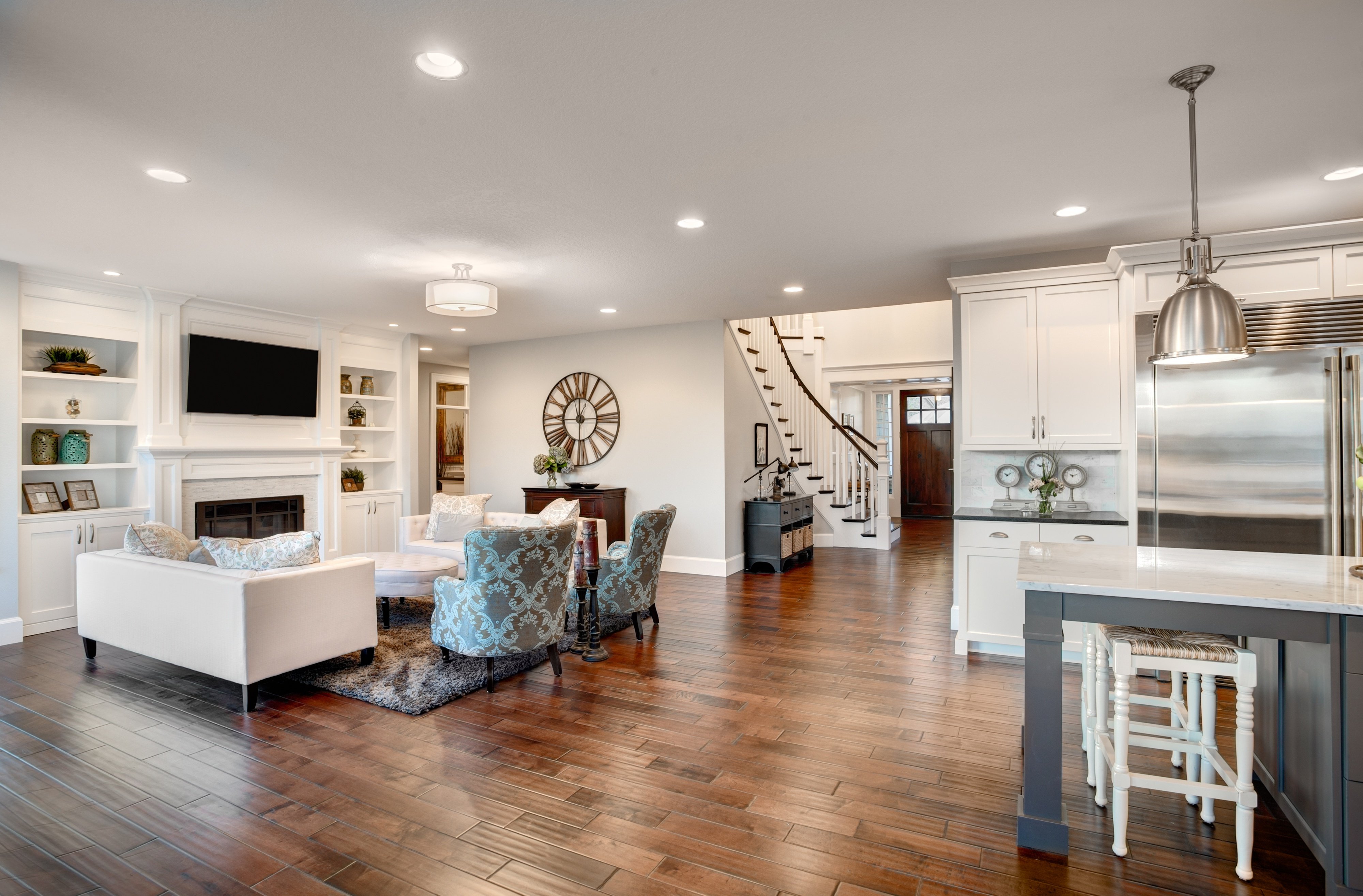 So where should the TV go, to ensure good visibility from these different areas?
First, Divide Up Your Space
Create inviting living areas within that open space, so it doesn't feel like a cavern:
Arrange sofa and chairs to face the fireplace or some other focal point, using the sofa as a "room divider."
Hang a light fixture over your dining table.
Use area rugs to define and "finish" each space.
The one caveat? Put taller pieces around the perimeter, so they don't obstruct across-the-room visibility – the whole point of your open floor plan.
Sometimes an open concept can feel a bit cold – If you want to make it a bit more homey, incorporate fabric panels alongside your windows to cozy it up
Use a unifying color scheme to give the entire space continuity, with different accent colors to give each "room" its own personality.
Now It's Time to Place Your TV
Mount it over the fireplace, incorporate it into a gallery wall, or make it a focal point. Consider:
Sight lines to the TV from each area
Specific activities you enjoy: gaming, cooking, binge watching, entertaining
Whether viewers are likely to be sitting, standing, playing on the floor
Distance from the screen
Once you've determined the best location for your TV, you'll want to make sure you get the best wall mount for it. A full-motion mount may be the most versatile option for your open space, it tilts and swivels to a variety of angles ensuring all viewers have an optimal viewing experience! What if you've decided to mount the TV in a corner? This comparison guide will help you find the perfect solution.
Build It In
If you're building or remodeling a home with an open concept floor plan, talk with your builder about TV placement. You can have your wiring pre-placed behind the wall where you are planning on mounting your TV. That way you will never have to worry about the issue of having to hide your cords!
One thing we recommend that will give a big boost to your TV enjoyment is a surround sound system. Who wants a killer picture with so-so audio? In an open concept floor plan, audio issues are magnified because there's a good chance you'll be farther away from your TV or dealing with competing acoustics since noise is able to travel further through the space. Today's TV's are super thin and the sound on them is not great – especially in a wide open space. If this is your main TV viewing area, you'll want to invest in your sound quality.
You can set up a 5.1 surround sound system yourself, or talk to your builder about incorporating a system into your new home or remodel. Or if you want excellent audio that is super flexible, invest in wireless home audio. That way you will be able to move the speakers from place to place all over the room and house.