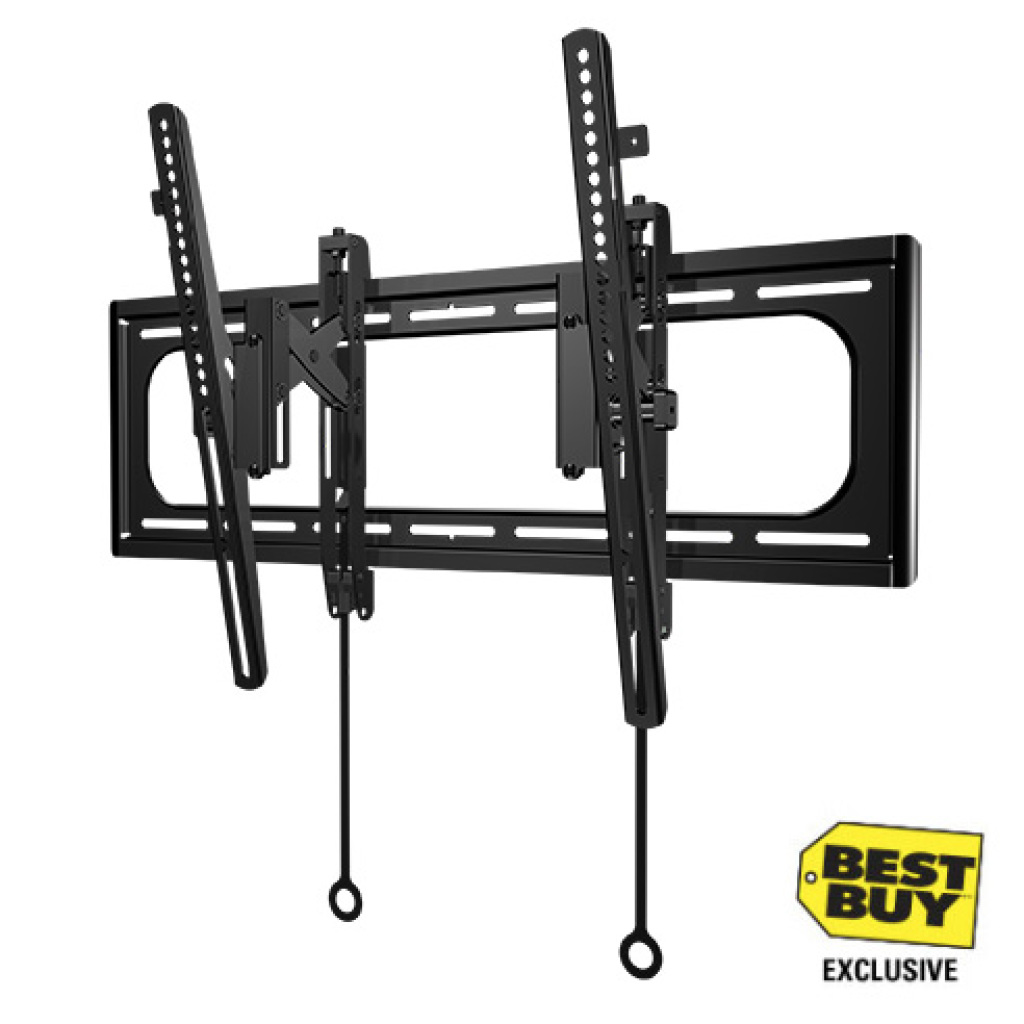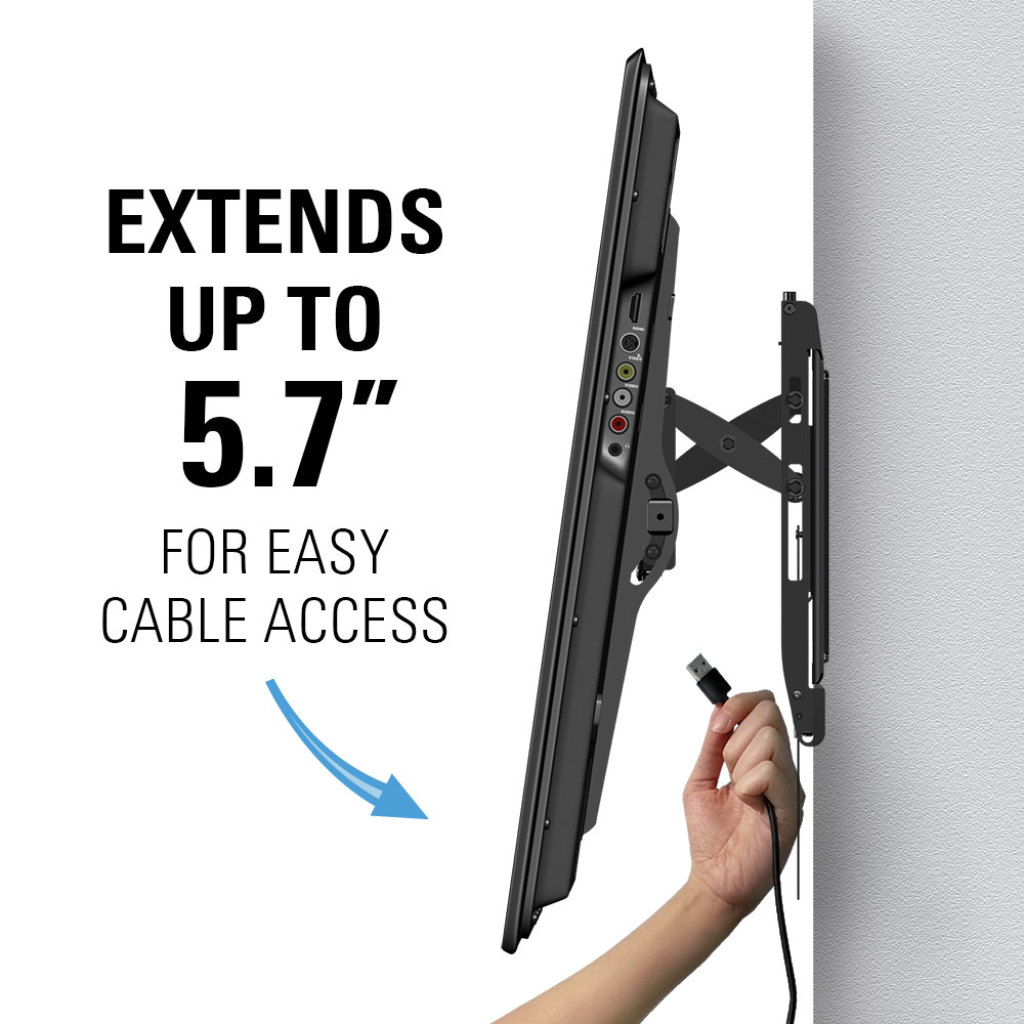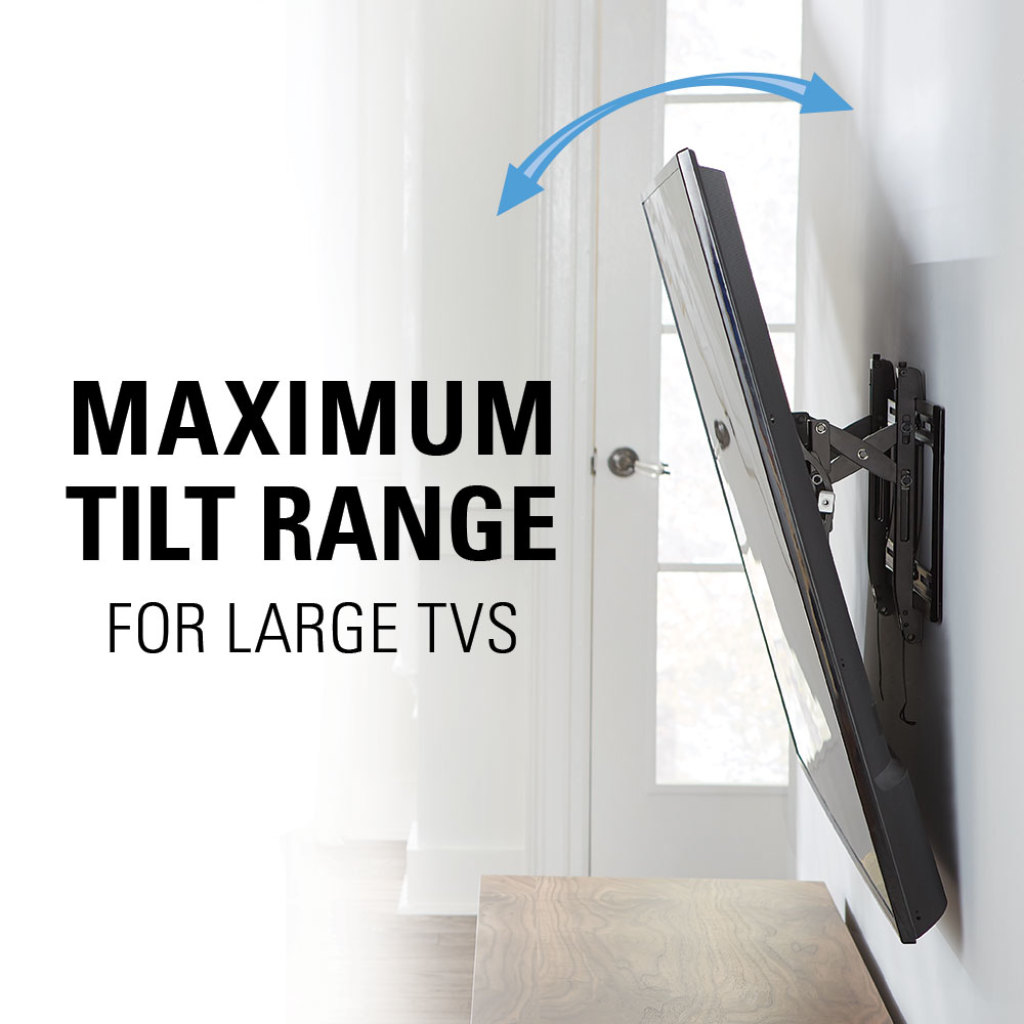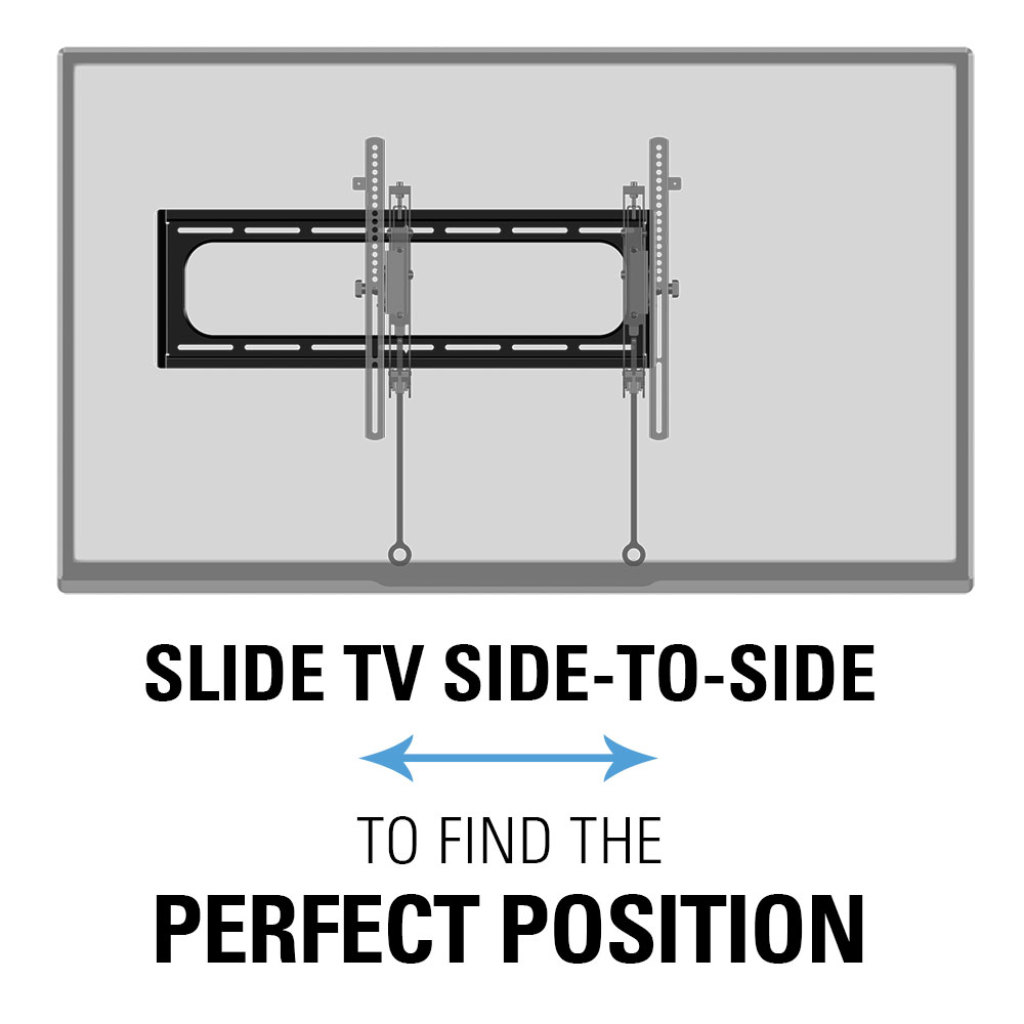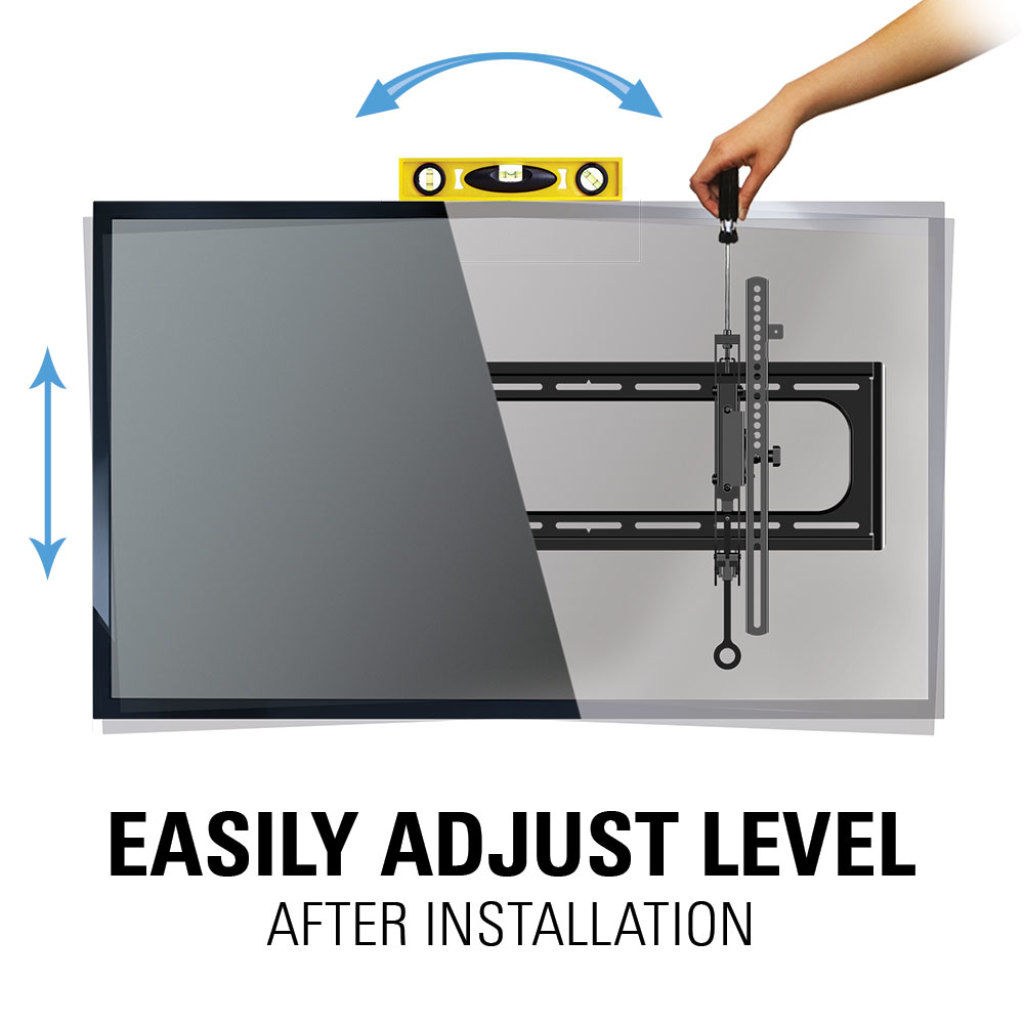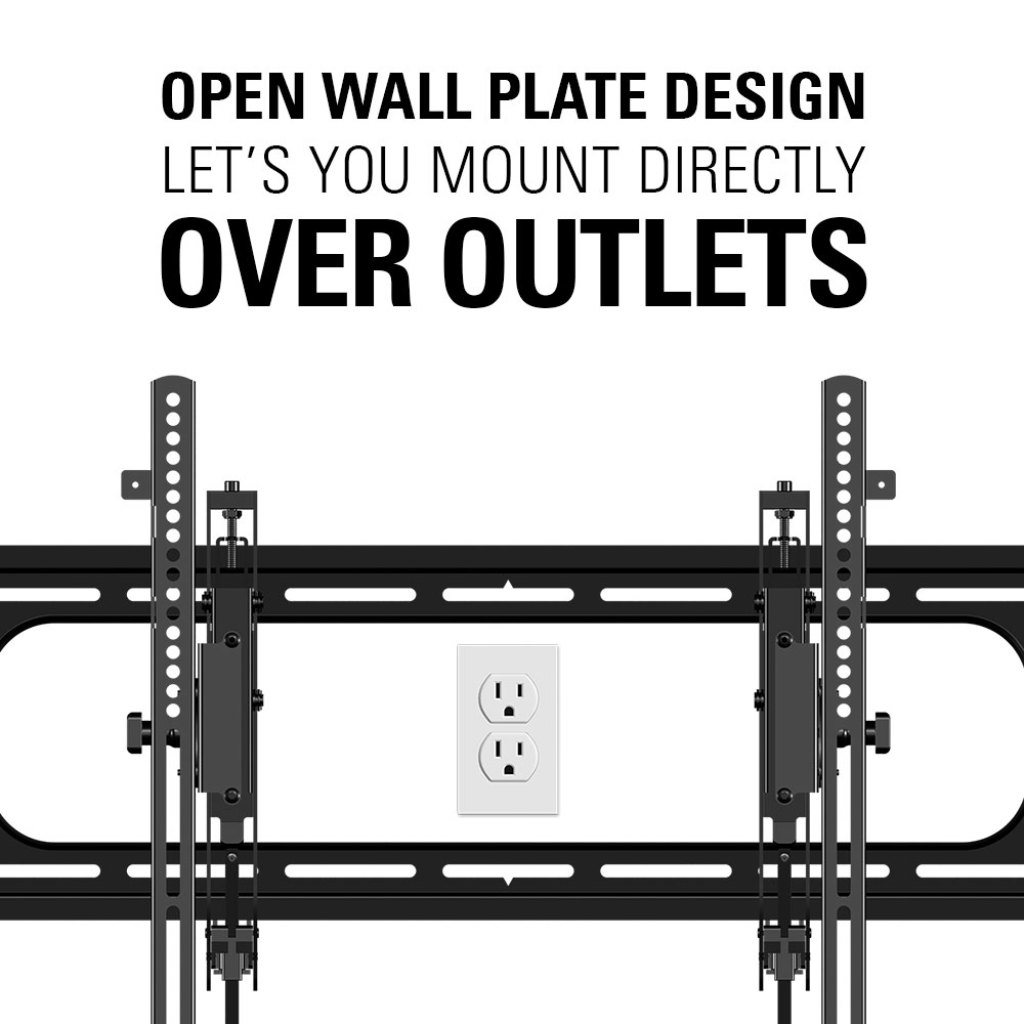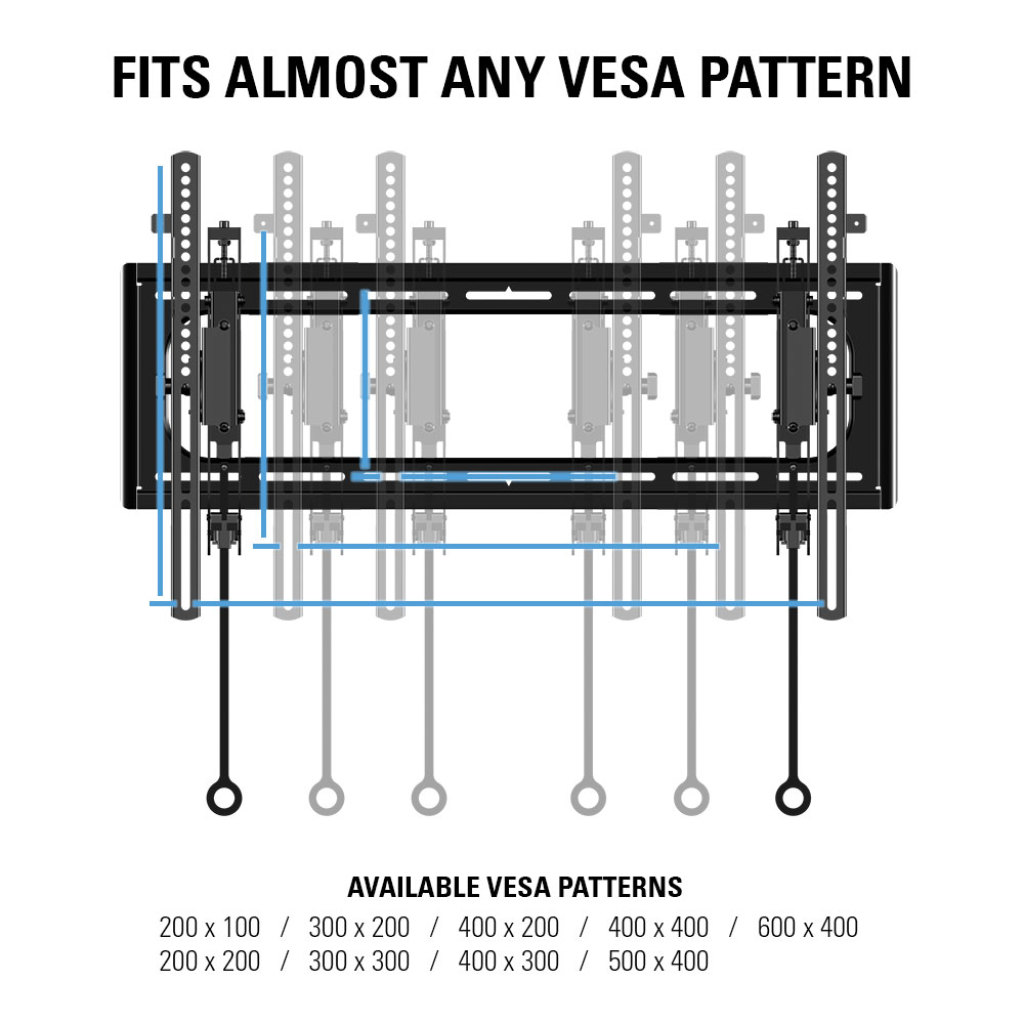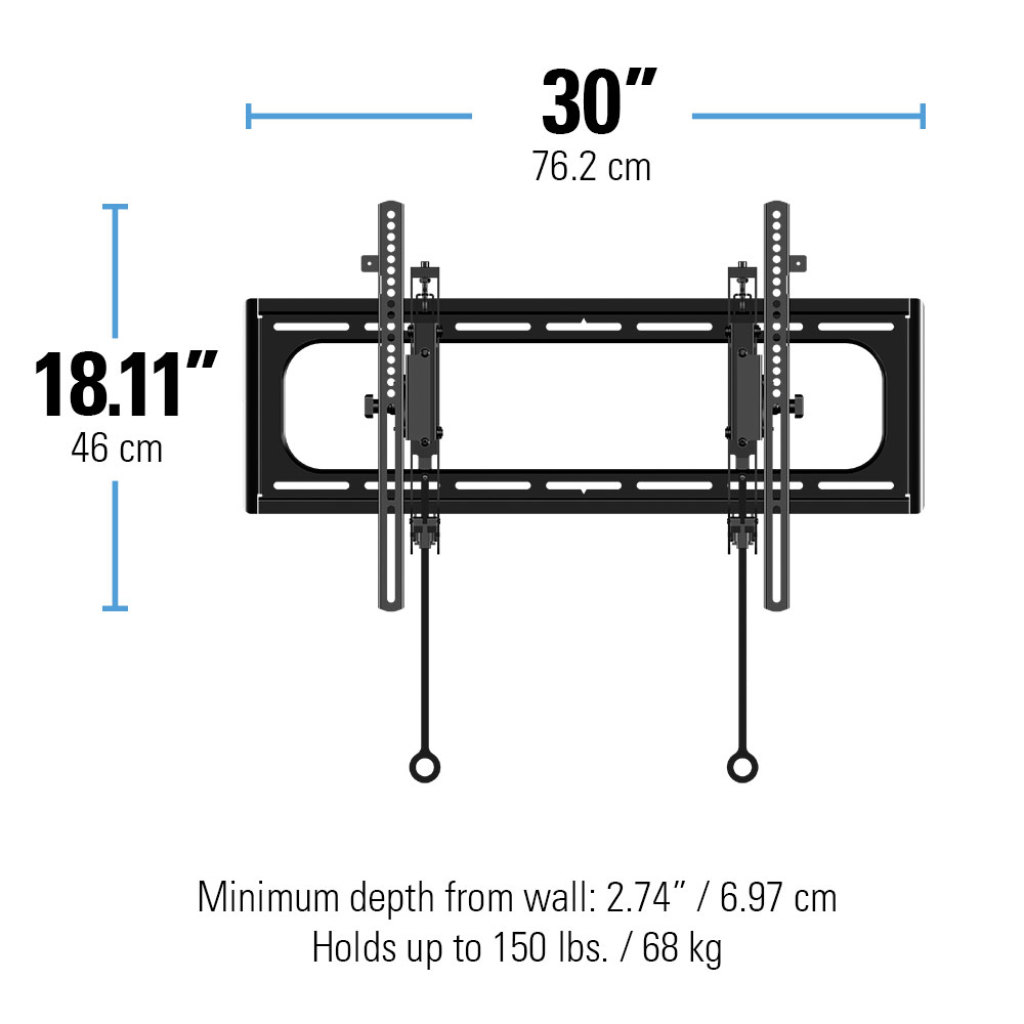 Advanced Tilt TV Mount For 42" - 90" TVs
BLT2
This product has been discontinued.
Fits TVs

42" - 90"

Depth

2.75"

Tilting

7° / -12°
BLT2
is rated out of
5
by
16
.
Will this work with my TV?
Enter the model number of your TV to find out.
Here are a few products that are compatible with your TV!
Ready to install your Mount?
Use the HeightFinder for mounting instructions.
Go to HeightFinder
Ready to install your Mount?
Use the HeightFinder for mounting instructions.
Go to HeightFinder
Videos to Get You Started
SANUS BLT2 Features Video
SANUS BLT2 Installation Video
Advanced Tilt TV Mount For 42" - 90" TVs
The SANUS BLT2 Advanced Tilt Premium TV Wall Mount features a revolutionary design, providing 5.7" of extension on a tilting mount. The extension allows even the largest of TVs to achieve the maximum listed tilt range*. Large TVs installed on traditional tilting mounts often hit the wall, limiting the maximum tilt that can be achieved. The BLT2 solves this issue by extending from the wall, offering TVs a larger tilt range. More tilt translates to better glare reduction. This makes the BLT2 the go-to tilting mount for all above-eye-level mounting locations, like over the fireplace. Additionally, because the mount can extend the TV 5.7" from the wall, cables and wires can be accessed quickly and easily while the TV is still mounted. This makes the initial hook-up and future device switches a quick and easy process.
An open wall plate design allows the BLT2 can be mounted directly over electrical outlets for a super clean installation. And centering the TV, even with off-center studs, is no longer an issue due to the side-to-side shift. Post-installation height and level adjustments make fine-tuning quick and easy for a perfectly level TV. The ability to padlock the TV to the mount for additional safety or security means this can be used in private or public settings without worry. Compatibility with the BASP1 streaming device panel means that even streaming devices can be hidden behind the TV for the ultimate installation.
The BLT2 is safety tested, UL Certified.
* Offers maximum tilt range for TVs 46"-90" when compared to all other SANUS tilt mounts.
Product Features
Easily adjust your TV without tools
Hardware included
Leveling adjustments allow TV to be perfectly positioned after hanging
Locking system secures your TV to the wall
Our TV Mount products are Safety Tested and UL Certified
Pull down on hidden straps to access cables behind your TV
Slide TV side-to-side for perfect positioning on the wall
TV "clicks" into place for a safe connection you can hear
Tilt your TV for perfect viewing from the couch or floor
Tools You Will Need For Installation
3/8" Masonry Bit (Concrete Installations)
Phillips Head Screwdriver
The Details
Product Brand:
SANUS
Model Code:
BLT2
UPC Code:
BLT2 - Black - Discontinued

Product Width:

30.00

" /

76.20cm

Product Height:

18.11

" /

46.00cm

Product Depth:

2.75"

-

5.75"

/

6.99cm - 14.61cm
TV Size Range:

42"

-

90"

/

106.68cm

-

228.60cm

Maximum TV Weight:

150lbs

/

68.04kg

Universal Mounting:

Yes | 200 x 100 through 690 x 415

Supported VESA Patterns

VESA 200 x 100
VESA 200 x 200
VESA 300 x 200
VESA 300 x 300
VESA 400 x 200
VESA 400 x 300
VESA 400 x 400
VESA 500 x 400
VESA 600 x 400

Tilt:

7°

/ -

12°
Recommended Products for You
Rated

5

out of

5
by
Lloyd58
from
Great Wall mount
This is my first Sanus wall mount and it's great for my Samsung 75in seems too handle my setup Thanks putting
Date published: 2020-04-12
Rated

5

out of

5
by
Enjoying TV in Dallas
from
Fantastic! Easy to install...very versatile.
Between the thorough instructions, the online videos and the seven-day per week toll free hotline, there is no excuse for this not being easy to install. I installed a 55" screen myself after reading the instructions all the way through before starting, and it was as smooth as ice. It looks great. The hardest part was going into the garage to find my socket set for the lag bolts. Once I found that, life was good. Honestly, I read the included instructions and I watched one three-minute video, and that's all it took. If you read any of these other reviews and they gave it a bad rating, I'm betting they didn't read the easy-to-follow instructions. This television mount can be turn up, down, left or right with a touch of a finger, but it stays in place when left alone. I've installed four different flatscreen wall mounts and this is both the best and easiest to work with. This is the headache solution. This is the right wall mount for you.
Date published: 2019-12-05
Rated

4

out of

5
by
Stephen
from
Super simple setup- even with 0 experience
I have a few tools, but I am NOT a handy person. I am super nervous using tools or defacing my property. Saying this, I really was nervous about the complexity of this installation, but my daughter and I followed the directions exactly and were able to finish in about an hour and a half. We have plaster walls, so locating the stud was a complex process, but we ended up finding and getting the center with very little issue. The screws in the kit didn't appear to be compatible with my Insignia TV, but there were included hardware with the TV that fit perfectly. I had my daughter hang off of the wall cleat after it was installed to make sure it was sufficient, and then we hung the TV. I was shocked at how easy the last step was. Lining up the top bracket was the only thing that needed any focus, then it naturally leaned into the bottom and clicked in perfectly. I got this for $69 at Best Buy on sale, so the value is really good for such a diverse mount.
Date published: 2019-11-29
Rated

5

out of

5
by
Koko
from
This Wall Mount is Great
This wall mount was quick and easy for the installer to install. It fits our tv great. I'm sure we will get years of enjoyment from this wall mount.
Date published: 2019-10-02
Rated

5

out of

5
by
Russ309
from
Everything I wanted and more!
So I upgraded my 55 inch tv to a 65 inch, and the one thing I knew certain was to make sure I didn't use a mount like I had with the 55 inch tv. That being a fixed mount. Now I chose the fixed before because I didn't want my tv sticking out to far. And then I came to learn that access to cables on a fixed is well impossible. Yes I know stupid I didn't realize this lol. However my search was for a tv mount that allowed me to access ports on back of tv and was as close as possible to wall. I came across this one and did my research. And I'm happy to say the hype stands with this brand for me. Not only is it cover my wants for a tv mount, the tilt feature being the "star" feature wasn't anything I cared for nor wanted honestly. But IV learned I actually love this feature and now understand the need for it. No more glare! My neighbor mounted it for me as I definitely don't trust myself haha, and he did it and about 30 minutes. I strongly recommend this mount, and I'm happy to purchase for my other TVs in the near future! Who knew you could love a wall mount brand so much. As for the bad reviews: I can't imagine how it could not meet expectations. Perhaps not mounted correctly? Not sure as mine has surpassed expectations. I'd say if you have any doubt about mounting it correctly and successfully just have someone you know is confident or pay a professional.
Date published: 2019-04-04
Rated

3

out of

5
by
SteveHebe
from
Great concept, so-so execution
Just installed and hung my TV. I loved the concept of this, but in the end, I still had to take my TV down to make all my cabling connections. I simply don't feel that the function of this wall mount justifies the additional cost of this mount.
Date published: 2019-03-02
Rated

1

out of

5
by
Sri A
from
Stop working Tilting and unextending after 1st day
Don't buy this and waste your money. As it's Stop working Tilting and unextending after 1st day installation. 1st worked fine and 2nd day onwards when I tried tilt and not worked and unextending as not working. I tried to contact customer support as no response and mailed and no reply regarding this issue. If you feel, you can help me as try to reply to me. After long wait as writing this review. You can rectify this issue to change my opinion on your products.
Date published: 2019-02-18
Rated

4

out of

5
by
JimC
from
Beware of height finder inaccuracy
Followed the height finder, marked and drilled 4 big holes in my walls/studs, hung the TV, and then learned it was off by 3-4 inches (too low). The back plates were already as high as I could place them. Had to patch and paint the bad holes, and remark and redrill new ones. Use the height finder site as a reference, but re-calculate it yourself. This was for a 55" Samsung LCD. Works fine once it was up.
Date published: 2019-02-12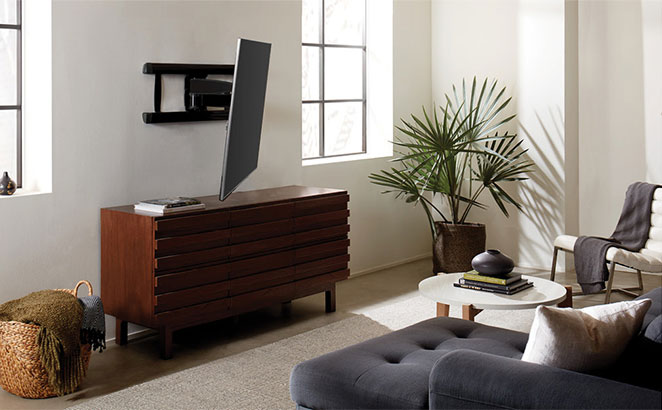 SANUS is the #1 best-selling TV mount brand in the U.S.*
Questions? Contact Us
Monday - Friday 8am - 7pm CST
Saturday - Sunday 10:30am - 7pm CST
*NPD annual dollar sales period ending 12/31/20