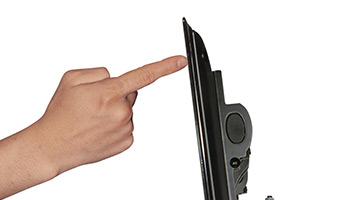 Virtual Axis™
Diese exklusive patentierte Technologie ermöglicht reibungslose, einfache Kippbewegungen durch eine automatisch ausgleichende Neigungsfunktion.
Sie ermöglicht die stufenlose Neigung durch Berührung mit einem Finger, um den Blickwinkel anzupassen - ganz ohne Werkzeug.
Reduzieren Sie Blendeffekte und Reflexionen, die von Lichtquellen oder Fenster kommen, ganz einfach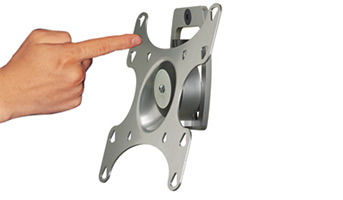 Virtual Axis 3D™
Das becherförmige Frontplatten-Design der Virtual Axis 3D™-Technologie ermöglicht mühelose, fließende Bewegungen in alle Richtungen.
Dies ermöglicht die 360°-Neigung Ihres Fernsehgeräts durch Berührung mit einem Finger, um den Blickwinkel anzupassen - ganz ohne Werkzeug.
Die Monitoreinstellung lässt sich einfach vom Landchafts- zum Porträtmodus verändern
ProSet™
Ihr Fernsehgerät oder Ihre wandmontierten Möbel sind nach der Installation nicht immer sofort perfekt ausgerichtet. Mit ProSet™ können Sie exakte Höhen- und Ebenenverstellung nach der Installation vornehmen, damit Ihr Gerät perfekt positioniert ist.
Durch einfaches Anziehen oder Lösen des ProSet™-Einstellungsmechanismus erhalten Sie ein tadelloses Aussehen.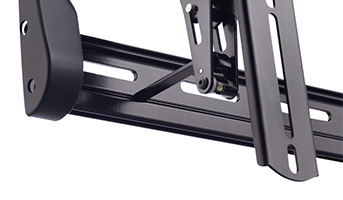 ClickStand™
The unique ClickStand™ feature makes it easy to access the backs of TV's mounted close to the wall. Its "kick-stand" props the TV away from the wall so you can install cables without removing it from the mount.
Praktische Quick-Release-Verriegelungen lassen sich einfach herunterziehen, um den ClickStand™ von der Wandplatte zu lösen.
Hält den TV 10 Zentimeter von der Wand für leichten Kabelzugang und klinkt sich dann wieder sicher an der Wandplatte ein.
ClickFit™
Das ClickFit™-System ermöglicht eine mühelose, nahtlose Heimkino-Installation, indem der Überspannungsschutz und andere kleine Geräte direkt hinter dem Fernseher positioniert werden können.
Geräte klinken sich ganz einfach an der Wandplatte ein, und bleiben auf diese Weise verborgen, aber dennoch einfach zugänglich.
Druckstoßfänger, HDMI Input und Wandsteckdose sind hinter dem TV angebracht, um Kabel und Drähte zu verstecken
FollowThru™
Dieses innovative System für das Kabelmanagement schützt und verbirgt die angeschlossenen Kabel in der Armvorrichtung durch das Gelenk hindurch, ohne die Bewegungen einzuschränken.
Das exklusive Design erlaubt es der Halterung, sich auszufahren, zurückzuziehen und zu schwenken mit der einfachsten und flüssigesten Bewegung, die möglich ist
Ein verstellbarerer Spannungsring hilft Ihnen, die beste Position für den TV zu finden und auch beizubehalten
Decorative covers conceal cables inside the arm after they're installed for a seamless appearance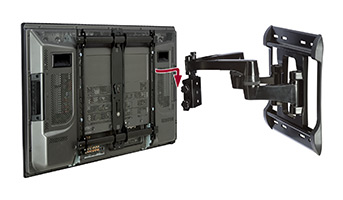 QuickConnect™
The QuickConnect™ system makes it easy to attach your TV to the mount's arm assembly and lock it in place in one easy movement.
Schieben Sie einfach die Verriegelungslasche an der Rückseite des Fernsehmonitors in die Öffnung des Auslegerarms und lassen Sie die Verriegelung einrasten.
Ein gut hörbares Klicken weist auf die sichere Verbindung des Monitors mit dem Auslegerarm hin.
Durch Fingerdruck auf die Verriegelungslasche lässt sich das Fernsehgerät leicht vom Auslegerarm lösen.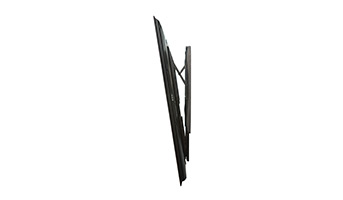 Verstellbare Virtual Axis™
Exclusively engineered by SANUS, this revolutionary feature accommodates TVs of varying thicknesses by adjusting the tilt tension based on each TV's unique center of gravity.
Um das Fernsehgerät zu schwenken, ziehen Sie leicht an der gefederten Verriegelung und verändern den Neigungswinkel wie gewünscht.
Stellen Sie die individuelle Neigungsspannung für die spezifische Tiefe Ihres Fernsehers mithilfe der Virtual Axis™-Neigungsoptimierungsknöpfe ein.
Reduzieren Sie Blendeffekte und Reflexionen, die von Lichtquellen oder Fenster kommen, ganz einfach