Tecnologías de los productos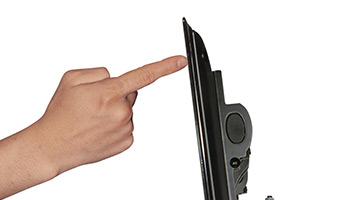 Virtual Axis™
This exclusive patented allows smooth, easy tilting motion by balancing the weight of the TV on itself.
Tilt your TV up or down with just the touch of a finger — no tools are required to adjust the viewing angle
Reduzca fácilmente los resplandores y reflejos causados por focos o ventanas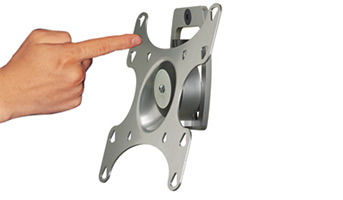 Virtual Axis 3D™
Virtual Axis 3D™ features a special cup-shaped faceplate that allows the TV to move in every direction possible with effortless, fluid motion.
360° range of motion lets you tilt your TV with just the touch of a finger — no tools are required to adjust the viewing angle
Cambie fácilmente entre las posiciones horizontal y vertical
ProSet™
Once installed, your TV or wall-mounted furniture may not appear completely level with its surroundings. ProSet™ lets you make micro-adjustments to height and level after mounting to ensure perfect positioning.
Simply tighten or loosen the ProSet™ adjustment feature for a flawless appearance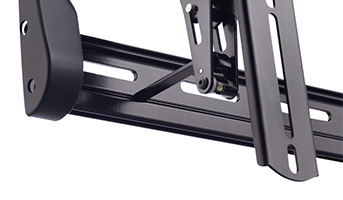 ClickStand™
The unique ClickStand™ feature makes it easy to access the backs of TV's mounted close to the wall. Its "kick-stand" props the TV away from the wall so you can install cables without removing it from the mount.
Quick-release tabs pull down to unlock the ClickStand™ from the wall plate
Sostiene el televisor a 10,2 cm de la pared para permitir un fácil acceso a los cables, y a continuación se vuelve a ajustar de forma segura en la placa de pared
ClickFit™
The ClickFit™ system makes it easy to create a seamless home theater installation by allowing surge protectors and other small devices to be positioned directly behind the TV.
Devices simply click onto the wall plate, so theyre completely hidden yet easily accessible
Sitúa los protectores de sobretensión, la entrada HDMI o el enchufe de pared detrás del televisor para ocultar todo el cableado
FollowThru™
Este innovador canal de cable en el interior del brazo protege y oculta los cables en toda la longitud del brazo de extensión sin impedir el movimiento, incluso a través del codo.
Su diseño exclusivo permite que el soporte se pueda extender, replegar y girar en un movimiento lo más fluido y sencillo posible
Un anillo de tensión ajustable le permitirá encontrar y mantener la posición perfecta para su televisor
Decorative covers conceal cables inside the arm after they're installed for a seamless appearance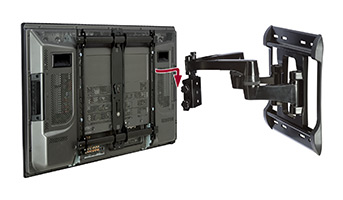 QuickConnect™
The QuickConnect™ system makes it easy to attach your TV to the mount's arm assembly and lock it in place in one easy movement.
Solo hace falta insertar la lengüeta de bloqueo de la placa del monitor en la abertura del conjunto del brazo y dejar que se deslice hacia abajo hasta quedar en su posición
Cuando oiga un clic sabrá que las piezas están montadas correctamente
Para extraer el televisor, empuje hacia dentro la lengüeta de bloqueo y desengánchela del conjunto del brazo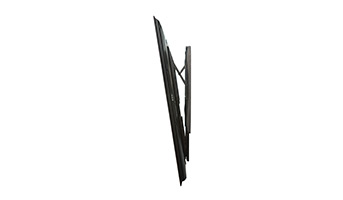 Adjustable Virtual Axis™
Exclusively engineered by SANUS, this revolutionary feature accommodates TVs of varying thicknesses by adjusting the tilt tension based on each TV's unique center of gravity.
Para inclinar el televisor, tire suavemente de la parte superior para abrir un cierre accionado por resorte y a continuación ajuste el ángulo según sus preferencias
Easily adjust the tilt tension for your specific TV depth using the Adjustable Virtual Axis™ tilt optimizer knobs
Reduzca fácilmente los resplandores y reflejos causados por focos o ventanas