Technologies des produits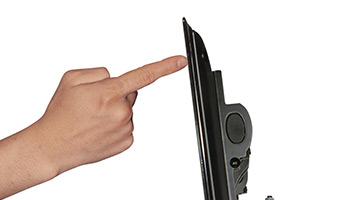 Virtual Axis™
This exclusive patented allows smooth, easy tilting motion by balancing the weight of the TV on itself.
Tilt your TV up or down with just the touch of a finger — no tools are required to adjust the viewing angle
Réduisez en toute simplicité les reflets et le niveau de réflexion dus aux lumières ou aux fenêtres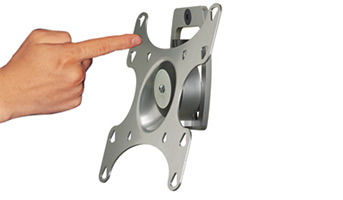 Virtual Axis 3D™
Virtual Axis 3D™ features a special cup-shaped faceplate that allows the TV to move in every direction possible with effortless, fluid motion.
360° range of motion lets you tilt your TV with just the touch of a finger — no tools are required to adjust the viewing angle
Inclinaison facile de la position horizontale à la position verticale
ProSet™
Once installed, your TV or wall-mounted furniture may not appear completely level with its surroundings. ProSet™ lets you make micro-adjustments to height and level after mounting to ensure perfect positioning.
Simply tighten or loosen the ProSet™ adjustment feature for a flawless appearance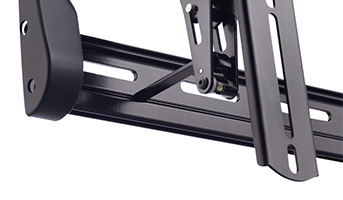 ClickStand™
The unique ClickStand™ feature makes it easy to access the backs of TV's mounted close to the wall. Its "kick-stand" props the TV away from the wall so you can install cables without removing it from the mount.
Quick-release tabs pull down to unlock the ClickStand™ from the wall plate
Maintient le téléviseur à 10,2 cm du mur pour un accès simplifié aux câbles, puis se réemboîte complètement dans la plaque murale
ClickFit™
The ClickFit™ system makes it easy to create a seamless home theater installation by allowing surge protectors and other small devices to be positioned directly behind the TV.
Devices simply click onto the wall plate, so theyre completely hidden yet easily accessible
Placez les parasurtenseurs, le connecteur d'entrée HDMI ou la prise murale derrière le téléviseur pour dissimuler les câbles et les fils
FollowThru™
Ce cache-câble innovant disposé dans le bras protège et dissimule les câbles sur toute la longueur du bras d'extension sans empêcher le mouvement, même dans le coude.
Sa conception exclusive permet de déployer, de replier et de déplacer le support de la manière la plus fluide et la plus simple qui soit
Un collier de serrage réglable vous permet de trouver et de conserver la position idéale pour votre téléviseur
Decorative covers conceal cables inside the arm after they're installed for a seamless appearance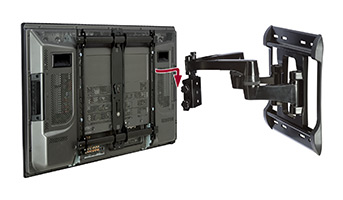 QuickConnect™
The QuickConnect™ system makes it easy to attach your TV to the mount's arm assembly and lock it in place in one easy movement.
Insérez simplement la languette de verrouillage sur la plaque du moniteur dans l'ouverture sur l'ensemble de bras et laissez-la glisser vers le bas dans le logement
Un déclic vous permet de savoir que les pièces sont assemblées correctement
Pour retirer le téléviseur, appuyez simplement sur la languette de verrouillage pour la désengager du bras.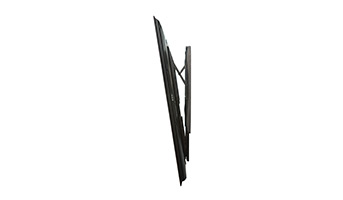 Adjustable Virtual Axis™
Exclusively engineered by SANUS, this revolutionary feature accommodates TVs of varying thicknesses by adjusting the tilt tension based on each TV's unique center of gravity.
Pour incliner le téléviseur, poussez doucement sur le haut pour libérer un verrou retenu par un ressort, puis ajustez l'angle comme souhaité
Easily adjust the tilt tension for your specific TV depth using the Adjustable Virtual Axis™ tilt optimizer knobs
Réduisez en toute simplicité les reflets et le niveau de réflexion dus aux lumières ou aux fenêtres